Friends,
We are halfway through the 2017 legislative session, and I want to hear from you how I can best work for what is important to you for the remainder of the session. Residents of our 46th District value fully funded education for our children, making our tax system more fair, preserving our environment (especially as the Trump Administration and Congress look to rapidly roll back protections), affordable college tuition, and ensuring everyone can access health care.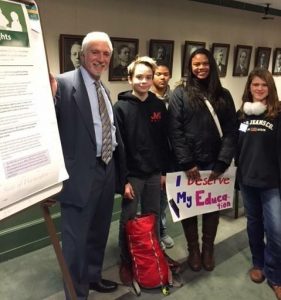 Education Good News: At last, we passed a bill at the last minute to prevent our schools from plunging over the "levy cliff." Without this bill, hundreds of educators would have been eliminated from our children's schools here in the 46th! I have worked closely with parent and educator groups and our local school districts organizing to pass the bill, which the majority in the Senate repeatedly refused to allow a vote on until last week. This is a real tribute to the organizing work of parents, teachers, and students over the last year. Thank you!
Bad News: This still does not solve our state's constitutional underfunding of education, and none of the legislative plans unveiled to date fully fund the programs that are every child's constitutional right: lower class sizes, special education, English language learning, transportation and supports for homeless students, and many more. We can't provide for our children's education without new revenue. We need to make our tax system much more fair in order to provide those revenues.
I have been leading efforts to have a legislative plan to respond to the severe shortage of teachers. Here in the 46th, we have many classrooms that have not had a regular teacher all school year. We can't tackle the shortage of over 3,500 teachers statewide without increasing compensation. But, much more is also needed: providing new teachers with mentors, providing conditional grants to pay for the teacher prep junior and senior years of college if students commit to teaching for five years.
We need to ensure that we pay and treat our teachers with the respect they deserve for the great public service they provide.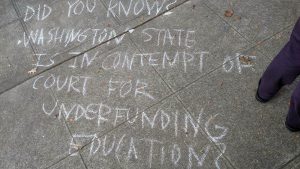 At an education funding forum this weekend, I met a new teacher with $78,000 in student loan debts. For a job that the state provides only $35,000 for starting salary, it takes extraordinary dedication and sacrifice to stay in teaching unless we do something about college affordability as well as starting pay.
To help make our tax system more fair, I have introduced HB 1500 to shed light on the hundreds of tax loopholes that continue year after year, decade after decade with no review of sunset. These loopholes deprive us of billions of dollars in revenue. Tax exemptions should be treated as any other budget expenditure and have to be readopted: proving that they are worth more than funding schools or health care.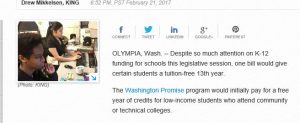 College Access and Affordability: As Vice-Chair of the House Higher Education Committee, I have been championing to have our state adopt a Free Community College program. It would actually be incredibly affordable to offer every high school student whose family is below the state's median income the opportunity and promise that they can attend college. Offering the "Washington Promise" is also a proven way to increase high school graduation rates. I also continue to work to improve the ratios of full time faculty and student advisers at our colleges.
Environment and Health: I have been pressing for controls on the highly toxic, noxious emissions from the asphalt plant at the north end of Lake Washington in Kenmore, alongside the Burke-Gilman bike trail. The asphalt industry was out in force to oppose the bill, which I developed with Rep Jessyn Farrell, and the City of Kenmore, to place controls on the plant. We hope to have a program with the Puget Sound Clean Air Agency and the City to review practices at the plant that cause the unregulated noxious odors and toxic emissions.
Last year, I spearheaded the successful first in the nation legislation to prevent sales of e-cigarettes and "vape" products to our teenagers, who are the target of intense advertising, and begin to regulate the toxic and carcinogenic substances in e-cigarettes. E-cigarettes are advertised as being far cheaper than cigarettes. Ads claim that e-cigarettes and vaping is 80% cheaper than cigarettes in Washington – in part due to them being completely untaxed.  Now, this year, I have introduced legislation to tax e-cigarettes in order to reduce youth sales and provide much needed funding for enforcement, prevention and local public health services (HB 2144).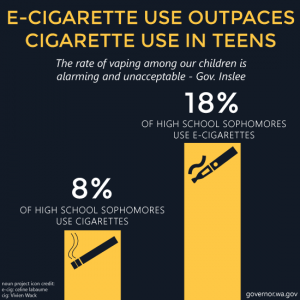 I continue efforts to ensure that we test for lead in the water in our children's schools. Sadly, when school districts and the state have done tests, they have reported the levels of lead as "safe" even when they were 20 to 100 times the maximum levels recommended by the American Academy of Pediatricians and other experts. Following up on legislation I introduced, the State Department of Health is working with me to have test results reported when the levels of lead exceed levels known to reduce children's IQ.
As we enter the last scheduled five weeks of the legislative session, we face huge challenges to adopt a state budget that funds education, preserves health care and makes our tax system more fair.
PS: I continue to be committed to being accessible to you by offering my "Traveling Town Halls", drop-in, in-district discussion at different coffee spots around the district from 10-12 on most Saturday mornings during session (if we are scheduled to have floor votes I have to remain in Olympia). Check my website for updates, or follow me on Facebook.
---