Capital budget invests in keeping Washington great
Every two years the state passes a construction budget, called the capital budget. As Vice Chair of the House Capital Budget Committee, I worked to help craft the state capital budget, which pays for construction and community projects across the state. Projects funded in the House capital budget include school buildings, mental health facilities, state park improvements, and other infrastructure that keeps Washington a great place to live, work and raise a family.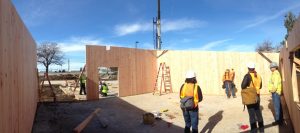 The House recently proposed a bipartisan capital budget that would create thousands of jobs, and invest a record $1 billion in funding to build schools. Democrats and Republicans are working together to make communities stronger in every corner of the state.
You can read a summary of all the projects and investments that are created by House Bill 1075. Some of the highlights of this $4.15 billion budget include:
Investments in education:
$1 billion to build K-12 schools for our 1.1 million school children
$15.5 million to build early learning facilities to help our youngest learners
$377 million for state colleges and universities
$433 million for community and technical colleges
The budget also puts serious funding toward many of the state's most pressing issues:
$105 million for housing for homelessness and at risk families.
$65 million for Clean Energy, Solar, and Energy Efficiency
$49 million for Arts, Building Communities, and Youth Recreation programs
Some capital budget investments that will impact communities in our district include:
$37.8 million for the Edmonds Community College: Science, Engineering, Technology Building
$504,000 for the Japanese Gulch Creek Restoration Project
$2.75 million for the Edmonds Waterfront Center & Waterfront Development
$391,000 for the Frances Anderson Center Roofing Project
$257,000 for the Mukilteo Tank Farm Remediation
Standing up for our service members and veterans
Veterans, service members, and their families sacrifice so much in order to protect our state and our nation. House Democrats are recognizing that sacrifice, and have prioritized legislation that helps the thousands of military members and families that call Washington home.
HB 1055, sponsored by my colleague Rep. Christine Kilduff, is on its way to the governor's desk! The bill provides free legal services to our service members, veterans, and their families. Rep. Kilduff also sponsored HB 1056, which protects our active duty service members from unfair penalties when a consumer contract is broken due to unavoidable circumstances, such as a change of orders. Unfortunately, HB 1056 did not pass the Senate.
Also on its way to the governor's desk is a bill that helps service members transitioning to civilian life. The Wounded Warrior Shared Leave Act (HB 1802), which I cosponsored, would grant veterans, military service members, and their spouses employed by the state government access to a shared leave pool. For those in the traditional six month probationary period, paid leave isn't available, so if you're a service member or veteran who needs to go to Veterans Affairs or the doctor, you have to take unpaid leave. Our service members and their families deserve better than that, so this gives them access to leave that didn't exist before.
Internet privacy protections for consumers
President Trump signed into law last month a bill that strips you of your ability stop internet service providers (ISP) from selling your private browsing information.
The internet has become ubiquitous and it is increasingly difficult to conduct our lives without entering personal information on the internet. ISPs should not be allowed to sell your personal information without your permission.
That is why I am cosponsoring HB 2200. The bill would create new internet privacy protections enforceable under the Washington Consumer Protection Act, including:
Compelling transparency by making ISP privacy policies available to customers so they know what to expect.
Protecting privacy by prohibiting ISPs from selling or using private information without consent.
Requiring ISPs to report to customers when they have been hacked and personal data has been breached so customers can protect themselves.
This is an important consumer protection measure that enjoys wide bipartisan support, and I look forward to seeing it land on the governor's desk for his signature.
Update on My Bills
I'm proud to say, two of my bills have passed the Legislature and are on their way to the governor's desk!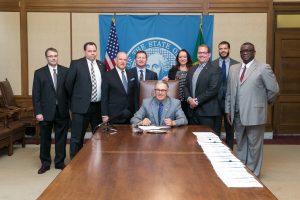 HB 1266, which was signed into law by Governor Inslee this week, expands access to environmental clean-up resources. This will be a great help in addressing the backlog of toxic cleanup sites around the state.
HB 1395 authorizes the Public Transportation Benefit Areas to use job order contracting, allowing government to be more efficient. This will not only help our transit agencies, but will support small construction businesses across the state.
HB 2182, which passed the House last week, is important environmental protection that designates a revenue source to fund cleaning up sites contaminated by hazardous substances.
Sincerely,



Rep. Strom Peterson
---