OLYMPIA—A bipartisan measure that will streamline a process for opening new habitat for endangered salmon and other aquatic species has been sent to Governor Inslee.  House Bill 1275, sponsored by Rep. Brian Blake (D-Aberdeen) passed both chambers with unanimous support.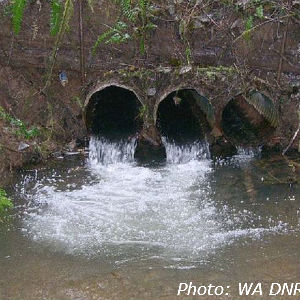 State law requires forest landowners to remove or replace culverts and other stream crossing structures, located in their land, which can block fish from reaching their spawning grounds and young salmon from reaching the ocean. To date, forest landowners have spent over $300 million in private investment opening over 700 river miles for potential salmon habitat.
"It doesn't make sense to burden them with having to jump through hoops, especially when they have taken a proactive approach to follow the law," Blake said about the complicated permitting process that forest landowners have to go through, which can involve the federal, state, and local governments. "It's in everyone's best interest to simplify this process and get the work done more efficiently."
Blake's bill gives fish passage barrier removal projects—that comply with the protective standards of the state's forest practices rules—the same level of regulatory streamlining currently enjoyed by other environmentally-beneficial projects. The inclusion of these fish passage projects in an existing one-stop permitting process means they will not be subject to further permitting on the local level.
"Thousands of private dollars will be redirected to on-the-ground environmental improvement projects instead of being spent on redundant governmental processes," said Blake. "I'd rather see that money be spent on actually recovering salmon."
Mark Doumit, Executive Director of the Washington Forest Protection Association, agrees.  "This important legislation will allow more access to salmon habitat at a faster pace, at a lower cost, and with no reduction in environmental review.  It's another example of how legislation can be good for the environment and good for rural economies," said Doumit.
---