Legislative Achievements
With the regular session wrapping up, I have worked with colleagues in both chambers to pass my priority legislation. Several bills I have championed have moved from the Senate to the Governor's desk.
Respite Care Providers: Families with developmental disability needs are often on-call 24 hours a day. Respite care provides breaks family members need to recuperate, run errands, go to the doctor, or any of the other daily activities others take for granted. While respite care is an option for those families, the training requirements to get a neighbor, family member, or friend qualified is often an impediment. Under a new law I sponsored, HB 1322, training requirements are reduced for these occasional respite care providers. In order to qualify for the lower training hours, the respite care provider would be limited to less than 300 hours of work and would take a 14-hour training course.
Pro Bono Legal Services for Servicemembers: When a servicemember is facing a legal dispute but deployed overseas or a veteran is seeking benefits at home, it's often not easy or feasible to hire a lawyer. Because of HB 1055, which I sponsored on behalf of the Attorney General's office, the AG office will serve as a clearinghouse to connect veterans and military servicemembers with free legal services.
---
Sound Transit 3
I have heard from many of you about the sticker shock from increased car tab taxes due to the passage of Sound Transit 3 (ST3). I opposed the bill that authorized ST3 because I did not support the gas tax and was concerned about the tax we're all feeling now. ST3 is simply too much money without projects that benefit our district. It's now up to the Legislature to respond and determine a way to mitigate the impact to taxpayers due to the original law, which uses an unfair valuation schedule to determine how vehicles are taxed. We have a few choices:
Leave everything exactly as it is. That would mean continuing with an unfair depreciation schedule and burdening working families and those on living on a fixed income who were caught off guard by and are not prepared for this additional tax. And while this would have the least amount of impact on current Sound Transit funding streams, it does nothing to mitigate legitimate concerns of those people, including those who support Sound Transit, who are being taxed unfairly.
Overturn the current valuation system approved by the voters and adopt a third-party, consumer-driven valuation system. As a lawyer, I can tell you that would likely trigger costly litigation and such a proposal does not have bipartisan support.
Or, we could find a path that puts real money in people's pockets and has bipartisan support. That means giving a credit for the difference between the current car tab schedule and the more accurate and up-to-date 2006 schedule, which tracks nearly identical to Kelley Blue Book. This option keeps Sound Transit whole and moving forward with light rail expansion and other critical transit projects.
The third option, HB 2201, passed the House last week in an overwhelmingly bipartisan vote. I voted for this measure because it provides real, meaningful tax relief to drivers. For example: a 2011 Ford F-250 would see their portion of the ST3 taxes go down 28% and a 2013 Ford Fiesta would see a 37% decrease under this plan. I believe those are real savings that matter for people in our area. I'll continue working with my colleagues to find meaningful tax relief on the ST3 issue.
---
End of session and budget update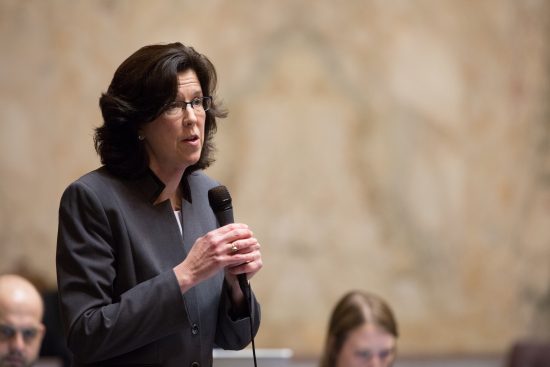 Back in January, I wrote an opinion piece for the News Tribune where I welcomed bipartisanship and encouraged legislative leaders to work together to solve the problems facing our state. My hope for this year was one of cooperation that led to a deal that fully funded education in our state and a budget that didn't balance on the backs of working families.
Four months later, I can tell you that there is as of yet no deal on a budget or an education funding plan that will meet our constitutional duty to our schoolchildren. Despite the lack of compromise, I know that we can and will get this done—if budget negotiators sit down and talk. The time for political competitiveness is over.
I was sent here to do a job and that job doesn't include playing games or blaming others. That's why, if we require a special session to complete our work, I will not be taking overtime per diem pay. If lawmakers can't get the job done on time, they don't deserve extra pay. I'm not going to stop working until we finish what you sent me here to do.
As a military district, we know how important it is to start on time and end on time. The Legislature needs to learn that lesson and be held accountable.
---
Thanks,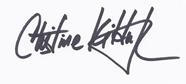 Christine
---