As we near the end of the 105-day legislative session, all eyes are on budget negotiations. As you know, the legislature is working on complying with the Supreme Court's McCleary order to fully fund basic education – while also funding other important priorities like the mental health care system; state employee contracts; the homelessness crisis; and keeping our air and water clean.
Given this serious task, our budgets are too far apart to come to a compromise by the end of the regular legislative session. The complexity of our state's budget has grown significantly since the part-time legislature's timeline was set up, and we are not able to negotiate a $44 billion budget in only 105 days. Here are two news articles about the end of session I found to be good summaries from the Tacoma News Tribune and the Seattle Weekly.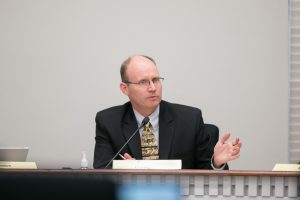 The budget is important and we want to make sure that our values are upheld. House Democrats believe that fulfilling the state's paramount duty should not come at the expense of families, who would be hurt by the Senate Republican's $5.5 billion property tax hike and massive cuts to state services.
We will continue to work hard on the budget and focus on making sure it works for Washington. You can access budget documents on this website, including the House and Senate Operating, Transportation, and Capital budget proposals. Education funding estimates by school district are also available at the bottom of this page.
Transportation Budget
The House voted on a negotiated Transportation Budget this week. This map shows proposed projects in the 11th District, including adding additional lanes on eastbound SR 518, northbound I-405, and southbound SR 167.
Sound Transit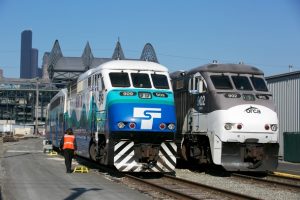 I have heard from many people on both sides of the Sound Transit debate – people who are concerned about the increase in car tab fees as well as those who don't want to see this voter-approved initiative undermined. Building new infrastructure (including highways) when everything else has already been built is expensive. Costs as well as traffic will continue to increase as our region grows.
The House Democrats have developed a plan, HB 2201, to shift to a faster depreciation schedule (lowering car tab prices), while asking Sound Transit to find cost savings elsewhere to make up the difference. We believe this will result in more fair valuations, while not significantly compromising the projects requested by a majority of voters.
Issue update!
1.  ELECTIONS
As the chair of the House State Government, Elections, and Information Technology Committee, I helped pass three bills this session that will expand access and improve our electoral system:
·   SB 5472: Expanding access to ballot drop boxes. In 2015, there were only 10 drop boxes in all of King County. SB 5472 will add 250 new ballot drop boxes across the state, including 41 in King County.
·   HB 1507: Enhancing election reconciliation reports. HB 1507 directs the Secretary of State to compile reports on local elections by county auditors, allowing us to better analyze turnout and trends statewide.
·   HB 2106: Election year restrictions on state legislators. We regulate legislators' communication with their constituents during election years, to make sure that public funds are not being used for electoral purposes. HB 2016 clarifies confusing rules and makes it easier for voters to know their elected officials are in compliance.
If you look at these bills, you may notice that they are all prime sponsored by Republicans. I have found we can get more done sometimes when we work across the aisle, and out of the limelight. There is no doubt these bills wouldn't have passed without my work, but it is hard to tell from the names on the bills.
2.  CYBERSECURITY
I have been working on cybersecurity issues with other legislators across the country as a member of the National Council of State Legislators Cybersecurity Taskforce. This session, I passed the following two bills to safeguard state data systems against cybersecurity breaches:
·   HB 1417: Harmonizing the open public meetings act with the public records act in relation to information technology security matters. We need to update our policies regarding cybersecurity as cybercrime becomes increasingly sophisticated. HB 1417 allows a governing body to hold an executive session to consider matters of IT system security, preventing this information from becoming public and further exploited. After many years getting hung up in the state Senate, this bill moved to the Governor's desk this year.
·   HB 1829: Exempting from public disclosure information regarding public and private computer and telecommunications networks. Similar to HB 1417, HB 1829 exempts certain information about data breaches from public disclosure laws.
3.  FOOD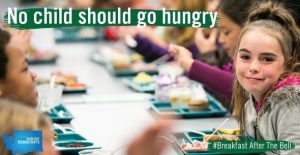 For the past several years, I have been working on expanding Breakfast After the Bell programs in more schools across the state. This session, we developed HB 1508, the Kids Ready to Learn Act, which expanded BAB to include other food access programs for students, including farm-to-school programs and school nutrition grant programs. HB 1508 made it off the House floor with a strong bi-partisan vote of 90-8 and out of its Senate Committee with a 20-3 vote, but died in Senate Rules. I will continue to work with Representatives Gregerson, Stonier, Peterson and Riccelli on our food policy bills. These issues cut across geography and class and should get more attention.
Next steps
Today is our last day, although we will officially end Sunday. The Governor may call the legislature back for a 30-day special session on Monday. Generally, not all legislators are in Olympia throughout special session – it is more efficient and cost-effective for a select number of budget negotiators from the two parties to work out the details.
Negotiations have not started yet, which is disappointing. A budget must be agreed upon by June 30th, or the state government will shut down. The disagreement between the two budgets is largely a choice between a $5.5 billion property tax increase in Puget Sound and a set of more progressive revenue options. We will continue to keep you updated on the progress of the budget negotiations during special session.
Thank you for your thousands of comments, suggestions, and support during this legislative session. Even after 15 years in this job, I am still honored to serve you in this role, each and every day.
Zack
---