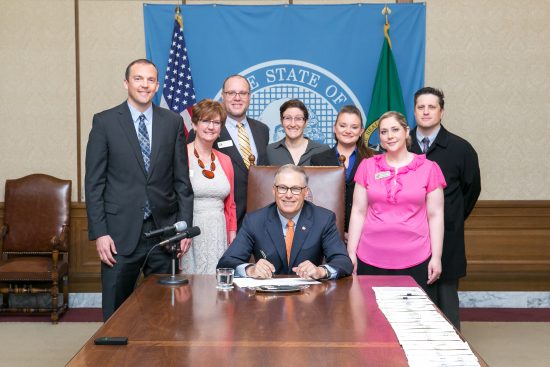 OLYMPIA – A bill that will help ease the high demand for physicians in Washington state, including through the use of telemedicine, was signed by Governor Jay Inslee this morning in Olympia.
House Bill 1337, sponsored by Rep. Marcus Riccelli, D-Spokane, enables Washington to join a group of states in an agreement allowing the expedited licensing of physicians to practice in each other's states.  Eighteen states already participate in the agreement, called the Interstate Medical Licensure Compact.
"This is about people getting access to health care for themselves and their families," Riccell said.  "While I'm excited 60 medical students will begin at the new WSU medical school this fall, it will be a few years before that school joins the University of Washington in producing new physicians for our state. Eastern Washington is especially underserved when it comes to health care access, and this bill helps address that."
Technological advances have made telemedicine an option in rural and underserved areas, but without more licensed physicians practicing, the demand for health care access in these areas remains high. Streamlining the licensure process will bring more doctors online faster, while still subjecting applicants to the important necessary background checks.
The bill was supported by the Washington State Medical Association, which testified in favor of it during public hearings earlier this year.
"By expediting physician licensure in member states, this legislation reduces the administrative burden of licensing paperwork for physicians and streamlines the application process for licensure in multiple states. More importantly, it has the potential to increase access to care for patients in rural and underserved areas by helping doctors meet increased demand for outpatient services," said WSMA President Shane Macaulay, M.D. "The WSMA has long advocated for this legislation, and we applaud Rep. Riccelli for being a champion on this bill."
Additionally, under the bill physicians based in Washington will receive expedited licensing to practice medicine in other states within the Compact. This potentially benefits people who must move out of state while receiving follow-up care from a Washington doctor, if they relocate to another Compact state.
---