OLYMPIA – Governor Inslee has signed SB 5256, which allows the courts to issue permanent sexual assault protection orders.
Rep. Roger Goodman (D-Kirkland), who has worked for three years to get the measure enacted, sponsored the House version of the bill, HB 1384, and championed the passage of the Senate companion. The final bill passed both the House and Senate with strong bipartisan support.
In Washington state, victims of sexual assault who can show a reasonable fear of future harm may petition the court for a sexual assault protection order. Under current law, victims can only be granted a protection order for up to two years. This means that in order to continue being protected, victims must relive their trauma and confront their assailants every two years.
SB 5256 addresses this issue by removing the time limit for sexual assault protection orders. The courts will be able to issue permanent protection orders, and in cases where the order is not permanent, the bill establishes a more streamlined process for renewal. The bill aligns sexual assault protection orders with current laws for domestic violence, stalking, and harassment orders.
"Victims and survivors of sexual assault must be spared the trauma of having to face their assailants repeatedly," said Goodman. "By allowing these protection orders to be extended permanently we have given victims the security and relief they deserve."
Governor Inslee signed the bill into law at a ceremony in Federal Way on May 5.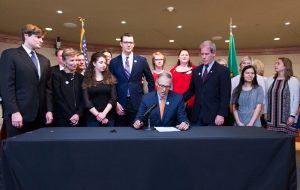 ---