OLYMPIA – The vulnerable in our communities are better protected against abuse thanks to two bills signed by Governor Jay Inslee earlier today in Olympia. House Bill 1163 and House Bill 1153, both sponsored by Rep. Roger Goodman (D-Kirkland), were top priority public safety bills and each passed the House and Senate with strong bipartisan support.
Domestic abusers often have long histories of violent crimes and have a high rate of recidivism. House Bill 1163 protects victims and communities by holding repeat domestic violence offenders accountable through harsher penalties and stricter supervision. In addition, the bill works to improve treatment programs for repeat domestic abusers and gives courts more tools to assess the risk of domestic violence defendants who come before them.
"These offenders subject their victims to a cycle of abuse, and the current system isn't doing enough to protect them," said Goodman. "This new law will give victims of domestic violence the justice they deserve and we will be better able to protect these families and our communities."
People who cannot care for themselves due to age, disability or disease must rely on caregivers to provide the basic necessities of life. These vulnerable people also often rely on others for their financial well-being. Unfortunately, physical and financial abuse of the elderly and other vulnerable persons has reached epidemic proportions. House Bill 1153 expands the scope of protection for vulnerable persons, increase the penalties for both physical and financial abuse, and makes it easier to bring charges and secure convictions.
"Financial exploitation of vulnerable adults is a growing and devastating crime which can rob people of their life's savings," said AARP Advocacy Director Cathy MacCaul. "AARP applauds Representative Goodman for his work on this bill, and also Governor Inslee for signing this legislation and sending a clear message to criminals that they will be held accountable."
Both laws will go into effect on July 23, 2017.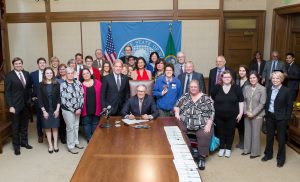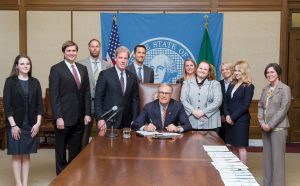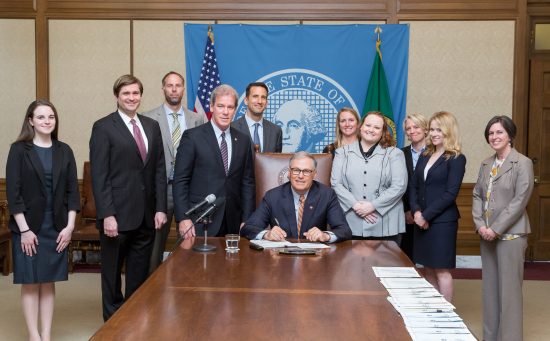 ---