OLYMPIA – Washington's DUI laws have been strengthened thanks to legislation signed by Governor Jay Inslee in a ceremony in Tacoma earlier today. House Bill 1614, sponsored by Rep. Roger Goodman (D-Kirkland), passed the House and Senate with strong bipartisan support.
Rep. Goodman has worked for a decade to reduce drunk driving in our state, and has consistently sponsored legislation to close loopholes and strengthen DUI laws. Goodman's House Bill 1614, a result of a comprehensive work group convened last interim, strengthens supervision and regulations for repeat offenders. The bill provides for stricter ignition interlock requirements, strengthens the sanctions for repeat offenses, and expands alcohol-monitoring requirements for offenders who have a drinking problem.
In addition to increased restrictions for repeat offenders, the bill improves public safety by using a fee paid by convicted DUI offenders to fund programs aimed at reducing impaired driving. As with DUI legislation proposed in previous years, House Bill 1614 also includes small changes to the DUI statutes to close loopholes.
"Driving under the influence can have a devastating effect on families and communities," said Goodman. "We take DUI offenses very seriously and I will continue working with my colleagues on both sides of the aisle to make sure we are always working to improve these laws to keep our communities and our loved ones safe."
A majority of House Bill 1614 will go into effect on July 23, 2017, while sections 18 and 19 go into effect on July 1, 2017.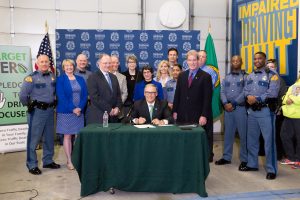 ---