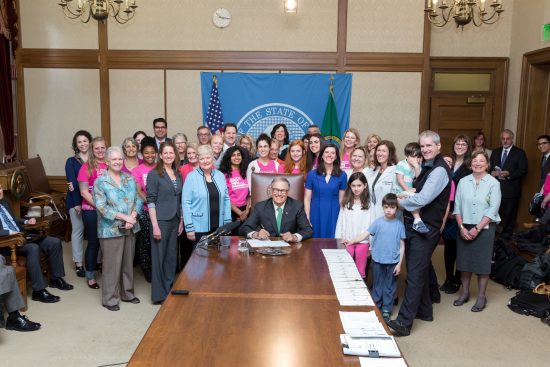 OLYMPIA – Gov. Jay Inslee today signed legislation providing new protections for pregnant women in the workplace.
Senate Bill 5835, sponsored by Sen. Karen Keiser, D-Des Moines, will ensure that tens of thousands of pregnant workers in Washington are guaranteed scheduling flexibility for prenatal doctors' visits, readily accessible drinking water, food and seating, and a score of manual labor accommodations.
"After years of work from advocates, I am proud to stand with the working women of Washington for whom these protections are long overdue," Keiser said. "Though these reasonable accommodations may seem simple, the provisions of this law will make a significant difference to ensure healthy pregnancies for women and their children at a time when the United States suffers from one of the highest infant and maternal mortality rates in the industrialized world."
The newly signed law also establishes the Healthy Pregnancy Advisory Committee (HPAC) to provide a statewide strategy to improve birth outcomes, reduce maternal mortality and morbidity, and reduce infant mortality to the Legislature and the governor by October 15, 2018. Housed within the Department of Health, HPAC will bring together medical experts, health care providers and representatives of low-income women, women of color, and immigrant communities to jointly develop recommendations.
"Like other states, Washington has shocking rates of maternal and infant health disparities, with Native American and Black Washingtonians being more than twice as likely to experience premature birth and suffer pregnancy loss," said Lisa M. Stone, Executive Director of Legal Voice. "The advisory committee is a critical step in ensuring all pregnant people in Washington have equitable access to the pregnancy-related care they need. Further, the committee will include advocates and community members, allowing those most affected by these unacceptable health disparities to have a voice in creating innovative policies to end them."
Additional accommodations outlined in the law, which apply to businesses with 15 or more employees, include access to more frequent, longer or flexible restroom breaks; job restructuring, part-time or modified work schedules; providing a temporary transfer to a less strenuous or hazardous position and; providing assistance with manual labor and enforcing evidence-based limits on lifting.
"Pregnancies and jobs can both be quite demanding. Yet it's increasingly likely that a woman will be both pregnant and working at some point in her life," said Rep. Jessyn Farrell, D-Seattle, who sponsored the House version of the bill. "Whether she's a legislator or a landscaper, a baker or an office worker, every woman deserves the ability to take care of herself and her pregnancy, while also participating in her workplace and earning an income."
SB 5835 passed the House of Representatives and the Senate on unanimous votes.
---