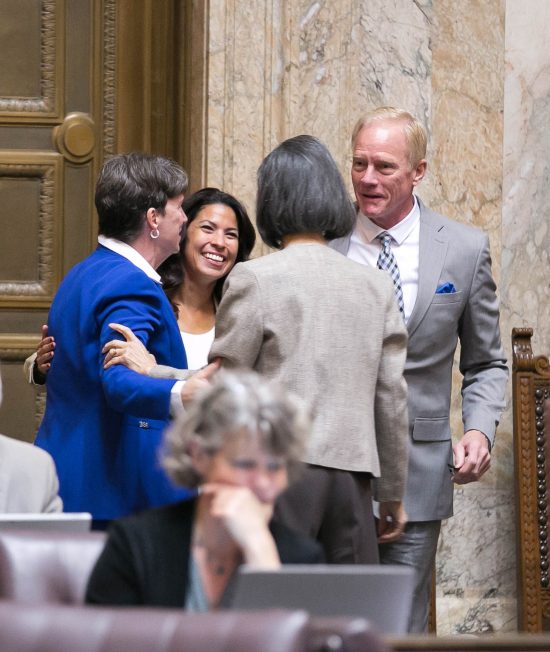 OLYMPIA – Thousands of high school seniors received renewed hope for brighter futures today with the passage of HB 2224 by the House of Representatives. After weeks of negotiations with the Senate, a bipartisan group of state lawmakers reached a compromise, which paves the way for thousands of high school students to receive their diploma.
"Linking high-stakes testing to graduation is a failed policy," said Rep. Sharon Tomiko Santos (D-Seattle), chair of the House Education committee. "Every student has a chance to succeed and shine with this new policy."
Washington is one of the few remaining states to require high school seniors to pass standardized tests in English language arts, math, and biology, which were originally implemented to measure effectiveness of the education system as a whole, not individual student proficiency in a given subject area.
Nearly all lawmakers acknowledge there is a problem with the current policy. However, there were strong disagreements between the House and Senate on what the solution should be.
House Democrats and Republicans pushed for a complete delink of standardized tests to graduation. The Senate did not support a full delink, instead favoring a delay in biology testing only.
In the end, lawmakers agreed to delay the biology testing requirement for four years and create an expedited appeals process for students who failed the English language arts or math tests. The compromise bill also creates additional proficiency measures and alternative assessment options for students who do not pass the standardized tests.
Rep. Christine Kilduff (D-University Place) complimented the bipartisan work that went into the legislation on the House floor. "This is a bill that will make a real and meaningful difference in thousands of students' lives," said Kilduff. "Bipartisan fights make for better headlines, but bipartisan compromise makes for better outcomes for kids."
HB 2224 was approved by a vote of 94–0 . The bill now goes to the Senate for consideration.
---