Hello friends and neighbors,
It has been an honor to represent you this year, and I look forward to continuing to work for the needs of our district and our state. I hope you'll take a few minutes to read about some of the things I worked on this session.
Please note: Due to election-year communications rules, this is the final e-newsletter update I can send you prior to the election.
Of course, you aren't under any communications restrictions, so if you have a question or would like to schedule a meeting in-district, please don't hesitate to email me here or call my district office at (425) 453-6424.
Thank you for all you do,



Rep. Vandana Slatter
A Democratic budget that embodies our state's core values
Yesterday, I was proud to vote on a budget that keeps the government open, supports our infrastructure, economy, and education.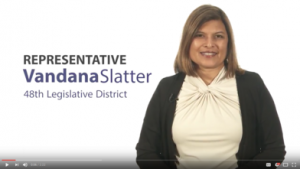 However, I voted "no" on the Republican Property Tax bill that changes how education policy is funded by enacting a massive property tax increase that will hit our communities particularly hard.
Please see my video for further explanation.
You can read the budget documents and education policy changes in the links below:
Paid Family & Medical Leave
I was proud to vote with the Legislature to finally pass a statewide Paid Family & Medical Leave system that provides family and medical leave for workers across Washington.
The plan allows for a worker to take paid leave to care for a newborn baby or an aging parent, without having to worry about losing a paycheck and knowing their job is secure.This was impactful in my own life when my son was born and I was able to take advantage of the federal Family Medical Leave Act.
Up to 12 weeks of medical or family leave will be available to qualified employees. I look forward to sharing more details with you as the plan is implemented.
Investing in Education
As a member of the House Education Committee, I am proud to work to ensure that teachers, schools, parents and communities have the resources needed to provide a high-quality education to all students. While fully funding education has been the top priority here in the Legislature, this session also saw us pass legislation to improve our teacher workforce and educational opportunities across the state.
Improving Teacher Preparedness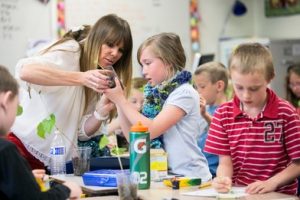 Our students deserve good teachers. Teachers who know what they are doing and are prepared to mold the minds of future generations. To ensure our students have good teachers, we need to educate our teachers well. This session, we passed legislation I sponsored that will improve educator preparation programs. By allowing data to be shared, we will have better, more in depth information to make sure our state colleges of education are preparing our newest teachers to the best of their ability.
Increasing Educational Opportunities
Growing dual language programs can help close the academic opportunity gap, foster positive identity development, and build welcoming communities that value the diversity of languages and cultures across Washington. We passed legislation that will create two-year grants to expand dual language programs for elementary and secondary students. Research shows that dual language programs are the best way to increase student achievement for English learners, while also improving education outcomes for their monolingual peers.
New Incentives to Invest in Solar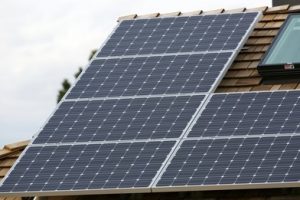 As a member of the Technology and Economic Development Committee, I am so proud to have voted for new solar energy incentives to accelerate solar uptake in our district. This program improves upon the current, and expiring program, through a variety of mechanisms, including increasing the cap electric utilities have on engaging customers in solar. Our new legislation also encourages more community solar and other models to bring people together to buy solar. And, if you buy your solar components from Washington, you get an incentive promotion, meaning better deal for customers and contributing to Washington's clean energy economy.
---