OLYMPIA – Rep. Joan McBride (D-48th, Kirkland) and Rep. Roger Goodman (D-45th, Kirkland) were honored in a ceremony Thursday, July 13, for their legislative work supporting people with developmental disabilities. Both legislators received the Arc of King County Inclusion Award during the advocacy group's annual picnic, held at the Renton Community Center.
The Arc of King County is a non-profit organization that provides services for people with intellectual and developmental disabilities and advocates for their rights to access housing, education, employment, and community resources. The Inclusion Award is given to legislators who work to advance the rights of those with developmental disabilities and to support inclusive communities.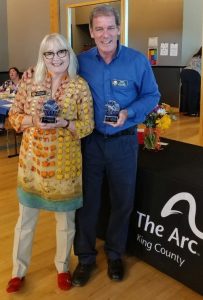 McBride was honored for sponsoring several pieces of legislation to improve accessibility and her work on several bills promoting affordable housing. Most notably, Rep. McBride sponsored House Bill 1262, which was recently signed into law and improves the regulations for accessible parking spaces.
Goodman was honored for his sponsorship of House Bill 1153, which expands the scope of protection for vulnerable persons, including people with developmental disabilities. The new law, which goes into effect this month, increases the penalties for both physical and financial abuse of a vulnerable person, makes it easier to bring charges and secure convictions, and outlines requirements for vulnerable adult advocacy teams as a part of investigations.
---