Getting things done requires compromise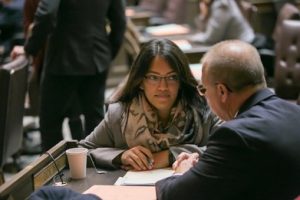 In wanting to serve as your state representative, I've focused on a stronger education system for our kids, building an economy that works for everyone in South King County, and taking care of our service members, veterans and their families. In my short time in Olympia, I am proud to have worked hard on these issues and many others that matter to you and your family to ensure they received the attention and funding they need.
Last month, the Legislature passed the state's main budget, the operating budget, which proudly moves Washington state forward on education funding, stronger support for our service members, veterans and their families and ultimately in investments that help keep our economy strong. It is a budget focused on putting working families first in our state, and I was honored to make sure the things that mattered to you and our neighbors were included.
However, passing that budget required compromise to prevent a government shutdown.
As I shared last week, tough choices had to be made and hard votes taken.  But both sides had to give, to get what was important.  Democrats wanted a spending plan that would help us meet our education funding obligation and put more money into schools, increase funding for mental health access, support our most vulnerable youth and foster kids, and strengthen resources to address our mounting housing insecurity and homelessness challenges.  Republicans proposed cuts to many of those areas and wanted to pay for education through a levy swap that ultimately results in a property tax increase in 2018 instead of more progressive revenue sources like closing corporate tax breaks.  It was a give and take.  It required compromise.
Unfortunately, the state's capital budget – the budget for construction – was not afforded the same opportunity for compromise.  With no looming government shutdown and the Senate's unwillingness to find a short-term fix over an unrelated water rights issue, the legislative session ended last week with the Senate refusing to pass an agreed upon bipartisan construction budget.
Lesson learned in my first session? Partisanship over problem-solving is not good governing.
We must find ways to meet in the middle for our kids, our communities and our economy.  I am committed to continuing to build relationships on both sides of the aisle and in both chambers, to make sure we can solve the problems that first brought me to Olympia and the many more that you and our neighbors have helped identify since I got here.
---
Legislative session ends without funding for Federal Way projects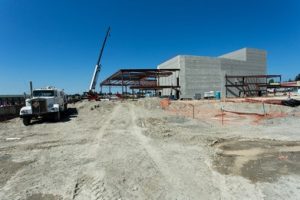 As you know, I serve on the Capital Budget committee. There was a great deal of bipartisan support for the construction budget that will fund new schools, helping us lower class sizes for our kids. The budget would also build better mental health care facilities and provide support for community projects all over the state.
Last week I told you about some of the projects I fought for in the capital budget, including:
STEM lab classrooms for Saghalie Middle School, to build the future workforce our region needs,
Economic Development support for the Chamber of Commerce, to help continue small business development efforts,
Renovation support for Highline Community College's Health Sciences building, to ensure our region continues to grow the healthcare workforce to meet industry demand,
Improvements to the Federal Way Senior Center kitchen, to ensure our seniors are getting the important meals they need, and
An expansion project at the Auburn YMCA that gives our kids a safe place to spend community time.
Sadly, these projects won't receive the funding I fought for because the Senate refused to vote on the bipartisan construction budget.
These projects, and $4 billion in other projects across the state, received 92 votes in the House. All sides agreed that it was a good construction plan for our state that invests in local communities, builds new schools, and improves mental health facilities. But the Senate would not vote on it. House leadership offered compromises and kept negotiating until the last day.
I'm disappointed the Senate didn't act to fund these projects and I sincerely hope they will change their minds. If not, I am committed to fighting for these projects again next year.
---
Reminder: District office open house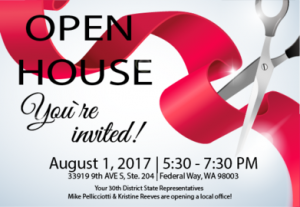 I'll be hosting an open house with Rep. Mike Pellicciotti at our new district office in Federal Way on August 1 from 5:30-7:30pm at 33919 9th Ave South, Suite 204. We hope you'll be able to join us!
Our regular office hours will be 8:00am – 4:00pm, Monday through Friday. If you can't make the open house, call Breann or me at 253-252-2995 and schedule time to come in and chat!
---
Care for Coffee?
I strongly believe I can't represent my neighbors if I'm not getting out and listening to you and hearing about what is important to you and your family.  While I will be out and about this summer in several neighborhoods, I want to also provide a set time you know you can meet with me.  Feel free to join me at one of my favorite locally owned businesses every other Friday starting August 4, and continuing to November 10, for coffee and conversation.  I look forward to seeing you and hearing about what is important to you!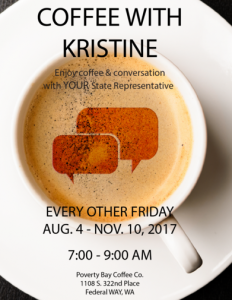 Thank you,


---