For over a century, the Page Program has been offering students across the state the opportunity and honor of experiencing democracy firsthand. Every year, hundreds of Washington teens get to participate in the legislative process while serving as pages during legislative sessions in Olympia.
Rep. Steve Bergquist (D-Renton), a Page School alumnus, released the following statement on the Gina Grant Bull Memorial Legislative Page Scholarship Program, aimed at encouraging lower income families to participate in the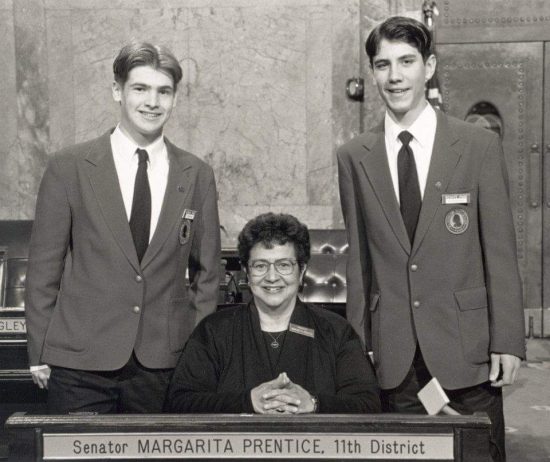 program by helping offset some of the expenses associated with sending students to Olympia for a week to serve as pages:
"The future of our representative democracy depends on preparing our youth to be informed and effective citizens today. 
"Sometimes paging is the spark that lights the path to a life of public service, I can attest to this since I served as page in 1995. 
"The Page Program holds a special place in my heart, which is why I have sponsored pages every year I've been in office, and why I signed onto the House companion bill to the Senate measure that created the Gina Grant Bull Memorial Legislative Page Scholarship Program as a tribute to her many years of dedicated service.  
"Gina served in various capacities in the Legislature; her last position was as Page Supervisor for the House of Representatives. She often described it as her dream job.  
"This week marks the first anniversary of her unexpected passing.  We remember her always vibrant and energetic. Working with hundreds of teens, giving them attention, guidance and support, and teaching them the ins and outs of the legislature on a daily basis may be overwhelming for some. But Gina was fully equipped for the challenge. If anything, she would have wanted more kids coming to Olympia.  
"And that's what her scholarship is all about. By reducing the financial burden and raising awareness in areas of disparity, Gina's scholarship will enable more students to partake in this great educational opportunity. 
"Now that kids are back in school, it's a good time for parents to learn about the program, check out the scholarship application, and consider the possibility of sending their sons and daughters to the state capital for the 2018 Legislative Session, which begins on January 8th."
---