Making child care affordable for all
As a working mom, I know how important it is to have affordable quality child care options that allow me to work a full-time job while not breaking the bank. Right now, that is not a reality for many of our families in South King County, with too many moms and dads paying more for childcare than their monthly mortgage payment. I'm working hard to find a solution that allows all families to access the care that best fits their kids and their budgets.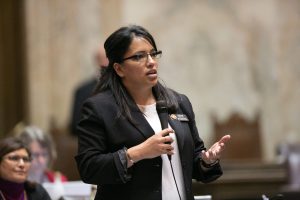 The state does help provide funding for families in extreme financial hardship. For these parents struggling to make ends meet, subsidized childcare is essential to making sure kids have a safe place to be while mom or dad are working. But middle class families need help relieving some of the cost burden, too.
I am exploring a lot of ideas, from working with private businesses and corporations to implement solutions that support our workforce to tax incentives that give families the flexibility they need. I'm open to more ideas and am working with my colleagues on both sides of the aisle and stakeholders to develop a bill that will help middle class families finally have high quality affordable child care options.
Town hall recap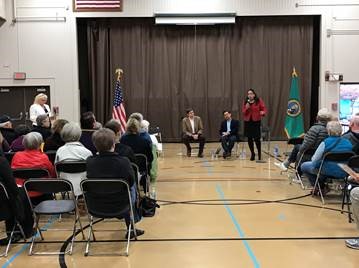 Thank you to everyone who came to our town hall last week. It was great to hear about the pressing needs and concerns of our communities. I heard from many of you worry over the rising homelessness and inadequate mental health services for our neighbors. These are serious problems and I look forward to working with members of our communities and across the aisle in Olympia to find real solutions.  I'm proud to be a working mom committed to problem solving over partisanship for the benefit of our kids, our veterans, our foster kids and for working families.
REMINDER: Survey on important issues
Before we go into the 2018 legislative session, I want to hear more from you on specific issues I'm working on. Click the button below to share your thoughts on child care, support for veterans and military service members, transportation, housing, education, and construction projects.

Contact me
The 2018 legislative session is right around the corner. Please reach out and let me know what you think about any of my proposals, or any ideas you have to share.
Thanks,

---