Credit freezes
In my last newsletter, I mentioned the Equifax credit breach and how you can see if your personal information has been affected. One frustrating aspect of data breaches is that consumers have to pay to have their credit frozen – and then again to have it thawed. I met with Jesse Jones from Kiro 7 news to discuss a bill that I drafted that would require credit agencies to freeze and unfreeze your credit for free.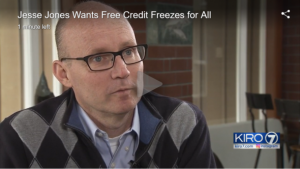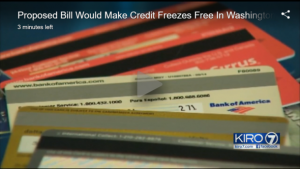 Ballot drop boxes improving turnout
One of my personal goals last year was to increase the number of ballot drop boxes in the state. After a lot of work, I helped pass a bipartisan bill that will put 250 more ballot drop boxes on the ground across Washington.
The committee I chair, the State Government, Elections, and Information Technology Committee, recently received a briefing about the effect of increased ballot boxes on turnout. Researchers from the University of Washington Tacoma and Highline College found that living near a ballot drop box increases the likelihood that a person will vote, though the increase is not uniform among all groups.
These preliminary results are very interesting as we think about how to get more people to vote in elections. I spoke with the Everett Herald about the study and its implications for the future when so many communities will be receiving a local drop box. You can watch the committee meeting here.
House Page Program and the Gina Grant Bull Memorial Legislative Page Scholarship Program
Every year, students ages 14 to 16 come from all over the state to serve as legislative pages at the House of Representatives. Students have the opportunity to see the legislative process in action as they spend a week working in various capacities for the legislature. It is a rewarding, educational, and unforgettable experience for young Washingtonians.
Unfortunately, in the past, associated costs made the program inaccessible to some students. While the program is free (and students receive a small stipend for their work each day), requirements like transportation to the Capitol and a white shirt have been a barrier for 11th district students. That's why the legislature created the Gina Grant Bull Memorial Legislative Page Scholarship Program.
Gina Grant Bull worked at the Legislature for many years and ran the page program before her unexpected passing in 2016. I served in the House with both her father and sister.
Visit the website for more information about the Page Program, to fill out an application, and to apply for the Gina Grant Bull Scholarship.
Coffee dates in the district
In October and November, we held four coffee hours to connect with constituents in Georgetown, Tukwila, Renton, and Kent. Thanks to everyone who came out to talk about the issues on their mind as we head into the next session.
Also thanks to the coffee shops that hosted us.
If you weren't able to join us for one of the coffee hours, feel free to send me your thoughts and questions ahead of our upcoming legislative session.
---