State Government Committee discusses Information Technology and IT Projects 
State Government, Elections, and Information Technology (SEIT), held a joint meeting this year with the Technology Services Board to discuss Information Technology and IT Projects. I helped start the TSB several years ago to bring together legislators, business leaders, agency directors, and other stakeholders to consider IT issues in the government. The TSB is the oversight board for large IT projects and the CIO office in the Executive branch. At the meeting we discussed the development of OneNet, a nationwide public safety wireless broadband network for first responders; and ctcLink, a new computer system for Washington's community and technical colleges that has experienced problems.
The state OneNet (FirstNet) addresses the interoperability communications issues we have seen since the 9/11 attacks. CtcLink is an over $100 million project and will standardize the IT back bone at our community and technical colleges. The project hit a snag this year when the vendor on the project went bankrupt during implementation.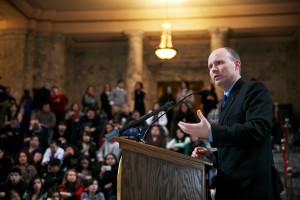 TSB also covered a program I helped to pioneer 6 years ago that is finally showing some fruit. Working with a company in Bellevue – Apptio – the state is now able to dig into our IT spend, to see exactly how much we spend, and on what types of items.  It is a great tool for creating better visibility into what tax dollars are being spent on within agencies and on what kinds of technology. This link shows an example of how the OCIO is using the data provided through Apptio to display spending on IT projects (note that this page has not yet been updated with numbers from the latest budget). This link provides a case study on Technology Business Management in Washington State.
The SEIT Committee oversees a broad range of issues relating to state government. This month we focused on information technology systems and security, and next month we will delve into another of our big topics – election law.
---