Thankful for our veterans
As Thanksgiving approaches, most of us will be consumed with menu planning, family time, and long afternoons watching football on the couch. My family has those plans too, and I look forward to making time with them before we gear up for the upcoming 2018 legislative session.
However, like mine, many families will have an empty seat at the table, as their loved one serves our country this holiday season, away from home or overseas.  I am grateful at a time when our national security is uncertain, that there are those, like my brother, willing to serve our country, even if it means being away from family for the holiday.
November has given me a lot to reflect on. In Olympia, I work on issues important to me as a working mom: education, strong families, growing the middle class, and military service members and veterans. That last one is especially important. My family includes many veterans, including my brother and my grandfather. Their sacrifices are personal to me and that is why I try to be a fierce advocate for our military families and veterans.
Earlier this month, I was awarded the Legislator of the Year award for Outstanding Service to Veterans from the Washington State Department of Veterans Affairs and Governor's Veterans Advisory Committee. I am incredibly grateful for this honor. But the work isn't over. While some of the veterans' bills I supported passed last year, we have more to pass in 2018 if we are committed to honoring our military families. For many of our veterans, the effects of their service will last a lifetime and it is on all of us to ensure they receive the services, benefits, and treatment they earned.
That's why, this holiday season and every day, I am so grateful to fight for those who've fought for us.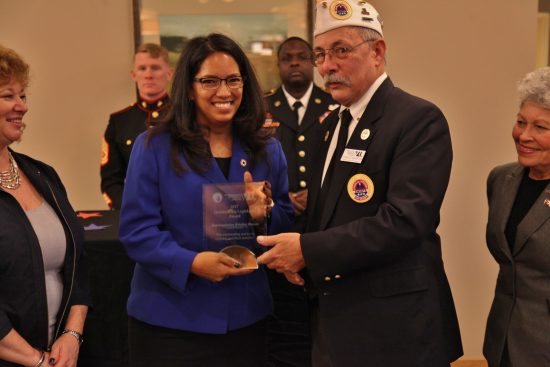 ---
Legislative Victories & Goals
Below are some of the bills I'll be working on, and some of the laws the Legislature passed last year that help keep our commitments to our veterans and military families.
Wounded Warrior Shared Leave Act: New state employees typically have a six month probation period when they're first hired. Those employees can't use earned leave during that probation, including veterans and military service members. For those with injuries or who require visits during business hours to Veterans Affairs or their doctor, that means taking unpaid leave. Our military families deserve better than that, so I passed a law to create a shared leave pool that can be accessed by military service members, veterans, or their spouses to take time they need without taking a pay cut.
Privacy for Gold Star families: Gold Star families have access to a special license plate, free of charge, to honor their loved one's sacrifice. Unfortunately, there are people out there who will prey on Gold Star families to seek financial gain. I passed a new law to give Gold Star families a standard Washington license plate free of charge for one vehicle. Now if a family member wants to keep their Gold Star status private, they have that option, because no family who has borne this country's greatest sacrifice, should be left vulnerable to those who would abuse that sacrifice for personal gain.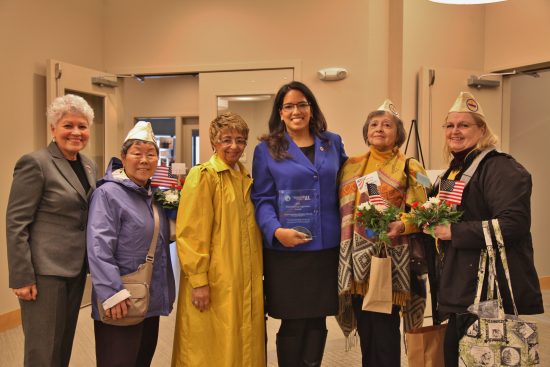 Connecting rural veterans to earned services: One bill that didn't pass last year is a pilot program that will help connect rural veterans to earned federal services. Too often, veterans who live in rural or underserved areas lack access to benefits they earned during their military service. By partnering with the federal government, non-profit organizations, and state agencies, I believe we can improve that access. I hope to bring this bill back up again in 2018.
College assistance for Gold Star students: Another bill that did not pass is a small stipend for Gold Star family members attending college. We know that college tuition has skyrocketed over the years and while there are programs, like tuition waivers, for military family members, that doesn't always alleviate the costs. Gold Star families have lost a loved one, which often puts them in financial hardship. My bill would help ease that burden by offering a $500 stipend for college textbooks. It's a small cost to the state, but something I truly believe would help Gold Star families.
There is other legislation I worked on with my colleagues that passed, and also some that didn't make it to the governor's desk. I'll continue to work on that legislation, and more, in 2018.
---
Contact me
I hope you have a wonderful Thanksgiving. As always, if you have any questions, thoughts, concerns, or ideas, please contact my office. It's my honor to serve you.
Thank you,


---