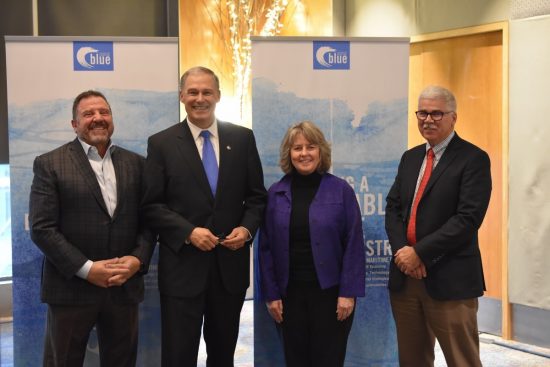 On Tuesday I joined with Governor Inslee to launch "Maritime Blue," a new initiative to transform our maritime economy for a clean-energy future.
I will co-chair the Maritime Innovation Council with Frank Foti, CEO of Seattle-based shipbuilding company Vigor, and Dennis McLerran of the Cascadia Law Group.
We will work with more than 20 leaders from industry, the tribes, public agencies, and non-profit organizations in this first-in-the-nation effort to show how to reduce the carbon footprint of maritime companies and ensure sustainable oceans and fisheries for generations to come.
The first industrial revolution is remembered for its machine-filled factories and sooty skies. The next will be a clean economy revolution, and Washington state must be at its forefront.
Our near-term goal is to deliver a strategic plan to the governor that accomplishes our vision of making Washington state the home to the nation's most sustainable maritime industry by 2050. I think we can get that accomplished much sooner.
We will do this by bringing together stakeholders that represent a broad cross-section of maritime interests that share a common goal of creating sustainable ocean industry.
Governor Inslee has never lost sight of the fact that we need diversified economic thinking in this state and that maritime is always part of it. He knows that all of us need opportunities to do work we like in a place that is second to none, and where we are so fortunate to live.
Our waters have been part of our culture and traditions and way of life in Washington state dating back to the tribes who first settled in this region and continuing to today.
The Advisory Council heard from a number of accomplished speakers who are passionate about our maritime ecology, our maritime economy, and being good stewards of both as we prepare to move our industry forward in a clean, sustainable way.
We heard about underwater server farms that will use the ocean's low temperatures to keep our future computing systems cool and electric boats that move silently across the waters while creating almost no wake.
Over the coming months the advisory council will engage new stakeholders and communities, and come up with a roadmap for success that will include specific actions we can take in order to realize our vision.
This initiative was made possible by a $500,000 federal grant, matched by local and state funds, which will allow us to partner with renowned economic and maritime consultant DNV GL on statewide strategies for success.
---