OLYMPIA – On Monday, January 15, Rep. Tana Senn, D-Mercer Island, introduced a bipartisan joint resolution calling on the federal government to fund the 2020 Census adequately.
In addition, the resolution calls for the appointment of a new director for the Federal Census Bureau, which has been operating without a permanent director since John H. Thompson stepped down in June of last year.
The resolution addresses growing concern that the Federal Census Bureau will not be fully prepared to administer the upcoming census. The census, which is constitutionally mandated, is utilized to ensure fair representation and districting, as well as providing statistical information for essential services and programs.
In Washington, state and local government rely on census data for planning and implementation of services ranging from education to transportation. In addition, census data is the basis for federal money the state receives for critical services. Washington has seen explosive growth since 2010, and updated data from the 2020 Census will affect the state budget and the distribution of federal dollars.
"The census is critical for our democracy, our economy, and our state budget," said Rep. Senn. "Not only does it determine representation, but census data is essential for government functions at every level, and is utilized by businesses and community organizations. The future of Washington state, along with every state in the nation, will be impacted by the census data, and it is imperative that the 2020 Census is adequately funded and administered."
Despite the importance of the upcoming census, preparations for the 2020 count have consistently been underfunded. Last fall, Commerce Secretary Wilbur Ross reported to Congress that increased funding was necessary to facilitate the census.
"In the 2020 Census we must ensure that all Washingtonians are counted. We have a tremendous opportunity to ensure that our state has the resources and representation we need to serve our residents for the next decade and for many years to come," Gov. Jay Inslee said. "All indications are that the federal government's 2020 Census efforts will not be as vigorous as previous counts. This makes it even more important that we step up at the state level. I thank Rep. Senn for her leadership and I look forward to working with her on this issue."
Sen. David Frockt, D-Seattle, will sponsor the Senate version of the resolution.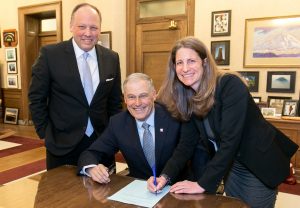 ---