Dear Friends & Neighbors,
The 2018 legislative session is well under way and I wanted to this opportunity to update on some issues I am working on this year. I also want to invite all of you to take part in the 1st Legislative District Telephone Town Hall that will take place on Thursday, January 25th. You will find details at the bottom of this email.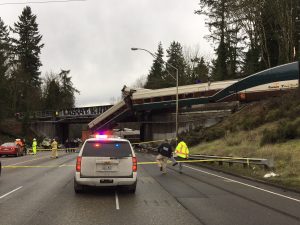 NTSB Preliminary Report
I have received several questions from constituents about the dreadful train derailment that occurred on December 18th, 2017 in DuPont, Washington. As a member of the Transportation committee, I wanted to share with you the NTSB Preliminary Report.  The investigation is ongoing and I will continue to monitor it.
The report can be found by clicking here. 
Basic Law Enforcement Academy Funding
With populations on the rise and a growing percentage of current law enforcement officers approaching retirement eligibility age, our communities need to hire the next generation of officers. Due to state budget constraints, not enough Basic Law Enforcement Academy (BLEA) classes are offered to meet the need.
At the beginning of the 2017 session, I circulated a letter requesting that an additional $2.4 million in funding for BLEA classes be included in the 2017-2019 operating budget.  Over 30 of my House colleagues signed on to this letter and it was delivered to House Leadership. This effort led to over two million dollars in new funding for these classes.
This week, over 40 of my colleagues joined my latest request to include the remainder of the necessary funding for these classes in the supplemental budget. This funding is important because we know that training is the best way to supply our community with an adequate number of officers who are well trained in techniques of de-escalation and appropriate use of non-lethal force.
Medical Marijuana Delivery
This summer, while on a committee tour, I watched as two separate medical cannabis patients, one using a walker and another using a power chair, expended great effort to enter the retail store in order to purchase medicine to treat chronic pain.  Since then, I have heard from cancer patients who didn't necessarily have specific physical disabilities, but they experienced barriers to accessing a store to purchase their meds because of weakness, fatigue, nausea, and a compromised immune system that often accompanies cancer treatment.  I have also heard from veterans who suffer from PTSD and anxiety so severe that leaving their home is difficult at times.
These experiences led me to sponsor HB 2574, which seeks to address this issue of lack of access to medication by creating a new endorsement that a cannabis retailer can purchase that will allow their trained employees to deliver cannabis to a qualifying medical marijuana patient or designated provider in their place of residence.  I am working with industry leaders and the state Liquor and Cannabis Board to make sure this delivery system would have strict enforcement and only be accessible to those medically in need of delivery.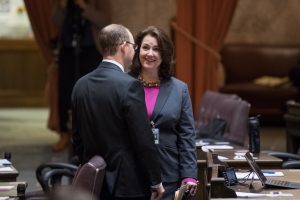 Join our Tele-Town Hall!!!
Your 1st Legislative District delegation are holding a Telephone Town Hall on Thursday, January 25th at 6:00 PM.
This will give us an opportunity to touch base with you about what we are working on in Olympia this year, and allow you the opportunity to let us how you feel about the important issues facing Washington.
Many of you will receive a call around 6:00 p.m. For those that do not receive a call, and still want to take part, you have a couple options.
You can dial in. The call in numbers are as follows.
In-Bound Participant Number: 877-229-8439
In-Bound Pin: 116294
You can also take part by clicking here, and following the instructions to sign up for calls. You can also listen online from that same web location, and ask questions online as well.
---