Making College More Affordable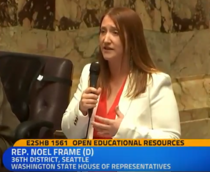 The cost of higher education has increased dramatically over the last decade, shattering the dream of a degree for many students who feel powerless to make college a reality.  We have programs in place to help make it possible for low-income students to get a higher education, like the College Bound Scholarship created by the Legislature in 2007. While financial aid can help with tuition, textbooks are often not covered, and as many students can attest, textbooks can be a big part of the price tag for a degree.
If we're going to build an economy that works for everyone, we have to make the dream of higher education more affordable and more accessible. That's why I've introduced House Bill 1561, which creates a grant program for four-year colleges to expand the development of open educational resources. These open source instructional materials are free to students. I'm happy to say the House passed the bill with strong bipartisan support and it's now making its way through the Senate!
To learn more about the importance of open educational resources, watch my speech on the House floor.
Promoting Access to Democracy
Democrats have outlined a package of legislation to promote "Access to Democracy" to make voting and participating in our government a reality for as many Washingtonians as possible. As someone who has worked on increasing access to democracy, both as a volunteer and professional staff, since I was 20 years old, I believe strongly that there are few things we'll do this session more important than this package of legislation. As such, I am a cosponsor of all of the bills for which I will provide an update below.
The Washington Voting Rights Act
Washingtonians can and should reasonably expect their elected officials to reflect the diversity of the communities they represent. At a minimum, our election systems must ensure that communities have an equal and legitimate opportunity to have their voices heard. However, too often that is not the case.
The Washington Voting Rights Act (HB 1800) would allow communities that are systemically disenfranchised in local government elections to work collaboratively with their local governing bodies to adjust local elections without going through costly and time-consuming federal litigation (the only option available to them now). If this collaborative process fails after six months – a process that is not available under the Federal Voting Rights Act – communities can then seek relief in state court.
Passing the Washington Voting Rights Act will give underrepresented voters a stronger, more meaningful voice in the government closest to them, and empower them to elect leaders that best reflect their community's values and vision.
The House version of the bill has had a hearing and been voted out of committee! A similar bill (SB 6002) has been passed by the State Senate and is on its way to the House for consideration!
Election Day Registration
Voting is a fundamental American right.
Democracies are strengthened by every vote. Rather than making it harder, Americans should come together to make it simple and straightforward to participate in the democratic process.
Too often, we find barriers getting in the way of citizens who want to cast a ballot. For instance, Washington has a slew of varying registration deadlines that create unnecessary confusion for voters.
Election Day registration (HB 2297) would eliminate this obstacle and allow eligible voters the opportunity to submit a ballot up to and including Election Day. This reform has been adopted in more than a dozen other states, both red and blue, and has been shown to increase voting rates and reduce inequalities in turnout.
The House version of the bill has been voted out of committee, while the companion bill (SB 6021) has passed the Senate!
The Disclose Act
In order to make informed decisions at the polls, it's important that voters have all possible relevant information. This means shining some much-needed light onto political campaign contributions.
Currently, we have money moving between organizations in a way that allows them to hide the activity from voters who deserve to know who is funding campaigns for or against candidates and initiatives. This makes it difficult for voters to gauge motivations and make informed choices.
The Disclose Act (HB 2455) would require associations that give money to state and local political campaigns to disclose their top ten donors or those who give above a certain threshold. Requiring these groups to disclose this information will give voters a better understanding of who is behind special interest campaign ads and who is funding certain candidates.
The Senate version of the bill (SB 5991) passed with bipartisan support!
Why does the Legislature…?
Now that we are in week four of the session, we are approaching policy cutoff, the first major milestone of the session! The cutoff calendar and its impact on bills can be a little confusing, so that's what we'll focus on this week.
Q: What is policy cutoff?
At the beginning of each session, the House and the Senate jointly agree on a timetable for considering bills. This timetable is called the cutoff calendar. Bills that haven't moved forward through the various steps by the dates listed on the cutoff calendar will most likely receive no further consideration. These cutoff dates influence committee scheduling, floor time, legislator and staff workloads, and specified action such as bill introduction, committee action, or passage of bills by either house.
The first deadline on the cutoff calendar is called policy committee cutoff for the house of origin (the House or Senate, wherever the bill starts). This year that date is February 2. That means bills in each house must be voted out of the policy committee to which they were referred. If a bill is not heard and voted out of committee by the deadline, it will no longer move forward, or "die."
To learn more about policy cutoff and how it will affect my bills this session, watch my upcoming legislative update! The new video will be posted to my website later this week.
As always, please feel free to reach out and share your comments, questions, and ideas!
Sincerely,



Rep. Noel Frame
---