Lowering the Republican Property Tax Increases
In a few weeks, the first property tax bills for 2018 will hit mailboxes and you're probably going to be shocked. Property taxes are going up this year for just about every property owner in Washington state. Why? Glad you asked.
Last year, Democrats proposed a portfolio of progressive revenue options to fund education. Those options included lowering taxes on some homeowners looking to sell and small business owners trying to survive, while asking powerful corporations and the wealthiest individuals to pay their fair share.
Republicans refused to even consider those options and stalled for months before coming to the negotiating table, pushing the state to the brink of a government shutdown. With our backs against the wall, the options were to either shut down the government or consider a version of the Republican property tax plan. That plan raised property taxes on Washingtonians by $5.5 billion, the largest property tax hike in state history. You can read more about the proposals from both sides in this op-ed written by the House Democrat's chief budget negotiators last May as negotiations were ongoing.
At the end of the day, Democrats compromised and agreed to the Republican's property tax increase in order to fund schools and avoid draconian cuts to critical safety net programs. I voted against the education funding bill because the property tax proposal will place an unfair burden on seniors, working parents, and middle-class families, particularly those in my district, who will see a dramatic increase. At the same time, the wealthiest among us weren't asked to pay their fair share.
For many years, I have advocated for a more fair tax system in Washington. At the same time, I remain committed to fully funding education and other essential state services. It's time we seriously consider Democratic proposals that lower property taxes without hurting our schools or critical safety net programs.
Rep. Kristine Lytton, who serves as the Chair of the House Finance Committee, introduced one such proposal this session, which would replace a significant portion of the property taxes with a capital gains tax on the sale of corporate stocks, bonds, investment property, and other high-end financial assets. I'm a proud cosponsor of this legislation, which also expands the property tax exemption for low-income senior citizens, disabled persons, and veterans. With a Democratic majority in both the House and the Senate, we should go back this year and fix the tax structure that generates the revenue necessary to pay for our schools.
Reforming the juvenile justice system
There are significant problems with the way our current justice system handles young people. The latest research on brain development has shown that the brain doesn't fully develop until age 25. Young adults simply lack the same rational decision-making that adults over 25 have developed.
Instead of pushing juveniles into the revolving door of the adult criminal justice system, we should move toward setting young people up for success as adults. They can still be held accountable for their actions, but instead of being sent into the adult detention system, they should serve their term in the juvenile justice system, which provides rehabilitation services.
That's why this session I introduced House Bill 2895, which will reduce the list of crimes that cause a juvenile to automatically be tried as an adult and instead return jurisdiction over these crimes to the juvenile courts. It also extends juvenile rehabilitation's jurisdiction for serious offenses, allowing kids who commit crimes before their 18th birthday to be held in juvenile rehabilitation until age 25 rather than the current age 21.
I'm proud to say that this bill passed out of the Early Learning and Human Services Committee with bipartisan support last week ahead of policy cutoff! To learn more about the cutoff calendar, this bill, and my commitment to juvenile justice reform, watch my latest video update.
Why does the Legislature…?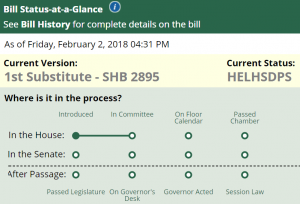 Here in the Legislature, hundreds of bills are introduced every session, and it can become difficult to follow legislation as it moves through each step of the legislative process. This week, we'll talk about some of the resources available online to help!
Q: How do you follow along with legislation as it moves through the process?
One of the best resources for following a bill's progress is the legislative website. Not only does the website offer resources to keep track of bills, but it also has information on committees, floor action, districts, individual legislators, and more. I encourage you to explore the site, but for now we will focus on the bill information page.
The bill information page offers an up-to-date status of the bill, the bill history, any associated documents, and a sign up option to get email notifications. Learn more about the features by exploring the bill page for House Bill 2895. You can also check out the video of a bill's hearing by following the TVW links at the bottom of the bill page. In case you want to watch the hearing on HB 2895, you can simply click right here to go directly to the spot in the video for this bill.
I hope you find these resources helpful in keeping up to date on legislation about which you care!
As always, please feel free to reach out and share your comments, questions, and ideas!
Sincerely,



Rep. Noel Frame
---