February 6, 2018
---
Protecting First Amendment religious freedoms from federal attacks
The freedom to practice one's religion in their own way is an American right protected by the First Amendment and is one of our most closely cherished values. House Democrats are defending that right from a hostile federal government.
The state House of Representatives passed (HB 2097) which restricts state agencies from sharing personal religious affiliation information with federal authorities. If passed by the Senate, and signed into law by the Governor, Washington state agencies would be forbidden from aiding in the creation of a federal religious registry.
Further, under this legislation, employers would not be allowed to require an employee to disclose information regarding their religious affiliation. The measure also exempts from disclosure public records that contain personally identifying information about a person's religious affiliation.
It is inconceivable that a culture of religious intolerance is brewing in the United States. We will not be silent while whole communities are scapegoated due to their religious affiliation.
I'm proud to support legislation protecting people's freedom to worship in the manner they choose and preventing our state from taking part in an un-American religious registry.
---
Equal Pay bill heads to Senate
One of the big pieces of legislation that has passed out of the House this year is the Equal Pay Opportunity Act. The bill passed out on a 69-28 vote! This is the fourth year in a row that the House sent an Equal Pay bill to the Senate. This historic measure updates the Washington State Equal Pay Act for the first time since its passage in 1943.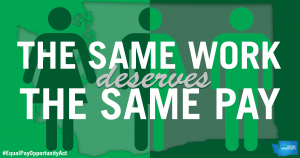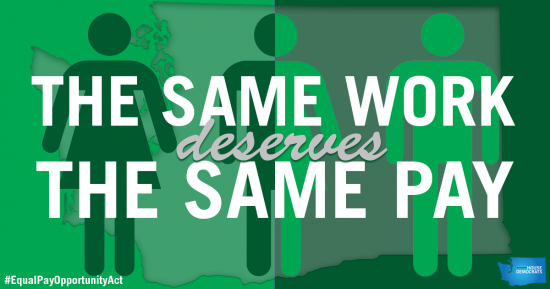 You've probably heard that, on average, a woman makes around 80 cents to a man's dollar for the same work. This wage gap is real (read our Debunking the Claims sheet) and it's not just hurting women. It affects entire communities because women are either the sole or primary breadwinners in over 40 percent of families with kids.
As a result, women are taking home smaller paychecks and many of them don't even know it because they don't have the freedom to discuss their own pay.  That's right, many businesses don't allow their employees to talk about wages with coworkers, effectively keeping them in the dark.
The Equal Pay Opportunity Act will empower women and reaffirm Washington's longstanding pursuit of equality in the workplace. Details of the bill include:
Banning pay secrecy policies,
Allowing discussion of wages; and
Prohibiting retaliation against workers for discussing their pay, or for asking for equal pay and opportunities.
I am confident the Senate will give this bill its support and send it to Governor Inslee for his signature soon.
Enacting HB 1506 will send the message to employees and employers, men and women, and our girls and boys that, indeed, all of us must be treated equally.
---
Investing in our communities
Recently, the legislature passed a $4 billion-plus capital budget. Sometimes called the construction budget, this investment in projects creates thousands of jobs in every corner of the state—and it includes a record $1 billion to build public schools and $800 million to build colleges and universities. Read more here about the statewide impacts of the capital budget.
I was able to work with my seatmates to secure over $15 million to be used for projects in the 37th Legislative District including the following projects:
Filipino Community Innovation Learning Center – $600,000
Affordable housing at Filipino Community of Seattle (FCS) Village makes sense and has always been needed in the community. The Filipino Community Center (FCC) located between Beacon Hill and Rainier Valley will become the heart of the FCS, a mixed-use development, that's been on the minds of local Filipino American residents for several decades. Plans for FCS Village include a half-round plaza, a characteristic of traditional Filipino architecture; an Innovation Learning Center with FCS' computer-literacy and robotics classes; a rooftop garden; and parking spaces.
El Centro de la Raza – $737,000
El Centro de la Raza will use this funding to develop a transit-oriented, mixed-use affordable housing community. This community was planned in response to growing needs – specifically, a critical need for affordable housing, economic opportunities and job creation, early childhood development and education, and community gathering spaces.
Othello HomeSight Community Center – $3,000,000
Homesight is a local nonprofit Community Development Corporation focused on building strong equitable communities. This project will increase capacity of community organizations by fostering the development of neighborhood leaders and helping low-income, first-time homebuyers through education and financial assistance. This will be a culturally relevant and welcoming place where people in Southeast Seattle and beyond can access opportunities for higher education, good paying jobs, and support to start and keep a business.
Cherry St Fellowship – $360,000
The Cherry St Fellowship has been a focal point in the continued sobriety for people of all races, creeds and colors. They provide a clean and sober environment for community members.
Ethiopian Community Senior Housing – $400,000
The nonprofit Ethiopian Community in Seattle aims to build a housing complex of about 120 units for low-income seniors and families. The Community Center is designed to be a gathering space that serves hundreds of community members. There is a computer lab where new immigrants can learn computer skills, a room where children can get after-school tutoring, a cafe, meeting rooms, and more.
Mt Baker Community Club – $141,000
Established in 1909, the Mount Baker Community Club (MBCC) is dedicated to providing a gathering space for neighbors to come together, get to know each other and build community. Anyone who lives near the Mount Baker area is considered a member, free of charge. MBCC provides a number of family programs and hosts community events and services in which members are able to participate.
---