OLYMPIA—Fairgoers and organizers could soon have new reasons to celebrate thanks to two of Rep. Brian Blake's bills that would designate fairs as economic drivers for their communities and ensure funding for their operations.
House Bill 2725, which passed the House of Representatives this morning on a unanimous vote, would update laws concerning agricultural fairs, youth shows, and exhibitions.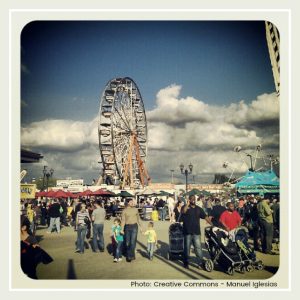 "These laws haven't been updated in decades; it's time for an overhaul that aligns them with current practices," said Blake, an Aberdeen Democrat, whose legislation would modify the definition and purpose of agricultural fairs to include the promotion of rural economic development.
The measure also addresses fair funding logistics by expanding, to all fairs, the authority to use funds from the Fair Fund for operating expenses.
"Funding from the Fair Fund makes a big difference in the ability of local fairs to operate," Blake said, adding that there's a fair at each of the five counties in the 19th district he represents: Grays Harbor, Pacific, Lewis, Wahkiakum, and Cowlitz. "So fairs are a big deal in our area. Small businesses showcase their wares, local artists offer their works, entertainers perform, and kids learn new skills while having fun, all of these things create jobs, help grow the economy and strengthen communities."
Blake's other legislation, House Bill 2765, would ensure the long-term funding of fairs by allowing the Fair Fund to grow for the first time in twenty years.
The current source of revenue for the Fair Fund is a transfer from the general fund. This bill does not create a new tax; instead, it diverts sales tax revenue generated on fairgrounds from the general fund to the Fair Fund, replacing the existing transfer. The more revenue is generated, the higher the Fair Fund increase.
This legislation did not move in the House, but its identical companion, Senate Bill 6386, is alive and sailing through the legislative process, since it did pass out of both the policy and fiscal committees in the Senate before the cutoff.
###
---