Telephone Town Hall on February 20
We're excited to announce we'll be holding a telephone town hall next week! Please join us for a telephone town hall Tuesday, February 20, 6pm-7pm. We'll be talking about the work we're doing on your behalf and taking questions from you! You can dial in directly by using the call-in information below:
Number: 877-229-8493
Pin: 116285
Or listen and ask questions online at: https://vekeo.com/whdc34/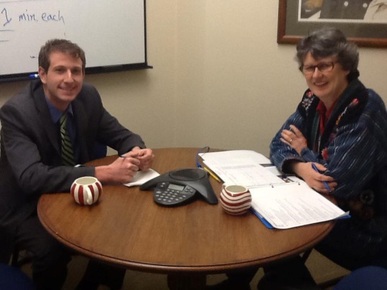 Note from Joe:
Net neutrality passes House
Back in December, the Federal Communications Commission (FCC) removed net neutrality protections at the federal level. Consumers in Washington state and around the country are rightfully concerned how this action will affect their ability to access content on the internet.
Our state wasted no time in taking steps to protect Washingtonians' access to a free and open internet. A bill maintaining net neutrality protections was introduced in anticipation of the FCC's decision, and it garnered support from both sides of the aisle. Both Rep. Cody and I co-sponsored this measure, which would prohibit internet service providers (ISPs) in our state from:
Blocking customers' access to lawful content
Slowing down lawful content (known as "throttling")
Favoring certain content over others due to special deals (known as "paid prioritization")
Last Friday that bill, HB 2282, passed the house on a strong 93-5 vote.  All House Democrats voted in favor, as did the vast majority of Republicans. That's because net neutrality is not a partisan issue. It is what has allowed the internet to flourish and has given a lot of small businesses a shot at success, including right here in our state. The bill uses the state's consumer protection authority to protect net neutrality, and I look forward to it moving through the Senate and being signed by the governor.
A permanent revenue source to fight homelessness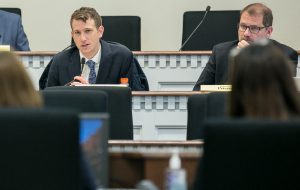 Since 2005, a $40 local homeless housing and assistance surcharge has been collected by counties when certain documents are recorded. Both state and local homeless housing programs receive funding from this surcharge, and it's been an important tool in the fight against homelessness. Each year, the state provides assistance to nearly 100,000 people with these funds, and in the decade since it was first enacted, it has helped reduce homelessness in our state by nearly 18 percent. The loss of this revenue source would be a blow to our state's homelessness reduction efforts, but the surcharge was slated to sunset.
Last week, the House passed legislation (HB 1570) – which Eileen and I co-sponsored – to make this surcharge permanent. The bill also authorizes county auditors to assess and retain an additional local surcharge for homeless housing and assistance and allows counties more discretion in the use of those funds. This is the second time in two years this bill has passed the House, but last year it died in the Senate. With the new Senate leadership, I'm much more optimistic it will make it all the way to the governor's desk this year, and continue to make a tremendous difference for individuals and families in our state who have fallen on hard times.
Note from Eileen:
Health care legislation to fight opioids, expand reproductive health coverage, and eliminating surprise billing practices
The scourge of opioid use disorder is hammering communities all across our state and in our district. I've been working with the governor, other lawmakers, stakeholders, and medical professionals to identify ways we can combat abuse and addiction. That work came together in HB 2489, taking multiple ideas and rolling it all into one bill. Last week, the House came together and passed HB 2489 unanimously. It accomplishes a lot, but some of the highlights are:
Authorizes pharmacists to partially fill prescriptions, instead of providing the full amount, at the patient or prescriber's request;
Requires health care practitioners to discuss the risks of opioids and pain management alternatives when prescribing an opioid to a patient for the first time;
Health care practitioners have a new requirement to take a Continuing Education course on best practices for opioid prescribing and to register for the Prescription Monitoring Program; and,
Connects certified peer counselors with individuals who have had a non-fatal overdose.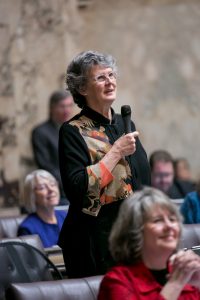 There's additional changes, from allowing emergency departments to distribute overdose reversal medication to warning statements on the risks of opioids and safe disposal methods. We also passed the Drug Take-Back Act last week, which requires drug manufacturers to operate a safe disposal program for opioids.
Last year, I introduced legislation to fight surprise billing practices that show up weeks after an emergency room visit or after a surgery. You might remember hearing about that practice, what is called "balanced billing" and it happens when a hospital is in-network, but someone in the chain of care is out-of-network, like an anesthesiologist. These surprise bills are affecting families all over Washington and I've been working over the interim to find a solution. I'm happy that this year we have new leadership in the Senate willing to consider a fix that puts people first.
Finally, after years of working on the Reproductive Parity Act, we're moving forward with legislation that will prioritize reproductive health coverage. My colleague in the Senate, Sen. Steve Hobbs, has passed his bill over to the House. We have already heard it in the House Health Care and Wellness Committee.  This policy is important for Washington: It establishes that all contraceptive coverage (drugs, devices, products, and services) are provided at no cost. If a health plan provides maternity care, it must also provide abortion coverage. I look forward to passing the RPA out of the House and on to the governor!
---
Thanks for reading!

---