Reducing the harm from domestic violence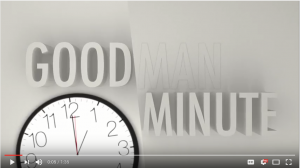 Domestic violence is something we really don't like to talk about, but it is still one of our most serious chronic social problems. For more than a decade, I've worked to prevent and reduce the harm from domestic violence. As Chair of the Public Safety Committee, I've collaborated with prosecutors, law enforcement, judges, treatment programs, and victims and their advocates to pass legislation to improve our response to domestic violence.
Despite the successful legislation passed over the years, we can always do more for victims and their families. That's why this year I've introduced House Bill 2457, which will ensure that no-contact orders can stay in place much longer after an abuser gets out of jail, helping to keep domestic violence victims safe.
Learn more about the progress we've made to prevent domestic violence and the work still needed to be done in this week's GoodMinute.
Updating Washington's emissions reduction targets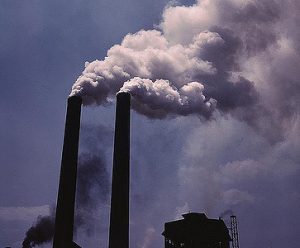 In 2008, our state enacted legislation setting emissions reduction targets for greenhouse gases in 2020, 2035, and 2050. In 2016, the state Department of Ecology recommended the Legislature update and strengthen these targets based on the latest climate science.
This week, the House passed a bill doing exactly that. HB 1144 aligns Washington state's greenhouse gas reduction goals with those the United States committed to in the 2015 Paris climate agreement. Those targets are based on the most up-to-date climate science, reflecting what would likely limit global temperature increases to below 2 degrees Celsius on average. While the Trump Administration has since said it is withdrawing the United States from the Paris agreement, that doesn't prevent individual states from setting their own emissions reduction goals.
Why is setting these targets important? Because climate change is already making our ocean waters more acidic, increasing the severity of wildfires and melting our mountain snowpack earlier. Climate change is a global problem, but climate action starts at home. With this bill, our state signals it will lead the way on reducing greenhouse gas emissions and do the responsible thing for the next generation of Washingtonians.
Legislative Page Program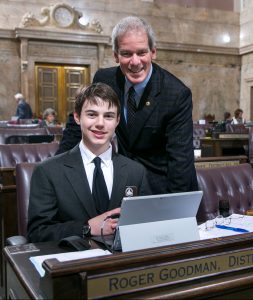 Every year, students ages 14 to 16 come from all over the state to serve as legislative pages at the House of Representatives. Pages perform a wide variety of responsibilities, from presenting the flags to distributing amendments on the House floor. In addition to contributing to the efficient operation of the Legislature, pages receive daily civics instruction, draft their own bills, and participate in mock committee hearings.
This week, I was proud to sponsor Alec Rothkowitz as a page. Alec is the son of Deborah Chapnick and Jason Rothkowitz of Woodinville, and a student at Environmental & Adventure School.
Visit the website for more information about the Page Program, to fill out an application, and to apply for the Gina Grant Bull Scholarship.
Thanks for coming to the Town Hall!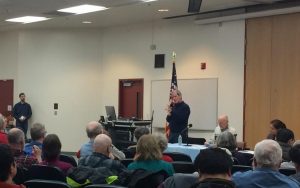 Thank you to everyone who came to the 45th District town hall this past weekend! It was great to hear about the pressing needs and concerns of our communities. I heard from many of you about the rising property taxes and concern about gun safety, particularly in our schools. These are serious problems and I look forward to working with members of our communities and across the aisle in Olympia to find real solutions.
Look for more updates coming soon and please, feel free to reach out if you have questions, comments, or ideas.
All best wishes,



Roger Goodman
Representative, 45th District
Washington State Legislature
---