A long-term plan to lower property taxes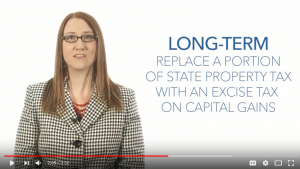 Washington has one of, if not the most, regressive tax codes in the nation. My focus here in the Legislature has been to fight for tax reform, to ensure that our priorities are not being funded on the backs of the middle class, working families, and small businesses.
During the education funding debate last session, Democrats proposed a range of progressive revenue options to not only begin reforming our tax structure, but to address the magnitude of our state's funding needs. The Republicans disagreed, proposing a property-tax only solution.
For months, the Senate Republicans refused to negotiate on the budget. Because of their inaction, we were faced with a terrible decision: Allow the state government to shut down and hold the line on progressive revenue sources, or accept the Republican Property Tax Proposal to fully fund schools.
While I opposed the property tax package, our budget negotiators compromised to ensure the budget passed before the deadline, avoiding a government shutdown. They negotiated a lower property tax increase than the Republicans originally proposed, and hoped that we could lower property taxes later on.
That time is now.
In the short term, House Democrats plan to use some of the extra revenue that has come in this past year to lower taxes in 2019 and 2020.
We have also proposed a long-term solution that will replace a significant portion of the state property tax with new progressive revenue: an excise tax on capital gains.
To learn more about the long-term property tax relief that makes our tax code a little fairer for working and middle class families, watch my latest video update.
Now is the time to consider common-sense gun legislation
After the recent devastating shooting at a high school in Parkland, Florida, people across the nation are rightfully demanding more than thoughts and prayers to prevent future mass shootings. Many of you have been contacting me asking what the Washington legislature is doing to address gun violence.
The House Judiciary Committee heard five bills to address gun violence this session, which is noteworthy progress from previous years.
One common sense measure moving through the legislature this session is Senate Bill 5992. The bill would ban the manufacture and sale of bump-fire stocks. Bump stocks are trigger modifications that allow a semi-automatic firearm to replicate a fully automatic one, which, as we saw in the tragic Las Vegas mass shooting last fall, can be used to devastating effect.
The bill passed out of the Senate earlier this session, and was debated on the House floor last week. I'm glad to say we passed it with bipartisan support and the bill is now heading back to the Senate for concurrence (determining if they will accept our amendments or not) before going to the governor for his consideration.
We've also made progress on other legislation to help prevent gun violence, such as Senate Bill 5553 and House Bill 2519. Senate Bill 5553 allows someone to voluntarily waive his or her right to a firearm in an effort to reduce the risk of harm for people in crisis who are struggling with suicidal thoughts. When people are in a crisis, having access to firearms significantly increases the risk of harm, and this bill will allow people to choose to protect themselves. The bill was passed on a unanimous vote out of the Senate, and passed out of the House on a strong, bipartisan vote last week.
House Bill 2519 brings consistency between firearms returns and concealed pistol license (CPL) returns to ensure that only those who are legally eligible for a CPL will get them. The bill ensures that if someone commits a crime and has their license impounded by law enforcement, there is a short waiting period before it is returned, allowing law enforcement the time to ensure they are legally allowed to carry concealed. It passed out of the House with strong, bipartisan support and is currently waiting to be considered by the full Senate after being voted out of the Law and Justice Committee.
Finally, I am hopeful I'll have the chance to vote on Senate Bill 6620, which raises the age from 18 to 21 for the sale of assault-style weapons, among other provisions in the bill. In the wake of so many mass shootings nationwide – in schools, in churches, in workplaces – Washingtonians are calling on lawmakers to help keep them safe from gun violence and ensure guns do not get into the hands of people determined to use them to kill or injure other people. Each step we can take will put us farther down the path toward keeping our families and communities safe.
A budget that puts people first
Last week, Democrats unveiled our budget proposals for the 2018 supplemental budget. The supplemental budget adjusts the biennial budget we passed last year. It is also an opportunity to improve in areas that need more investments. I'm happy to report that House Democrats are proposing to increase funding for public schools, mental health services, college financial aid, and provide property tax relief for families across Washington state.
Here in the House, our proposal includes nearly $1 billion for K-12 education, focusing on funding teacher salaries, but also including investments in special education. With these additional funds, the state will come into compliance with the McCleary decision.
Additional investments include:
$300 million to expand and improve mental health services and capacity, including investments to combat the opioid crisis and for community supportive housing;
$156 million to fully fund the State Need Grant, making it easier for economically disadvantaged students to access higher education; and
$32 million to restore the Temporary Assistance for Needy Families program to pre-recession levels, strengthening the safety net.
The proposal from House Democrats also includes providing short-term property tax relief to the tune of $1 billion in reductions for millions of families across the state, including expanding the exemption from property taxes for low-income senior citizens, veterans and individuals with disabilities.
Over the remaining days of the legislative session, budget leads from the House and Senate will work to resolve differences in the two budget proposals.
Why does the Legislature…?
If you stopped by or called my office this week, you would likely have heard that I was "on the floor."
What is floor action?
After bills pass out of committee, they still need to be voted on by the full House to continue moving through the legislative process. As we approach the end of the session, representatives are spending most of our time in the House chamber debating and voting on bills.
The floor activity report is a great place to see what is going on right this minute. You can look at the floor and suspension calendars to see what bills are coming up soon or what bills we passed.
Another great way to tune into floor action is by watching it on TVW. In addition to the TVW channel on your television, you can stream video from the web or through the TVW app on your smart phone. There is even an archive of footage going back to TVW's earliest days.
As always, please feel free to reach out and share your comments, questions, and ideas!
Sincerely,



Rep. Noel Frame
---