The 2018 legislative session ended last Thursday, March 8. It was a busy session: 1,410 bills were introduced and 308 passed the legislature in 2018, compared with 2,174 and 399 in 2017 – a session over three times longer. We fulfilled the final piece of our obligation to fully fund schools under the McCleary decision; lowered property taxes; and passed a wide range of policy bills that put families first and move Washington forward.
Election bill signing at Foster High School
Only a handful of bills will be signed outside of Olympia this year, and we are thrilled to announce that Governor Inslee accepted our invitation to celebrate these huge achievements in the community by signing the Access to Democracy package at Foster High School in Tukwila.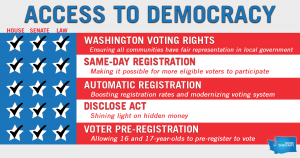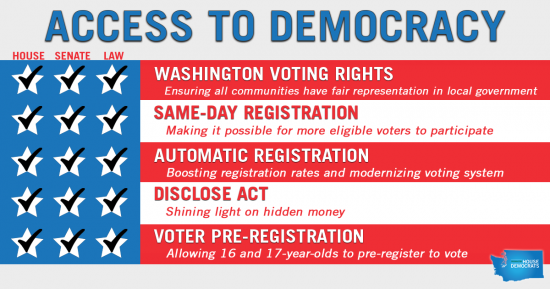 It is particularly meaningful to sign these bills at Foster for two reasons: first, because 16- and 17-year-old high school students will now be eligible to pre-register to vote with the passage of the youth registration bill sponsored by high school teacher and Rep. Steve Bergquist; and second, because it is the alma mater of Rep. Mia Gregerson, one of the sponsors of the Washington Voting Rights Act.
Putting Families First
Equal Pay Opportunity Act: This legislation will help close the wage gap between men and women in our state by offering protections for employees who are paid less on the basis of gender, but also to employees who are offered lesser career advancement opportunities based on gender (HB 1506).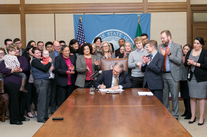 Getting toxic chemicals out of food packaging: Back when I was on the Environmental Health Committee in 2009-10, I sponsored bills to get lead out of paint and toxic chemicals out of toys. This year, we continued that important work by placing restrictions on the use of harmful PFAS (perfluorinated) chemicals in food packaging beginning in 2022 (HB 2658).
Prohibiting housing discrimination: Prohibiting housing discrimination by preventing landlords from turning away potential tenants who rely on Section 8 vouchers, Social Security, or veterans benefits. This bill also includes mitigation for damages caused to private rental properties under these programs (HB 2578).
Moving Washington Forward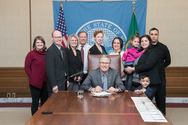 Net neutrality: Washington is the first state in the nation to pass a state-level net neutrality policy. This will prevent internet service providers from blocking or slowing down lawful content and protect consumers' private information, such as browsing and search history, from being sold without their consent (HB 2282).
Student Loan Bill of Rights: Student loan borrowers in Washington now owe a staggering $24 billion. This bill will protect student loan borrowers from harmful and predatory business practices and create an advocacy office that looks out for student borrowers (SB 6029).
Relief from property taxes: A statewide property tax cut, effective in 2019, to give households relief from the Republican property tax of 2017 (SB 6614).
No more fees to freeze your credit!
Breakfast After the Bell gets signed into law!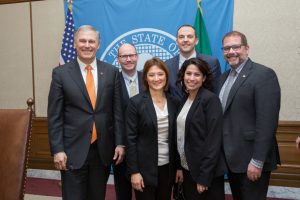 ---