Final budget fully funds education, cuts property taxes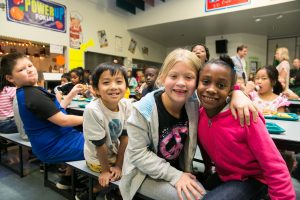 Legislators approved a supplemental budget that includes a one-time property tax cut to the tune of $391 million, thanks to a better-than-expected revenue forecast. This will be especially helpful to working families and people on fixed incomes – those most impacted by last year's property tax increase to help fully fund our public schools. We also left a healthy reserve in the state's rainy day fund as a buffer for future emergencies, like wildfires and unexpected downturns.
Teacher compensation reforms are also being phased in this year, as the state Supreme Court wanted. This should put an end to the fines the Court imposed on the state for past underfunding of our K-12 schools, closing the chapter on the years-long McCleary lawsuit.
Other operating budget highlights include:
Investments in our mental health systemto help people in crisis get the help they need.
Strengthening the safety net for our most vulnerable families, seniors, veterans and people with disabilities.
Expanding access to higher education for all, including completely eliminating the wait list for the State Need Grant over the next four years.
Local projects funded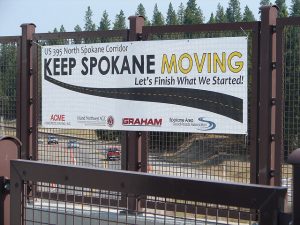 The final supplemental capital and transportation budgets for 2018 include funding for important projects in Spokane. I pushed to ensure these projects that will benefit our community made the final cut:
$2.4 million for the Spokane County Jail Diversion facility, which will be used to convert a portion of the current County emergency management building to a 16-bed mental health and chemical dependency evaluation and treatment facility.
$1.25 million for a new Spokane County Medical Examiner facility, which will integrate with and support the WSU and UW medical schools on the university district campus.
$80,000 for a much-needed new roof at the West Central Community Center.
$495,000 for development of the South Gorge Trail.
$235,000 for the House of Charity homeless shelter outdoor annex.
Critical transportation-related projects like the US 395/North Spokane Corridor project, the Central City Line, and the Spokane Falls Community College Transit Station will continue moving forward with funds in the supplemental budget.
As you may recall, the two-year capital budget (2017-2018) passed in January after months of delay. It includes $125 million for Spokane projects, including funding for the East Central Community Center, the YWCA Family Justice Center, and Eastern Washington University's Science Center.
Responsible Representation Act signed into law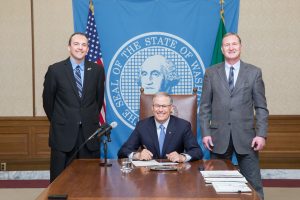 Last week, Governor Inslee signed my bill, the Responsible Representation Act, which changes the way Spokane will elect their county commissioners. Beginning in 2022, counties with populations over 400,000 will change to a district-based county commission structure. For Spokane this means moving from three commissioners to five, lowering the citizen-to-commissioner ratio.
Moving to five commissioners ensures citizens get a more responsive government that matches our growing population, giving citizens a more direct voice in government. The bill passed with strong bipartisan support. Read more on my website or read the coverage from The Spokesman Review or KXLY.
3rd District Town Hall on April 14
Together with Rep. Timm Ormsby and Sen. Andy Billig, I'll be hosting a legislative town hall meeting on Saturday, April 14. We'll provide an update on progress made during the 2018 legislative session, and answer your questions about the issues that are important to you and to our district.
Date: Saturday, April 14.
Time: 10-11:30 a.m.
Location: East Central Community Center, 500 S. Stone Street
---