OLYMPIA – State Representative Tana Senn, D-Mercer Island, was recently honored for her work advocating for policies and investments to promote positive outcomes for children and youth. On Tuesday, April 17, Senn received the 2018 Washington Champion for Children and Youth Award from Fight Crime: Invest in Kids.
"This award is given in recognition of Rep. Senn's strong commitment to children and youth in this past legislative session," said Ed Holmes, Chief of the Mercer Island Police Department, in his remarks during the ceremony. "In particular, we want to recognize [her] role in digging deep into children's mental health, keeping this issue at the forefront and directing needed resources to proven solutions."
Senn, who has served as the Co-Chair for the Children's Mental Health Workgroup and championed children's mental health legislation in 2017, continued her efforts during the 2018 legislative session. She successfully advocated for legislation (HB 2779) to build greater mental health provider capacity, improve mental health in schools and early learning settings, explore access to eating disorder treatment, and evaluate parent engagement in the treatment process for youth.
During the ceremony, Senn, who serves as Vice Chair of the Early Learning and Human Services Committee, was also lauded for her leadership in securing a 40 percent increase in state funding for home visiting. Home visiting programs are services offered to families with new babies and young children to help parents develop basic skills to support the physical, social, and emotional health of the child.
"The first five years of a child's development are critical, and working to ensure that our state's youth have the services and supports they need to get off on the right foot and be happy and successful has always been a top priority for me," said Senn.
Fight Crime: Invest in Kids is an organization associated with the Council for a Strong America, and its membership in Washington includes police chiefs, sheriffs, and prosecutors "protecting public safety by promoting solutions that steer kids away from crime."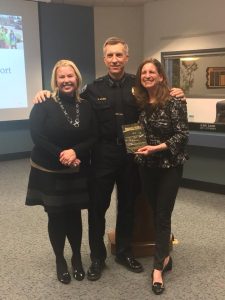 ---