NOTE: This release was thought to be correct at the time of publication. It has since been determined that Rep. Lekanoff is likely the third Native American woman to serve in the Washington State House of Representatives.
OLYMPIA – Rep. Debra Lekanoff, D-Bow, began her first day in the state legislature by being sworn into office Monday on the floor of the House of Representatives. Rep. Lekanoff is making history as the first Native American woman to become a Washington state Representative.
Beyond the typical ceremony where all legislators are sworn into office during the House opening day proceedings, Rep. Lekanoff brought something special to the Capitol. After the closing of the daily proceedings, Rep. Lekanoff was joined on the floor Coast Salish Washington Tribal leaders and British Columbia First Nation Chiefs across Washington, as well as Gov. Jay Inslee, House Speaker Frank Chopp, House Republican Leader JT. Wilcox, and fellow representatives for a tribal blanketing and swearing in ceremony.
The People's House celebrated this monumental moment with the echoes of Nisqually Tribal drums and the harmonious voices of tribes honoring this day in state history. Judge Ron Whitner, Squaxin Island Tribal member, conducted Rep. Lekanoff's ceremony.
"It truly is an honor to represent the beautiful 40th District, and recognize it is our shared values that we bring to Washington State. This a time for diversity of voices in our state capitol and I am honored to be among them," said Lekanoff.
In the Coast Salish culture, it is traditional to wrap a blanket around those witnesses chosen to carry the story forever. Being blanketed is a sign of respect for those who have made a valuable contribution to the community. Governor Jay Inslee, Nisqually Councilman Willie Frank, Sumas First Nation Chief Dalton Silver and Rep. Lekanoff's daughter Emma Worgum were also official witnesses for the ceremony.
Rep. Lekanoff is excited to begin making changes for the people of Washington. She looks forward to working with all parties to build healthy communities by protecting the Salish Sea and making decisions that provide economic prosperity with environmental integrity. She is committed to protecting and restoring salmon and orcas, and ensuring all parties work together to ensure Washington State fulfills its fiduciary responsibility to these resources.  She is collaborating with fellow legislators to build sustainable communities and continue to work on those important matters of homelessness, affordable housing, and behavioral mental health and the opioid crisis destroying families across the state. Lekanoff is committed to improving the education system and supporting workforce development for all communities. She stated, "It is an absolute privilege to be here in the House, and I will do my best to make you all proud!"
On day two of her legislative career, Lekanoff introduced legislation that is so important to her 40th district, and across Washington State. She rises to recognize the need to expand the senior citizen and qualifying veteran property tax exemption. Her proposal adjusts various income thresholds to allow more senior citizens to qualify for exemption, helping aging families stay in their homes at a time when property values have skyrocketed.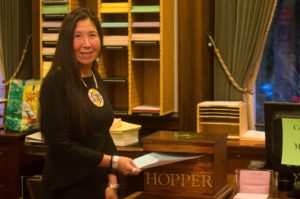 "As we acknowledge our growing senior citizen population, we must address the need for a strategic plan to address the services required to help that population. Likewise, we have an increase in military veterans requiring sustainable and accessible lifeways. For these communities, high property taxes are too heavy a burden," said Lekanoff after introducing her bill. "Ignoring this problem will not make it go away and I am committed to helping our seniors and our veterans maintain access to their homes. One step we can take is expanding the property tax exemption and I am proud to introduce it as my first bill in the House."
###
---