OLYMPIA—How can we work together to make Washington state a better place to live, work and raise a family?
"There's no substitute to hearing directly from you," said Acting Speaker John Lovick (D-Mill Creek). "Whenever I meet someone, I learn something—and I have learned a tremendous amount during these coffee chats with the people of the 44th District. I hope to see you there."
Lovick and his seatmate, Rep. Jared Mead (D-Mill Creek), are hosting a coffee chat from 10 a.m. to 11:30 a.m. on Tuesday, June 25 at the Baker Room of the Mill Creek Family YMCA, 13723 Puget Park Drive, Everett.
"Your comments, ideas and stories matter," Mead said. "Maybe there's a problem you see every day when you drive to work and you have an idea for a solution—or you're curious about what happened in Olympia on education and health care. These coffee chats are the most personal, face-to-face way of building on the foundation of our American democracy: a healthy, respectful dialogue between citizens and their representatives."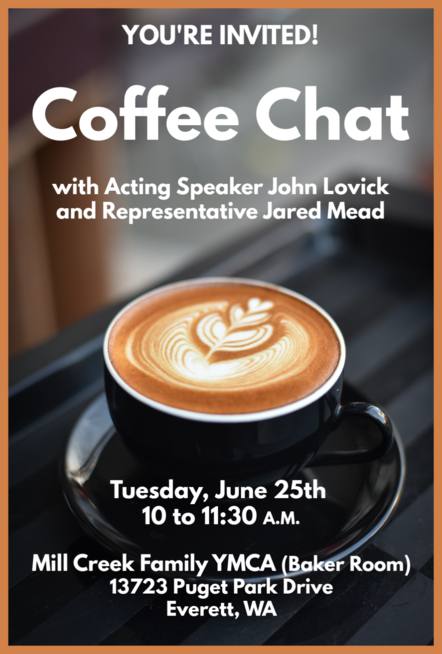 ---