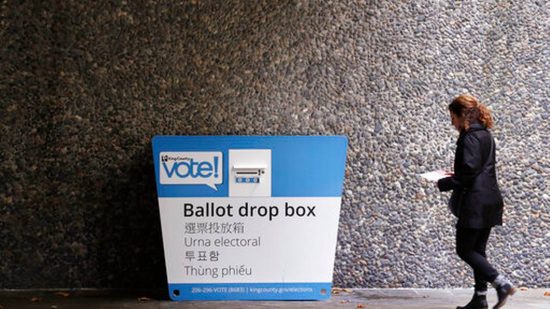 $30 car tab measure passing, billions could be cut
State and local governments could end up scrambling to pay for road paving and other transportation projects as a Washington state measure that would cut car tabs to $30 was passing in early returns Tuesday. Sponsored by Tim Eyman, the measure would cap most taxes paid through annual vehicle registration at $30 and largely revoke the authority of state and local governments to add new taxes and fees without voter approval. Continue reading in The Bellingham Herald. (Elaine Thompson/AP Photo)
---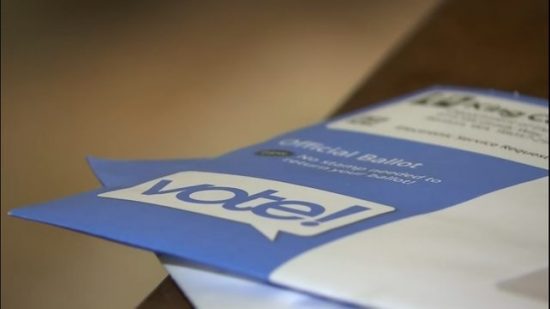 Washington affirmative action referendum trailing after first election numbers
The affirmative action referendum was narrowly trailing in Washington after the first round of election numbers were released Tuesday night. At 9:11 p.m., 51.18 percent of votes counted were rejecting it. By that time, there were 918,690 votes counted statewide. Continue reading at KIRO7.com.
---
Constitutional amendment on emergency power takes lead
Washington voters were supporting an update to a constitutional amendment on emergency government powers in early returns.Resolution 8200 was passing with more than 65 percent of the vote initial returns Tuesday night. The measure asked voters to broaden the section on "continuity of governmental operations in periods of emergency" so that continuity is ensured not only in case of attack but also in case of "catastrophic incidents" like a massive earthquake. Continue reading in The Olympian.
---
Print
Associated Press
$30 car tab measure passing, billions could be cut
Washington affirmative action referendum trailing after first election numbers
Sound Transit abandons pricey Seattle light rail tunnels
Judge rejects new federal health rule affecting abortions
Amid deaths and illnesses, teen vaping numbers are climbing, fueled by mint-flavored Juul
Constitutional amendment on emergency powers takes lead
Voters in US states decide on sanctuary city, Airbnb rentals
Pipeline protesters at Port of Vancouver
Aberdeen Daily World
Schave and Winkelman leading in Aberdeen and Hoquiam mayoral races
Sunken vessel in Hoquiam River slated for removal
Votes saying upgrade county's emergency radio system
Challenger Winkelman takes big lead against incumbent Hoquiam Mayor Dickhoff
Challenger Schave jumps to substantial early lead over incumbent Aberdeen Mayor Larson
Arlington Times
Arlington mayor Tolbert only leads by 27 votes; 2 experienced Marysville leaders trailing
Auburn Reporter
Burnett leads Mulenga in tightest Auburn City Council race; Baggett and Jeyaraj confident
Voters are narrowly rejecting affirmative action
I-976 is passing, worrying transit advocates
King County Council incumbents ahead, with the exception of Gossett
Bellingham Herald (subscription required)
Here's who is ahead in Whatcom County election races after first count Nov. 5
Whatcom County 2019 general election results from Nov. 5
Bothell Reporter
Voters are narrowly rejecting affirmative action
Columbian
In Our View: State's wine, craft beer industries worth toasting
Public health awards go to 3 local legislators (Cleveland)
The Daily News
Castle Rock library levy short of passing Tuesday; school board race close
Read election coverage online tonight, in print Thursday
New Kiwanis club offers service opportunity for Woodland-Kalama area
Woodland: Cop levy fails; Wile holds port; Chapman keeps council seat
Conrad, Huntington and Haas appear to win spots on Kelso School Board
Erickson retains seat on Port of Longview commission
Columbia County rider transit service district measure fails
Cameron, Baltazar, Parkhill retain seats in fire district races
Voters re-elect two Kelso council incumbents, turnout Jim Hill in Tuesday election
Voters reject $119 million Longview School bond
Voters reject West Longview annexation proposal
Kalama backs pro methanol commissioner, elects Merz, Conradi, Kallio to council
Longview incumbents defeated; Wallin, Melink tied in early Tuesday returns
Westrick, Leach, Wiitala keep Longview School Board seats
Everett Herald (subscription required)
Lower car tabs are a hit with voters, again
2019 general election results for Snohomish County
A sergeant is leading a tense sheriff's race against his boss
Jerry Cornfield breaks down early election results
Voters favor a firework ban, early election results say
Final paving options ready in Mountain Loop Highway stud
Muhlstein: EdCC will honor immigrants who served their chosen country
Commentary: Trump's climate change denial his greatest folly
The Inlander
State audit critical of pricey new computer system at Spokane community colleges, but rollout will move forward anyway
Election Results: City Propositions, School Board, State Initiatives, Valley Council
Islands Weekly
County makes headway on affordable housing
Preliminary election results | $30 tabs fails in county, passes in state
Kent Reporter
Three incumbents winning Kent City Council races
Kitsap Sun (subscription required)
Live election results from Kitsap County
Kitsap voters approve local emergency services levies, plus Mason County bond
Three new faces will join Poulsbo City Council in 2020
Medicine disposal kiosks collect nearly two tons in first year of operation
Most incumbents prevail in Kitsap school board races
In early returns, islanders vote for new faces on Bainbridge City Council
News Tribune (subscription required)
Live voting result updates for Tacoma, Lakewood, Puyallup city councils, bonds, more
Five things we learned from Tuesday night's election results
Puyallup School District's request for $273 million sinks in the polls
11-year project to improve Route 16/Interstate 5 interchange almost finished, state says
New York Times
The Trump Impeachment Inquiry: Latest Updates
Judge Overturns Trump-Backed 'Conscience Rule' for Health Workers
Why $4.5 Billion From Big Tech Won't End California Housing Crisis
Trump Serves Notice to Quit Paris Climate Agreement
Olympian (subscription required)
Capital High School 'locked out' Tuesday after rumors about weapon
Thousands of Washingtonians drive cars that get this tax break. It's under siege in D.C.
Peninsula Daily News
YMCA of Port Angeles day care program stopped for now
Puget Sound Business Journal
Farm country feeds America. But just try buying groceries there.
Boeing CEO Dennis Muilenburg 'has done everything right'
Renton Reporter
I-976 is passing, worrying transit advocates
Voters are narrowly rejecting affirmative action
Seattle Times (subscription required)
Election 2019 results: What was decided Tuesday in Seattle and Washington state, and what's up in the air
Washington school districts will turn away students without required vaccinations as new law takes effect
Employees and former workers at Tom Douglas restaurants will get $2.4 million class-action settlement
Do charter schools increase socioeconomic segregation?
Why small business owners like us support Seattle's ride-share tax | Op-Ed
Sawant trails, other incumbents lead in Seattle's most expensive City Council election
Skagit Valley Herald
Lovelett holds large lead in Senate race
Anacortes bans single-use plastic bags
County considers selling fairgrounds to make way for housing
Police, Fire, School Levies: Wins, losses loom for levies
Election results taking shape as over half of Skagit County's ballots counted
Spokesman Review
Woodward claims victory in race for mayor
Initiative limiting vehicle registration fees jumps out to solid lead in early count
Live Coverage: 2019 General Election
Spokane homeowner appeals ruling in hopes of erasing racist covenants from deed
Tri-City Herald
Pit bull owners pack meeting. Kennewick drops rules on dangerous dogs after 40 years
USA Today
House Democrats announce first public hearings in Trump impeachment inquiry
Whidbey News-Times
Letter: Citizens should 'wake up,' support a carbon fee bill
Letter: Event slated to explain taxes and assessments
Yakima Herald Republic
Council to keep talking about strong mayor proposal
Incumbents post strong results in Selah races
Election results for Sunnyside, Tieton, Granger, Moxee, Grandview, Toppenish
Broadcast
KING5 TV (NBC)
State car-tab initiative, affirmative action measure too close to call (Fey)
Voters approving Eyman's $30 car-tab Initiative 976 in early results (Carlyle)
Washington voters narrowly rejecting affirmative action measure after first returns
Tacoma's public broadband network will be privately operated
KIRO7 TV (CBS)
$30 car tabs ahead after early statewide numbers
Seattle commute one of the worst in U.S., new survey says
Forced to work in filth? Employees concerned about flooding inside state hospital
Boeing chairman says CEO won't get bonus until Max flies
KOMO4 TV (ABC)
Washington voters initially approving $30 car tabs in early returns
Washington voters rejecting affirmative action in early results
2019 election results for Seattle City Council candidates
Spanaway family believes son died from vaping-related illness
Aurora Bridge reopens to full traffic earlier than expected
KNKX FM
General Election 2019: Results from key races around the Puget Sound region
Washington voters narrowly rejecting affirmative action
KUOW FM
ELECTION RESULTS SO FAR: 2019 GENERAL ELECTION, SEATTLE AND WA
Washington voters narrowly rejecting affirmative action
Oh, Deer! Washington Officials Warn Of Increased Vehicle Collisions During Mating Season
READ: Deposition By Gordon Sondland, U.S. Ambassador To The European Union
Ambassador Acknowledges He Said Aid For Ukraine Depended On Public Support For Probes
Most Of Nation's Top Public Universities Aren't Affordable For Low-Income Students
NW Public Radio
Washington Voters Narrowly Rejecting Affirmative Action Law In Initial Returns
I-976, Washington's $30 Car Tabs Measure From Tim Eyman, Passing As Of Tuesday Night
Farm Bankruptcies On The Rise Nationally, Most Pronounced For Northwest Families
Q13 TV (Fox)
I-976: $30 car tab measure passing in early returns
Egan Orion leads Kshama Sawant in contentious Seattle City Council District 3 race
Referendum 88: Washington state voters narrowly rejecting affirmative action
Aurora Bridge fully reopening Wednesday after emergency construction wraps up early
Drone footage offers scientists new perspective in understanding killer whale behavior
Web
Crosscut
2019 election results for Seattle, King County and more
Affirmative action in trouble, $30 car tabs cruising after initial vote tally
Newcomer Girmay Zahilay soundly defeating Larry Gossett in race for King County Council
Seattle P.I.
Election November 2019 roundup: The results so far
Sawant trails, but business' bid to 'flip' City Council is in trouble
Tim Eyman takes on Trump-like presence with I-976 approval in early returns
'Rededicated': Sawant volunteers ready to 'fight' for socialist foothold
Herbold, supporters celebrate after early election results show her with lead over challenger
King County Council: Last hurrah for Larry Gossett, Kohl-Welles wins big
Trailhead Direct, now done for the season, provided hiking access for those who didn't have it
Slog
If Sawant loses, what does that say about Seattle?
General Election Night 2019
---