King County will challenge legality of I-976
King County Executive Dow Constantine is preparing to file a legal challenge against Initiative 976, which was approved by voters across the state in the Nov. 5 election. A press release from the Executive's office on Nov. 6 said Constantine asked the King County Prosecuting Attorney's office to prepare a lawsuit challenging the constitutionality of I-976. The initiative promises $30 car tabs, but could result in more than $100 million in cuts to Metro services between 2020 and 2025. Continue reading in the Auburn Reporter.
---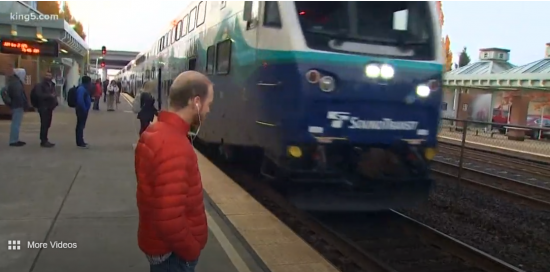 Inslee postpones future transportation projects after voters approve I-976
Gov. Jay Inslee has taken immediate action after voters approved an initiative that would slash car-tab fees. The Associated Press called the measure Wednesday. After a second round of results were released Wednesday, 55.76% of voters are approving Initiative 976 and 44.24% are rejecting it. Continue reading at King5.com.
---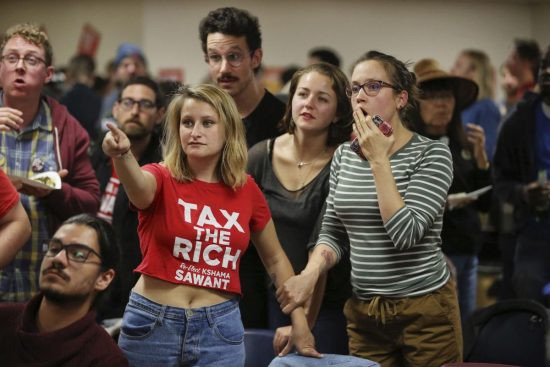 Amazon's spending in Seattle Council races doesn't deliver
Amazon poured $1.5 million into an effort to overhaul Seattle's City Council this year. It didn't deliver. Though many votes remain to be counted, early returns suggest the online retail giant and other business interests will have fewer obvious allies on the Council than at any time in recent memory. Continue reading in the Skagit Valley Herald.
---
Print
Associated Press
Affirmative action referendum losing in state
Idaho, Energy Department sign deal on spent nuclear fuel
Judge reduces Alaska militia leader's sentence by 10 years
Tom Douglas restaurant workers to get $2.4M settlement
Amazon's spending in Seattle Council races doesn't deliver
Grounded Boeing jet hits another pothole in path to return
Washington state city repeals dangerous dog regulations
Aberdeen Daily World
Challengers lead in county's biggest mayoral races
E-911 measure passing; Cosi muni building funding is not
East County election roundup
Arlington Times
Opinion: Public input sought for Arlington's downtown plan
Opinion: Billy Frank coalition works on salmon recovery
Opinion: SnoCo conservatives get out the vote
Auburn Reporter
County approves $300,000 for Butte Avenue Flood Mitigation Project
King County will challenge legality of I-976
Burnett leads Mulenga in tightest Auburn City Council race; Baggett and Jeyaraj confident
Bellingham Herald (subscription required)
Someone painted swastikas on turtles in a Washington pond, park officials say
The Latest: $30 car tab measure passes in Washington
Lynden police chief dies from injuries suffered Tuesday after being struck by truck
Whatcom County 2019 general election results from Nov. 6
Here's what's leading to cyclists' deaths, according to a new federal report
Interim Lynden Police Chief injured crossing street
Columbian
In Our View: Elected officials must work to preserve the law (I-1639)
Everett Herald (subscription required)
Updated 2019 general election results for Snohomish County
Leads widen in close races with many ballots left to count
Voters deliver a win for Eyman and concerns for Democrats
They came to the college from 16 countries, but this is home
Editorial: Questions remain after voters demand $30 car tabs
The Inlander
As wildfires and extreme storms increase, climate change is changing the way insurance companies think
Kitsap Sun (subscription required)
Voters approve I-976, the $30 car tab measure. Now what?
Election Day leads solidify for Kitsap candidates, measures
Merger? Sale? Timber, real estate group Pope Resources eyes 'potential transaction'
Former Bremerton public works employee sues city
News Tribune (subscription required)
Pierce County sends a message to Sound Transit with vote on the I-976 car-tab measure
Lacey utility customers urged to check credit/debit cards after website hacked
Large water purveyor set to acquire Rainier View, which serves Gig Harbor, Puyallup
When that house next door is set to become apartments, what can you do?
Parkland-Spanaway area to get new $6.1 million crisis center to serve mentally ill
Editorial:  Pierce County is cynical about transportation funding. I-976 results prove it. But there's a ray of hope
Column:  Don't let Trump make you numb to what's unacceptable
New York Times
U.S. and China Agree to Roll Back Some Tariffs
Olympian (subscription required)
Someone painted swastikas on turtles in a Washington pond, park officials say
Local races unchanged in latest vote tally
Several downtown Olympia businesses targets of a late night vandalism spree
Peninsula Daily News
LETTER: Including hybrid cars in electric fee highway robbery
Puget Sound Business Journal
Boeing CEO considered resignation, regrets not meeting with crash victim families sooner
China and US agree to lift some tariffs in sign of trade war thaw
Authorities say two inside Twitter spied for Saudis
Inslee halts transportation projects as fallout from I-976 comes into focus
Lawmakers increase criticism of 'Opportunity Zone' tax break
Seattle Times (subscription required)
Is your Washington driver's license compliant with REAL ID? We've got answers to your questions.
Ageism casts a shadow over the twilight of Larry Gossett's King County Council career | Naomi Ishisak
Seattle School Board rejects proposal to blend gifted, general students at Washington Middle School
Massachusetts system ends venture with US HealthVest after Seattle Times investigation
Seattle City Council may add millions to mayor's budget for LEAD, public toilets, tiny houses
Seattle, King County to sue over Eyman car-tab initiative; bus cuts to be determined
Washington voters still saying no to affirmative action. Will the ballot count from King County reverse the trend?
Skagit Valley Herald
Updated election results released
Anacortes sales tax increase will be on February ballot
Spokesman Review
Spokane Public Schools backs off vaping fines while other districts involve law enforcement
Tight Spokane races stay that way after more votes are counted, remain too close to call
Mead school officials suspend new elementary school as they deal with levy rejection
Spokane City Council members would consider asking voters to keep car registration fees after passage of I-976
Letter: Pay for athletes
Washington Post
Barr declined to hold news conference to say Trump broke no laws in Ukraine call
Bolton is said to be willing to defy White House and testify if court clears way
Trump lashes out at lawyer for whistleblower
Walgreens handled nearly 1 in 5 of the most addictive opioids at height of crisis
Uber employees can finally sell their stock. They won't be as rich as they hoped
Opinion: The Berlin Wall fell 30 years ago. Its shadow looms large.
Yakima Herald Republic
Yakima County turnout numbers increase, races solidify with second ballot count Wednesday
City agrees to settlement prohibiting homeless shelter near Greenway
Broadcast
KING5 TV (NBC)
Inslee postpones future transportation projects after voters approve I-976 (Fey)
Have to renew your car tabs before I-976 takes effect? Pay your bill in full
AR-15 'ghost gun' parts seized from neo-Nazi leader in Snohomish County
Buoyant tsunami pods offer protection after major earthquake
Nearly 700,000 people left California in 2018, 55,000 moved to Washington
Elevator inspection backlog violates Washington law, audit finds
Sewage flood exposes lack of Federal Way renter protections
KIRO7 TV (CBS)
Seattle to file lawsuit to block $30 car tab initiative
Lacey's utility website hacked, puts thousands of customers' information at risk
Pierce County breaks ground on new crisis recovery center
KOMO4 TV (ABC)
Seattle, King County prepare for a funding fallout under $30 car tabs
King County plans to file lawsuit against $30 car tab initiative
Latest results: Seattle City Council election tightens
Multnomah County leaders say busing some homeless away can be effective
Voters grant Washington government greater emergency powers
KUOW FM
Seattle man accused of spying for saudi arabia while working for twitter
It's election week in Seattle! Your Wednesday update
More Teens Than Ever Are Vaping. Here's What We Know About Their Habits
Ambassador: Giuliani Acting In Trump's Interest, Tried To Cast Biden In 'Bad Light'
Impeachment Hearings Go Public Next Week, Rep. Raskin Says House Is Moving Rapidly
Judge Scraps 'Conscience' Rule Protecting Doctors Who Deny Care For Religious Reasons
NW Public Radio
Booked And Buried: Jail Suicide Epidemic Doesn't Extend To Northwest Prisons
Q13 TV (Fox)
Inslee shelves transportation projects in wake of I-976 approval
King County to file lawsuit over passage of $30 car tabs initiative
Orion holds substantial lead over Sawant while only 20 votes separate District 7
'Rolling up their sleeves': Tacoma students work to bring solar panels to Jason Lee Middle School
Web
Capitol Hill Seattle Blog
Capitol Hill Streetscapes forum, Short Run, Veterans Day (Orwall)
Crosscut
Salmon on Prozac? A new study will look at what King County's wastewater chemicals do to fish and orcas
2019 election results for Seattle, King County and more
'The ship's going down': After I-976, Washington officials fear for the future of transportation
Opinion: The death of Seattle's self-declared wokeness
Seattle P.I.
Little sign of a Seattle City Council flip in latest vote totals
King County will prepare lawsuit to block 'devastating' I-976
Tom Douglas restaurant workers to get $2.4M settlement
Seattle School Board election: Winners get little pay, lots of duties
Surgeon implants electrodes in patient's brain in attempt to cure severe opioid use disorder
How much space will $1,500 get you in Seattle today? A lot less than it used to
City braces for drivers leaving tolled SR-99 tunnel starting Nov. 9
Slog
City Pledges "Change and Revitalization" After AEG Backs Out Of Bumbershoot
Seattle's Public Transportation Professionals Should Stop Going On About Tim Eyman's Car Tabs and Instead Think About Baron Haussmann
Ballot Update: Sawant's Vote Improves Slightly, Pugel's Lead Narrows to 20 Votes
---