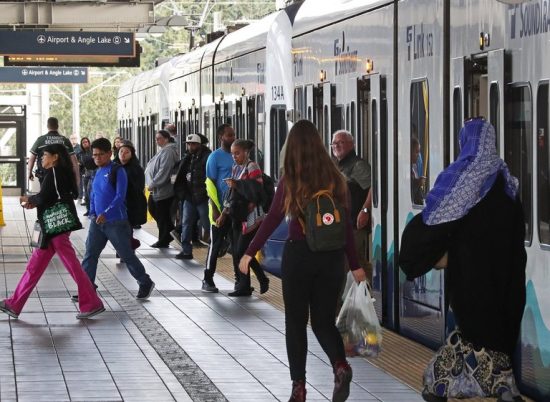 Sound Transit will keep collecting its car-tab taxes, despite I-976 vote
Sound Transit will continue to collect car-tab taxes but avoid suing for now to overturn Tim Eyman's tax-cutting Initiative 976, approved by voters statewide this month. That strategy emerged from a transit-board meeting Thursday in which Eyman said he will run for governor against Democratic incumbent Jay Inslee, only to have the microphone cut off by transit-board Chairman John Marchione, who cited a board rule against campaign speeches in public-comment sessions. Continue reading in The Seattle Times. (Ken Lambert/The Seattle Times)
---
King County puts 100K toward programs to bus homeless people out of the county
King County councilmembers this week approved allotting $100,000 toward programs that would bus homeless people out of the area for family reunification. The funding, part of King County's supplemental budget, is far more than the $37,000 the county currently spends on family reunification across five programs. But, it represents just a fraction of the $1 million Councilmember Reagan Dunn recently proposed putting toward a "Homeward Bound" program. Continue reading at Seattlepi.com. (Jeffrey MacMillan/For Washington Post)
---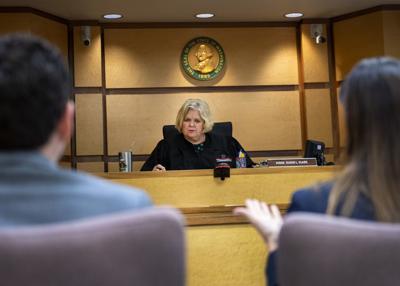 ICE intervenes in legal battle over Cowlitz County juvenile records
A lawyer for the U.S. Justice Department told a judge Thursday that Cowlitz County should not be allowed to release records of immigrant minors held at the Cowlitz County Juvenile Center because the documents are owned by the federal government. Continue reading in The Daily News.
---
Print
Associated Press
Serial initiative-promoter Eyman says he'll run for governor
Medicare drug plan finder can steer seniors to higher costs
AG Barr to unveil plan on missing, murdered Native Americans
King County funds program to bus homeless away from county — including to Thurston
Amazon founder gives $5M for homeless families in Spokane
AP: Catholic boards hailed as fix for sex abuse often fail
PDC discusses searchable digital archive of campaign ads 
Aberdeen Daily World
Commercial crab season opener delayed at least two weeks
Corps adding sand to south jetty spit to protect navigation channel, Westport infrastructure 
Arlington Times
Arlington adopts six-year Transportation Improvement Plan 
Auburn Reporter
City of Auburn separates from chief of police
Separate is not equal: a fight for justice, a landmark case
Impacting health care in the community
Sen. Fortunato takes Inslee, Constantine to task over sanctuary policies
City takes state authorized TBD under its wing
King County builds blueprint for health, climate change
Opinion: Countywide, we all have a role in ending homelessness
Opinion: Boeing's resiliency being tested with grounded 737MAX 
Bellingham Herald (subscription required)
Hepatitis A outbreak increases to 11 cases in Yakima County
The Daily News
Longview council approves city hall camping restrictions
ICE intervenes in legal battle over Cowlitz County juvenile records
First Christian Church shelter's first night apparently goes smoothly 
Everett Herald (subscription required)
Pending I-976 litigation, business as usual at Sound Transit
Lynnwood plans for a new light-rail-linked urban village
Harrop: Automakers alienating buyers by siding with Trump 
Journal of the San Juan Islands
Animals suffer when there isn't enough need for full-time animal control
Guest Column: Bipartisan hope emerging on climate change
Letter: SJI Public School Foundation thanks community 
Kent Reporter
Kent City Council approves park transfer for water tower
Sound Transit Board chairman issues statement after agency's review of I-976
King County Council adds $100,000 to supplemental budget for homeless bus tickets 
News Tribune (subscription required)
Japanese company completes purchase of local aerospace supplier
Tacoma's Hilltop to get a tiny home village for the homeless. How'd that go in Olympia?
Sound Transit lawyer says car tab fee can be collected for years despite I-976 vote
'It will consume us.' Pierce County moves to head off growing homelessness crisis
Editorial: She taught in Puyallup 19 years, then said she'd shoot kids. Arrest shows need for teacher mental health support  
Olympian (subscription required)
Sound Transit lawyer says car tab fee can be collected for years despite I-976 vote
Peninsula Daily News
Clallam Transit looks ahead for I-976 impacts
Funding uncertain for opioid treatment facility
Puget Sound Business Journal
How to negotiate with hackers
Seattle has potential as a biotech hub, but more companies must stay here and grow
Opinion: We can't afford to go down this road (Transportation budget)
Sound Transit system expansion delays from I-976 could mean $25B more in taxes 
Seattle Times (subscription required)
After 40 years at KOMO in Seattle, weatherman Steve Pool is signing off
Sound Transit will keep collecting its car-tab taxes, despite I-976 vote
Step into the 'Nut Hut': A crusade to help men detect testicular cancer early
Washington state to pay $8.5M after placing girls with sexually abusive foster parent, despite earlier report
Gun-safety advocates in Washington state are planning new push to pass firearms restrictions
Girl in 121-year-old photo from UW archives looks exactly like Greta Thunberg, sparking internet jokes that she's a time traveler
From flamenco to farming: Seattle seniors share secrets behind staying happy and healthy into their mature years
Rant and Rave: Please tend to your barking dogs
Seattle Weekly
King County builds blueprint for health, climate change
Skagit Valley Herald
Mount Vernon City Council approves property tax increase
Vape shop owners to rebrand, close amid statewide flavor ban
Spokesman Review
Central Valley High School cancels classes after lockdown
Honoring the fallen: State police academy campus adds memorial bell
Spokane County unemployment rate increases to 4.8% in October
Tri-City Herald
Pasco and the Colville on historic path to a future tribal development
You may see more green light beams on the Columbia River. But it's no laser show 
USA Today
Trump to meet with vaping industry execs, health advocates on vaping crisis
Vancouver Business Journal
Governors sign agreement to replace I-5 bridge 
Washington Post
As blitz of public hearings ends, Democrats ponder next steps
Trump says he might veto bill protecting human rights in Hong Kong to pave way for China trade deal
What it takes to be carbon neutral — for a family, a city, a country
Opinion: What does female authority sound like? Marie Yovanovitch and Fiona Hill just showed us.
1,500 reports of unwanted sexual behavior on six apps in Apple's App Store, some targeting children
Trump administration's 'Remain in Mexico' program to shuttle migrants from Tucson to El Paso
Justice Dept. inspector general's draft Russia report finds FBI lawyer may have altered document
Far-right group warning of Islamist infiltration to hold banquet at Trump's Mar-a-Lago Club
Researchers have finally put a price tag on the life of a dog
Her mom was being beaten, police say, so she called 911 and ordered pizza. The plan worked.
Two versions of Texas collide over gun measures and mass shootings
Yakima Herald Republic
New toolkit aims to prevent sexual harassment in the agriculture industry
Broadcast
KING5 TV (NBC)
Washington to pay $8.5 million in foster care sex abuse case
Sound Transit won't cut projects until courts decide I-976
Not just Seattle: Rent increasing across western Washington
How making the snow in 'Frozen' is helping scientists understand real avalanches 
KIRO7 TV (CBS)
Lesbian denied spouse's Social Security survivor's benefits, attorneys say
KOMO4 TV (ABC)
How a small county jail runs a large-scale addiction program for inmates
What happens to this repeat offender now that he has been arrested, again?
State senator introduces bill to help resolve repeat offenders problem
Public health officials now require reporting of mold infections
Longview City Council votes to approve ban on daytime camping
KNKX FM
'I'm closing my doors': Vape shop owners lament state's ban on flavored products
'That ID won't fly.' A deadline looms for Pacific NW air travelers
KUOW FM
What to make of the impeachment hearings this week: an analysis
Advocates Challenge Trump Administration Plan To Let States And Towns Block Refugees
Senate Sends Short-Term Funding Measure To President Hours Before Government Shutdown
Judge Blocks Justice Department's Plan To Resume Federal Executions
READ: Fiona Hill, David Holmes Opening Statements For Thursday's Impeachment Hearing 
NW Public Radio
As Yakima Loses Latinx Representation On City Council, Organizers Wonder What Happened
Q13 TV (Fox)
State pays $8.5 million settlement to two sisters raped by foster dad
Tacoma community meets to discuss shelter options ahead of tent ban
Web
Civic Skunkworks
How did unfettered business become a bipartisan issue?
Crosscut
After car-tab cuts, a new bus driver worries for his future
Seattle PI
King County puts 100K toward programs to bus homeless people out of the county
Viaduct's last piece comes down, marks end of months-long demolition project
---