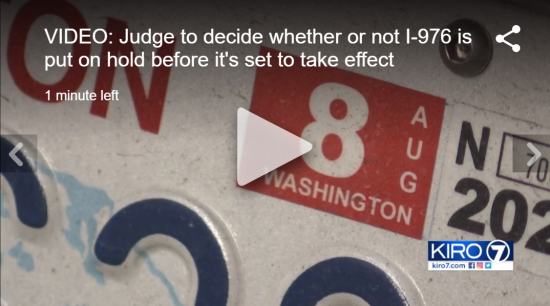 Court grants preliminary injunction putting hold on $30 car tabs
The court has granted a preliminary injunction putting a hold on the $30 car tab initiative I-967. In granting the injunction, King County Superior Court Judge Marshall Ferguson wrote that the State of Washington is "enjoined from implementing or enforcing 1-976." The judge wrote that the state "shall continue to collect all fees, taxes, and other charges that would be subject to or impacted by 1-976 were it not stayed, and shall distribute those funds to local municipalities and political subdivisions as appropriate pursuant to existing laws, regulations, contracts, obligations, policies, and procedures." Read and watch more on KIRO7.
---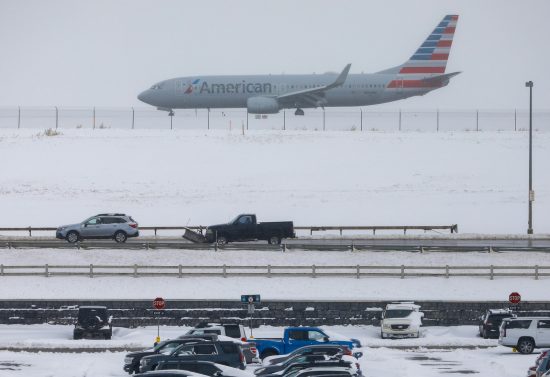 'Bomb Cyclone' Whips Through The West As Winter Storms Snarl Thanksgiving Travel
Holiday travelers have just one day until their Thanksgiving buffets — but before many can tuck into drumsticks and potatoes, they can expect to be buffeted by severe weather. The National Weather Service is warning of two big storm systems across the U.S. — one tacking up the Great Lakes and into New England on Wednesday, while the other is already making its presence felt in the West. Learn more on KUOW.
---
Print
Associated Press
Judge has concerns $30 car tab measure was misleading  
Bellingham Herald (subscription required)
Shooting in Vancouver elementary school parking lot injures 2, Washington cops say
Frigid northeast wind could bring 60 mph gusts, Thanksgiving power outages to Whatcom
With high winds and frigid overnight lows, severe weather shelters open in Bellingham 
Columbian
In Our View: Healthy skepticism over Kalama project wise 
The Daily News
Woodland Levy Lift succeeds by one vote
Longview Library podcast builds community relationships
Local stores 'cautiously optimistic' holiday sales will offset lost to border tax 
Everett Herald (subscription required)
Lawyers make a case in court to delay effect of I-976
Larsen not happy with Trump's reversal on flavored vape ban
3 shot, including gunman, near Vancouver elementary school 
The Inlander
Avista moves away from coal in a proposed rate settlement
With impending ruling on Affordable Care Act, Washington governor, state health leaders ask for congressional support 
Journal of the San Juan Islands
Growlers in the sky
Brendan Brokes named WDFW North Puget Sound regional director  
Kitsap Sun (subscription required)
Kitsap sees first confirmed case of vaping-related lung illness  
News Tribune (subscription required)
Overnight recovery beds, additional firefighters win approval in Tacoma budget update
Stiff pushback against decision to allow Mount Rainier-area resort to keep moving
Elective surgeries still on hold at Good Sam as sterilization investigation continues
Pierce County's Good Samaritan Hospital comes clean on contaminant. That's a good sign for transparency  
New York Times
Trump Keeps Losing in Court. But His Legal Strategy Is Winning Anyway.
White House Budget Official Said 2 Aides Resigned Amid Ukraine Aid Freeze
Mr. Trump already knew of the whistle-blower complaint when he released aid to Ukraine.
FEMA's Hurricane Aid to Puerto Rico and the Virgin Islands Has Stalled
Dogs Can't Help Falling in Love  
Olympian (subscription required)
It's official: Thurston County certifies general election results  
Peninsula Daily News
Jefferson PUD project breaks ground
LETTER: Shame on legislators for approving taxes without a vote of the people (Chapman, Tharinger, Van de Wege) 
Politico 
The One State Taking a Big Run at Health Reform (Cody, Frockt)  
Puget Sound Business Journal
Microsoft's Brad Smith: Ultra-high-speed rail a 'fundamental opportunity for the region'  
Seattle Times (subscription required)
127 vehicles crash on I-90 near Spokane; officials warn holiday travelers to be cautious
US travelers brace for snowy Thanksgiving, 'bomb cyclone'
Seattle urges judge to block Eyman car-tab measure; ruling could come by Wednesday
King County officials say E. coli outbreak may be related to Evergreens salad restaurants in Seattle
Boeing 777X's fuselage split dramatically during September stress test
Boeing abandons its failed fuselage robots on the 777X, handing the job back to machinists
Washington's sports officials are disappearing at an alarming rate. Here's why.
Application meant to simplify college admissions actually makes schools more selective, study shows, including some in Washington
In Eastern Washington, state Rep. Matt Shea faces backlash against white nationalism (via Los Angeles Times) 
Tri-City Herald
How did Tri-Cities taxpayers do under Trump's tax cuts? You can calculate it for yourself here 
Washington Post
Apple update for user privacy fuels questions and criticism
'There's something terribly wrong': Americans are dying young at alarming rates
House Oversight Committee sues William Barr, Wilbur Ross for documents in census probe
Two budget officials resigned in part over concerns about Ukraine aid hold, official said
A hot spot in the Atlantic is threatening to destroy this once-thriving fishing town
Americans like Green New Deal's goals, but they reject paying trillions to reach them
Deadly measles outbreak hits children in Samoa after anti-vaccine fears
Pay for NRA executives surges as gun rights group cuts key program funds
These robotic dogs have been put to work by at least one police agency
'Bomb cyclone' and Midwest snow snarl travel for millions
How legal weed made Thanksgiving a high holiday  
Whidbey News-Times
Small quake rattles South Whidbey
Letter: Manual recount of votes will restore confidence 
Broadcast
KIRO7 TV (CBS)
Airline caterers demand better pay, affordable medical coverage 
KNKX FM
King County judge considers whether to press pause on car-tab fee initiative 
KUOW FM
'Bomb Cyclone' Whips Through The West As Winter Storms Snarl Thanksgiving Travel
Active Shooter Drills May Not Stop A School Shooting — But This Method Could
Choosing Not To Fly Home For The Holidays, For The Climate's Sake
Atlantic salmon farms in Puget Sound taken to court
Santa Barbara County Fire Burns 4,200 Acres, Threatens Thousands Of Homes
Facial recognition is coming soon to Sea-Tac airport
Challenge to car tabs initiative goes to court  
NW Public Radio
Another Settlement Reached Over Columbia And Snake River Dams Leaking Oil
Yakima Medical Student's Personal Opioid History Will Help Inform How He Prescribes 
Web
Crosscut
Seattle, King County ask judge to halt Initiative 976, saying it will 'tremendously harm' transit 
Seattle Medium
House Dems Elect Melanie Morgan As Deputy Floor Leader (Morgan, Stonier, Kilduff)  
Seattle P.I.
King County judge hears arguments for, against motion to block I-976
From modest beginnings, Washington now a force in wine world
60-70 cars collide on I-90 over icy Tuesday afternoon near Spokane
Trump tells impeachment jokes at annual turkey pardon event  
Slog
Sleep-Deprived UW Medical Residents Say the School's Taxi Voucher Program Is a "Sham"
A Fight Is Brewing Over How the State Can Increase Diversity in the Legal Weed Market (Reeves, Stanford) 
---