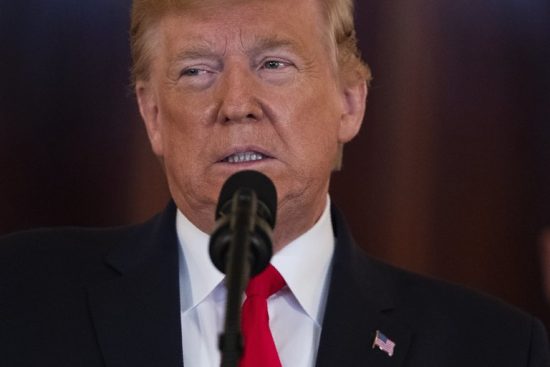 US, Iran step back from brink; Trump says Iran stands down
The U.S. and Iran stepped back from the brink of possible war Wednesday, as President Donald Trump indicated he would not respond militarily after no one was harmed in Iran's missile strike on two Iraqi bases housing U.S. troops. Speaking from the White House, Trump seemed intent on deescalating the crisis, which reached a new height after he authorized the targeted killing last week of Gen. Qassem Soleimani, the head of Iran's elite Quds Force. Continue reading in The Seattle Times. (Evan Vucci/The Associated Press)
---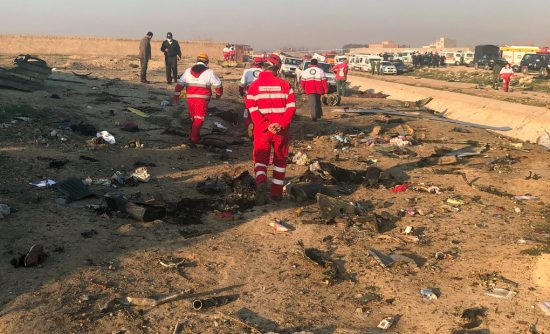 Boeing 737-800 airplane crashes in Iran, killing all 176 aboard
A Ukrainian airliner carrying 176 people crashed on the outskirts of Tehran during a takeoff attempt Wednesday hours after Iran launched its missile attack on U.S. forces, scattering flaming debris and passengers' belongings across farmland and killing everyone on board. The Iranian military disputed any suggestion the plane had been blown out of the sky by a missile, and Iranian aviation authorities said they suspected a mechanical problem brought down the 3½-year-old Boeing 737. Continue reading in The Seattle Times. (Mohammad Nasiri/The Associated Press)
---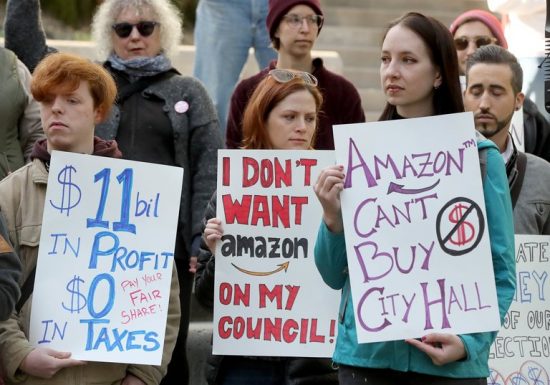 Seattle council advances ban on most political spending by 'foreign-influenced' companies
Seattle moved closer Tuesday to banning most political spending by "foreign-influenced" corporations, as a City Council committee advanced legislation that sponsor Council President M. Lorena González said could block Amazon and similar companies from using money to shape candidate elections. The committee's vote was unanimous, so the full council is almost certain to pass the ban into law on Monday. Continue reading in The Seattle Times. (Greg Gilbert/The Seattle Times)
---
Print
Associated Press
Boeing now saying pilots need simulator training for 737 Max
Iran strikes back at US with missile attack at bases in Iraq
Families of 2 Seattle crane collapse victims sue companies
Trump says Iran appears to be 'standing down' after strike
Cancer group finds biggest one-year drop in U.S. death rate
Boeing 737-800 airplane crashes near Tehran, killing all on board
Key Boeing supplier may begin shedding workers
Washington county reaches deal over man killed by police
19 flu deaths confirmed in Washington state so far
13 on Washington's March presidential primary ballot
Landslide halts Amtrak rail service between Portland, Seattle
Aberdeen Daily World
Heavy rain causes slides, some flooding
Bellingham Herald (subscription required)
Bellingham's Climate Protection Action Plan has six key targets
What are the Ain Assad and Irbil bases? Iranian missiles target US troops in Iraq
Bellingham Council creates climate committee, will begin discussing recommendations
Had enough of the rain in Whatcom County? Forecasters say it may get worse
'I remember thinking this is brutal,' Blaine lawyer says of scene at border crossing
More prescription-strength Zantac recalled. It might have too much of a carcinogen
Texts telling people they've just been drafted into the Army are fake, officials say
Capital Press
Fish and Wildlife Commission to let public in, this time
Study: Removing Snake River dams would cost economy, environment
Seattle judge expects to rule soon on wolf claims
Drones effective tools for fruit farmers
WSDA: Fines for pesticide violations too low
Washington plans rule for 'fine sediment'
Columbian
Oregon creates office for congestion, megaprojects, tolling
In Our View: Protection against surprise billing a good step
The Daily News
'No perfect site' for another homeless camp
Longview City Council will swear in new members, elect mayor Thursday
Children's Discovery Museum opens 2020 Science Sundays with 'frozen fun'
Everett Herald (subscription required)
Not all are college bound; local students have a new option
Everett Transit set to expand electric buses, cut fuel costs
How to contact your state lawmakers — and other fun facts 
Islands' Weekly
County accepting applications for detached accessory dwelling units
Climate, Community, and Agriculture converge at this year's San Juan Island Agricultural Summit
Kitsap Sun (subscription required)
Heard the hum in Sinclair Inlet? This is what it's from
Public health district looks to 'build out' revamped syringe exchange program
Bangor subs to get new kind of nuclear weapon
News Tribune (subscription required)
Landslide stops Amtrak service between Portland and Seattle
Editorial: Let there be dark! New light pollution rules in Pierce County make good sense
Olympian (subscription required)
Did you get a text from an unknown number? It might be a presidential candidate
E-scooters send thousands to hospitals and injure even more in the US, researchers say
Texts telling people they've just been drafted into the Army are fake, officials say
Iran, war and politics: How do you talk to kids about what's going on in the world?  
Seattle Times (subscription required)
Families of two Seattle crane collapse victims sue companies over a deadly 'shortcut'
Westneat: Sign of the times: Being labeled a domestic terrorist may be making Rep. Matt Shea more popular
Seattle council advances ban on most political spending by 'foreign-influenced' companies
Seattle Public Schools won't allow students without complete vaccination records in class starting today
Six people detail their ordeals at Canadian border as Rep. Pramila Jayapal demands answers
Landslide halts Amtrak train travel between Seattle and Portland
Sam Cho, sworn in as Port of Seattle's only minority commissioner, voices concern about immigration and border policies
Macy's in Burlington, Walla Walla to close as the retailer cuts underperforming locations
Amazon, Intel and Ford want to harvest your data while you drive (via Bloomberg)
Court: Lawyer, businessman broke campaign finance law
Editorial: Washington's U.S. representatives are wrong to join anti-abortion push
Op-Ed: Washington lawmakers should listen to voters: No new taxes
Opinion: What's your personal climate action?
Sequim Gazette
Students encouraged to serve as legislative pages (Van De Wege)
Skagit Valley Herald
Mount Vernon company aims to meet demand for paper straws
Ramel appointed to state House (Morris, Ramel)
Spokesman Review
Two skiers killed, five rescued in aftermath of Silver Mountain avalanche
Sacred Heart nurses reach tentative agreement with Providence officials
Spokane lawmakers put on hold proposal to forgive unpaid utility bills totaling $450,000
Opinion: Graeme Lee Rowlands: Americans should moderate expectations and broaden perspective on modernized Columbia River Treaty
Tri-City Herald
Hanford contractor comes up with way to save $2.5 million
Pasco council makes history by electing city's first Latino mayor and mayor pro tem
USA Today
Cancer death rate sees biggest one-year drop ever, report says
Could your kid be drafted into the military?
On world stage Trump loathed as much as Obama was loved: survey 
Walla Walla Union Bulletin (subscription required)
Editorial: Targeting Iranian-Americans at border crossing concerning — if true
Editorial: Statewide effort to help homeless is needed
Washington Post
Ivanka Trump's CES technology conference keynote address sparks backlash
Live updates: Trump says Iranian strike caused no American or Iraqi deaths; new sanctions on Iran will be imposed
Macy's is closing 29 stores after drop in holiday sales
Ukrainian passenger jet carrying over 170 people crashes in Iran, killing all on board
176 people died in the Ukrainian plane crash in Iran. Here are some of their stories.
Colorado just used its gun seizure law for the first time — one day after it took effect
Major drugstore chains sue doctors in sprawling federal opioid case
Education Department could face new sanctions for violating court order
At CES, the tech giants are preaching privacy. Don't believe the hype. 
Yakima Herald Republic
Environmental groups poised to sue Majestic Dairy over manure management practices
Wapato finds a new insurance carrier — at a steep cost
New Yakima council members wear traditional clothing during swearing-in ceremony
Broadcast
KING5 TV (NBC)
Looming strike could disrupt garbage collection in parts of King County
Seattle schools vaccine deadline could keep nearly 1,000 students from class starting Wednesday
KIRO7 TV (CBS)
Seattle students without current vaccination records won't be allowed in class starting Wednesday
Ukrainian plane carrying 176 crashes after takeoff from Tehran; no survivors
Live updates: Trump to address nation after Iran missile strikes target US bases in Iraq
Heavy rain prompts flood warnings, increased landslide risk in western Washington
Rain leads to mudslides and buckled roadways in Grays Harbor County
KOMO4 TV (ABC)
Crews work to clear two mudslides, buckled road in Grays Harbor County
Seattle City Council preparing proposal to tax big businesses – again
Nearly 1,000 Seattle students may be kept from class for missing vaccination deadline
KNKX FM
Trump Speaks After Iran Missile Attack On U.S. Troops In Iraq
KUOW FM
Military Base Housing U.S. Troops In Iraq Has Been Attacked
Ukrainian Jetliner Carrying At Least 170 People Crashes Near Tehran Airport
Satellite Photos Reveal Extent Of Damage From Iranian Strike On Air Base In Iraq
Much Of The World Doesn't Trust President Trump, Pew Survey Finds
Iran warns US not retaliate over missile attack in Iraq
War Powers Resolution On Iran Is Latest Attempt By Congress To Reclaim Clout
Mike Pompeo On Drone Strike That Killed Iran's Top Military Leader: 'We Got It Right'
McConnell Will Move Ahead With Impeachment Trial Rules Without Democrats' Support
NW Public Radio
Moses Lake Airport Close To Maxing Out On Boeing 737 Storage As Planes Stay Grounded
American-Iranians Say They Were Detained At U.S.-Canada Border. Federal Officials Deny It
Unemployment Pushes More Men Into Jobs Fields Dominated By Women 
Q13 TV (Fox)
Tacoma shuts down homeless encampment to clean and restore park
The idea of a new cruise terminal on the waterfront getting mixed reactions
Web
AARP Magazine
Bills in Washington State Would Lower Price of Insulin, Other Prescriptions (Keiser) 
Crosscut
'It affects the entire family': Washington parents now work alongside teens in mental health recovery
Federal Way made it harder to evict renters without 'good cause.' The entire state might do the same
An Iranian-born woman held at the Canadian border for 11 hours tells her story 
My Ballard
Sen. Reuven Carlyle at tonight's Ballard District Council meeting 
Seattle P.I.
Alex Ramel: Bellingham green activist is new state legislator
Landslide stops Amtrak service between Seattle, Portland
Boeing now saying pilots need simulator training for 737 Max 
Slog
Our Car Culture Is Too Obsessed with Drunk Driving and Mostly Ignores Speeding
Clean Campaigns Act Moves Forward, But Super PAC Bill Doesn't Make It Out of Committee
This CDC Map Shows Why Pot Should Be Legal and Trump Shouldn't Ban Vapes
After Stranger Lawsuit, State Provides Previously Sealed Records
---