OLYMPIA—This evening, on a 79-17 vote, the House of Representatives passed a drought preparedness and response measure to modernize Washington's drought statutes.
"Right now, each time we're hit by a drought, our response is reactive and that's not good enough, especially since we know there'll be more droughts," said Rep. Brian Blake, D-Aberdeen, chairman of the Rural Development, Agriculture and Natural Resources Committee, and prime sponsor of House Bill 1622. "So why not get ahead of the game with a proactive approach before we're facing a drought emergency?"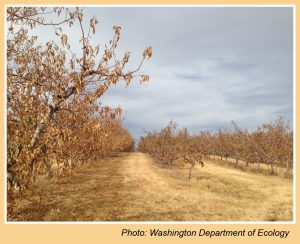 Current law limits the ability of the Department of Ecology to effectively prepare for and respond to drought emergencies. Blake's legislation will build long-term drought resiliency for farmers, water suppliers and the environment, while also improving the state's ability to quickly and effectively respond to drought emergencies. 
The measure streamlines Ecology's response by providing flexibility in the types of drought relief projects that can be funded and improves readiness by allowing a "drought advisory warning" ahead of an emergency. 
Authorizing Ecology to fund preparedness projects ahead of drought emergencies will set up a framework to build long-term drought resiliency among water users and communities throughout the state.
"Building a back-up water supply for a small community, farmer, or fish hatchery before there's a drought emergency would increase the reliability of their water supply, which would help them endure the impact of droughts," said Blake.
When he introduced HB 1622 in the 2019 session at the request of the Department of Ecology, six of Blake's colleagues signed onto the bill, three Republicans and three Democrats. It garnered more bipartisan support on its path to the House Floor, where it was approved with a large majority margin only to stall in the Senate. Blake hopes his bill fares better in the other chamber the second time around.
---