Inslee: More counties can expedite reopening process
Ten additional counties in Washington can apply to move to the second stage of the state's economic reopening plan, based on new guidelines announced Tuesday by Gov. Jay Inslee that allows larger counties with fewer new coronavirus cases to open some of their businesses sooner. Continue reading at The Bellingham Herald. (Elaine Thompson)
---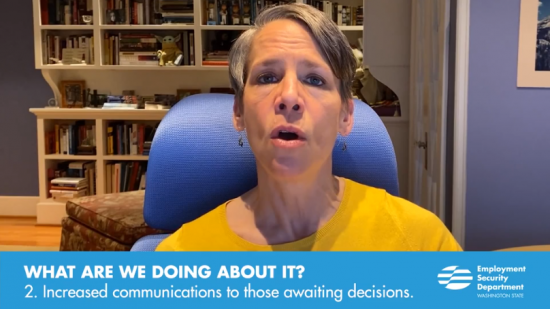 Washington sees 'dramatic rise' in unemployment fraud claims during COVID-19 pandemic
The Washington State Employment Security Department said in a news release Monday, May 18, that it has seen a "dramatic rise" in unemployment imposter fraud through the first half of May as it continues to deal with the strains of the coronavirus pandemic. Continue reading at The Olympian. (ESD)
---
Could the coronavirus reset society? Questions we should be asking about post-pandemic life
Hotel rooms for the homeless. Food-chain and sanitation workers hailed as national heroes. A Republican-led federal government flooding the country with easy money. Governors putting the brakes on evictions. A new national obsession with hand-washing and the finer points of epidemiology. Continue reading at The Seattle Times. (Jennifer Luxton)
---
Print
Associated Press
Inslee: More counties can expedite reopening process
Washington state sues gyms for remaining open despite order
Trump allies lining up doctors to prescribe rapid reopening
Oregon high court keeps state virus restrictions in place
Gray whale washes ashore west of Seattle
State: Aspergillus mold found again at Seattle hospital
Lawmakers: FAA certification of new planes needs an overhaul
Gray whale washes ashore west of Seattle
Fisher denied endangered species protection in Oregon
Police shoot, kill man in Seattle
Judge in southwestern Washington charged with DUI
Google says it won't build AI tools for oil and gas drillers
Aberdeen Daily World
Between science and curiosity, dead whale draws a crowd
Grays Harbor County's Phase 2 variance application heading out for state consideration
Pacific County beaches open, clamming may be soon
Millions of U.S. workers at risk of exposure to COVID-19 every week, UW study concludes
Op-ed: Facing deficit, state should cancel state workers' 3 percent July raise
Commentary: Coronavirus debt isn't as scary as government bungling
Auburn Reporter
Don't avoid the emergency department in a crisis
Bainbridge Island Review
State rules enable dental and medical practices to resume
Bellingham Herald (subscription required)
Whatcom health department reports 1 new coronavirus case and no deaths Tuesday
Not everyone who gets a stimulus check can spend it. IRS sends payments to the dead.
Thurston County among 10 that can apply now to move to Phase 2 of reopening economy
Washington state reports 200 new COVID-19 cases, 29 deaths
Coronavirus updates: County variance criteria expanded; lawsuits filed against gyms
Whatcom Unified Command plans to relocate Drop-In Center after it leaves high school
Whatcom will consider another temporary limit on fuel shipments from Cherry Point
Despite border restrictions, Allegiant bringing back Bellingham flights in early June
'I miss them so much,' but Bellingham elementary teachers coping with online teaching
Washington sees 'dramatic rise' in unemployment fraud claims during COVID-19 pandemic
State files for injunction against Puyallup gym hosting protest against stay-home orders
Watch: Gov. Jay Inslee speaking on reopening more Washington state counties faster
Gray whale washes ashore west of Seattle
Pompeo's treatment of closest aide from Kansas was a subject of fired IG's inquiry
What you need to know today about the virus outbreak
 
Bothell Reporter
Sound Transit to get $166.3 million federal grant for COVID-19 response
Capital Press
Washington wolf pack attacks 2 more calves
Canadian government sues Washington farms over cherry patent infringement
Lighter cherry crops forecast in West
Oregon, Washington can sue Trump over ESA
Farm aid applications to open after Memorial Day
Farmworker housing rules spark mixed reactions
Farm in a box: USDA's $3 billion hunger relief program begins
WDFW moves regional director to wolf duty for summer
Columbian
In Our View: Mount St. Helens provides lessons for pandemic
Everett Herald (subscription required)
Fraudsters using local identities for phony jobless claims
FAA says it will let Boeing employees vouch for plane safety
Somers announces $14 million in relief for small businesses
State sues Arlington gym for violating stay-home order
Bloomberg Commentary: Flocking back to the office may not be right move
Bloomberg Comment: Now's the time to build skills for this or next job
Harrop: Pandemic has complicated end-of-life care
The Inlander
Inslee says 10 larger counties including Spokane can move to Phase 2 under new guidelines
 
Islands' Weekly
San Juan County COVID update
Journal of the San Juan Islands
COVID crisis brings islanders together
Kitsap Sun (subscription required)
Reopen Kitsap? Community tensions arise over phase-in approach to COVID recovery
Kitsap can now apply to reopen early. But a new COVID-19 case could delay the green-light
Retsil veterans home employee diagnosed with coronavirus
New digs, same brick facade at remodeled Puget Sound Naval Shipyard fire station, building
News Tribune (subscription required)
Puyallup schools to start later next year to ease transportation crunch
Washington state reports 200 new COVID-19 cases, 29 deaths
Is it safe to go back to the dentist? Tacoma practitioners say yes, even as fears remain
Pierce County adds 20 new COVID-19 cases on Tuesday, two more deaths
Tacoma school year extended due to COVID-19 impacts
A 79-year-old found with maggots in her wound at a care facility later died, lawsuit alleges
Gig Harbor mayor wants Gov. Inslee to return his calls. Is that asking too much?
New York Times
Coronavirus Live Updates: C.D.C. Releases More Guidelines for Reopening Schools and Businesses
10 Years Old, Tearful and Confused After a Sudden Deportation
Trump Steps Up Attacks on Mail Vote, Making False Claims About Fraud
As Reopening Starts, Americans Expect Recovery to Take Years
Poor Americans Face Hurdles in Getting Promised Internet
Olympian (subscription required)
Thurston County among 10 that can apply now to move to Phase 2 of reopening economy
Coronavirus updates: County variance criteria expanded; lawsuits filed against gyms
State files for injunction against Puyallup gym hosting protest against stay-home orders
Washington sees 'dramatic rise' in unemployment fraud claims during COVID-19 pandemic
Peninsula Daily News
Clallam now on short list for Phase 2 (Van De Wege, Tharinger, Chapman)
Jefferson County elected officials in favor of applying for variance
Study: Carbon pollution falls during pandemic
Calling to reopen
Free potatoes, onions to be distributed in Port Angeles, Forks
Inslee eases guidelines to allow Clallam, other counties to expedite reopening process
Puget Sound Business Journal
'Way too late': Inside Amazon's biggest outbreak
College calendars in the pandemic: No fall break and home by Thanksgiving
Report: It will take years for Seattle hotel market to recover from pandemic
Coronavirus poses new math for Seattle restaurants that bet big before pandemic
Seattle U fall session could be a virtual experiment — and a sign of things to come
Dentists are opening this week, but don't expect to read a magazine in the waiting room
Renton Reporter
Local behavioral health facility gets $2 million grant to serve youth
Seattle Times (subscription required)
How to help your teenagers, if they're having a tough time during the pandemic
Westneat: No, we're not all in this together — look at what's happening with coronavirus in Yakima
Here's how UW and WSU are preparing for the possibility of college football returning in the fall
Inslee announces guidelines that could allow 10 more counties to reopen under coronavirus recovery plan
Seattle schools to offer summer school to all students starting in July, continuing coronavirus online classes
Gray whale washes ashore on Bainbridge Island, fifth on Washington coast this year
Man shot, killed by police in Seattle
King County workers voluntarily leave their main jobs to find recipients for coronavirus donations
Could the coronavirus reset society? Questions we should be asking about post-pandemic life
Weekly home sales rebounding to last year's level
2 gyms that had defied coronavirus stay-home order close their doors after state attorney general sues
Bloomberg: China's new outbreak shows signs the virus could be changing
Judge in southwestern Washington charged with DUI
Bloomberg: Reopening U.S. economy will mean creating all kinds of new jobs
Editorial: Protect health workers from civil liability
Skagit Valley Herald
Surplus potatoes handed out at Cascade Mall
Skagit County cold case subject of TV showBurlington mayor questions Inslee's motives on COVID-19
Spokesman Review
Spokane County aims to ease limits by Memorial Day under new rules announced Tuesday
Inslee decries Spokane businesses violating order
STA gets $23.4 million to keep buses running as it braces for likely shortfalls, cuts
Gregoire: Business leaders shifted focus to fight COVID-19 as the outbreak began to take hold
Tri-City Herald
Here's the Tri-Cities town with the highest coronavirus case rate this week
Death toll from COVID-19 reaches 75 in Tri-Cities area. Plus more cases in health workers
Commissioner threatens hiring freeze for Tri-Cities health district amid coronavirus pandemic
Tri-Cities sees rise in unemployment fraud claims during pandemic. What you can do to stop it
USA Today
Trump threatens to permanently cut WHO funding and withdraw US membership
Coronavirus lockdowns have caused a whopping 17% drop in global carbon emissions
Vancouver Business Journal
City seeks organizations to implement new small business assistance programs
Walla Walla Union Bulletin (subscription required)
Worker strikes continue at 6 Yakima Valley packing houses; Apple shipments not affected overall
Editorial: Federal guidelines on air travel are needed
Washington Post
Taxpayers face delays as IRS struggles with backlog
Trump threatens to hold funding for Michigan, Nevada over plans for absentee, mail-in voting
Op-Ed: Trump just said the corrupt part out loud
Op-Ed: 'Jane Roe,' from Roe v. Wade, made a stunning deathbed confession. Now what?
The pandemic may forever change the world's cities
U.S. roadways more lethal during pandemic, safety group says
Misinformation about covid-19 finds new avenues on unexpected sites
Whidbey News-Times
Celebrating 2020 grads
Local Memorial Day celebrations adapt to COVID-19
Langley retailers get green light to move outdoors
Yakima Herald Republic
Two Allan Bros. workers begin hunger strike as walkouts continue at Yakima Valley fruit companies
Teaching remotely: Long days for teachers as they work to connect with students
Yakima City Council to discuss lifting limits on cruising
Editorial: Enjoy our wonderful trails, but please leave no trace
Broadcast
KING5 TV (NBC)
Report: National Guard coronavirus deployments set to end just before benefits kick in
Arlington, Puyallup gyms close after facing lawsuit for defying Washington's stay-home orders
50-day strict lockdown, 30-day relaxing could solve pandemic, study suggests
More mold detected at Seattle Children's Hospital
State says pandemic's impact could make bad fire season worse
10 more counties in Washington can apply for Phase 2 of COVID-19 reopening
KIRO7 TV (CBS)
Impostors wreak havoc on Washington state unemployment system
State using call centers for contact tracing and considering apps
10 more counties eligible to apply to move to phase 2 of reopening plan
State sues 2 gyms for remaining open during stay-home order
Signs Washington's economy is restarting
Seattle City Council considers freezing encampment sweeps during pandemic
KOMO4 TV (ABC)
Larger counties face uphill battle in reaching Phase 2 of re-opening plan
'Gig Economy' workers struggle in COVID-19 world amid scant access to benefits
COVID-19: Inslee unveils plan to allow counties to reopen faster
10 new counties qualify for Phase 2, but new COVID-19 cases could stall reopening
Statewide COVID-19 death toll rises as more counties slowly re-open
Can Washington hotel industry recover after COVID-19?
Local trials under way for anti-malaria drug at center of Trump COVID-19 debate
Air samples find Aspergillus mold once again at Seattle Children's Hospital
Sound Transit will receive $166M in federal funds
KNKX FM
LISTEN: What's driving the high rate of COVID-19 infections in Yakima County
Washington said to be on track to meet COVID-19 testing and tracing goals
Coronavirus relief bill stalls in Senate, but Kilmer hopes provisions survive
Pandemic takes toll on British Columbia's tourism, as border closure extends to June 21
KUOW FM
10 MORE WASHINGTON COUNTIES IDENTIFIED FOR EARLY REOPENING ELIGIBILITY
After briefly catching up, Washington's renters fall behind again
Updates on the coronavirus pandemic in Washington state
Businesses Try To Navigate The World's Coronavirus Cargo Pileup
Monroe corrections officer dies of Covid-19, number of infections continues to climb
One woman's experience recovering from Covid-19
Amid uncertainty, UW plans to bring students back next fall
WH Coronavirus Coordinator Encouraged By Decline In New Cases In Most Of U.S.
May 19th | Amazon warehouse workers have famously faced on-the-job hazards. One new one? COVID-19.
I had Covid-19. My body shook, "discharging the collective terror" of us all
Not all closed Seattle streets will stay closed after the pandemic
U.S., Canada Agree To Keep Border Partly Closed For Another 30 Days
Senators Clash Over How Soon To Reopen The Economy
Democrats Bet Health Care Will Deliver 2020 Victories
For Cancer Patients, Anguish Grows Over Deferred Surgery As Risk Rises
Q13 TV (Fox)
10 more counties – including Thurston, Kitsap and Clallam – can apply for Phase 2 reopening
Inmate released early due to COVID-19 arrested for attacking woman on hiking trail
Washington, Oregon expected to have worst fire season in the country
Update: Gyms close after AG's office sues them for defying stay-home order
How to protect yourself if you've been a victim of unemployment fraud
Ocean Shores hotels reopen in time for Memorial Day weekend
Aspergillus mold found again at Seattle Children's Hospital, state says
Web
Crosscut
Untangling coronavirus' uneven impact in the West
For Puget Sound Muslims, Ramadan during crisis is an opportunity to help
Opinion: The flicker of climate hope in our pandemic dread
Queen Anne & Magnolia News
Property taxes due for most taxpayers June 1
Slog
China's Manipulation of Post-Pandemic Economic Data Is Coming to the US
How Would You Like to Hang Out on Top of a Freeway?
Phase 2 Is Coming to a County Near You, Inslee Announces
Fremont Finally Finds a Home for 29 Million Gallons of Locally Sourced Poop
West Seattle Blog
Coronavirus: Tuesday 5/19 Roundup
---