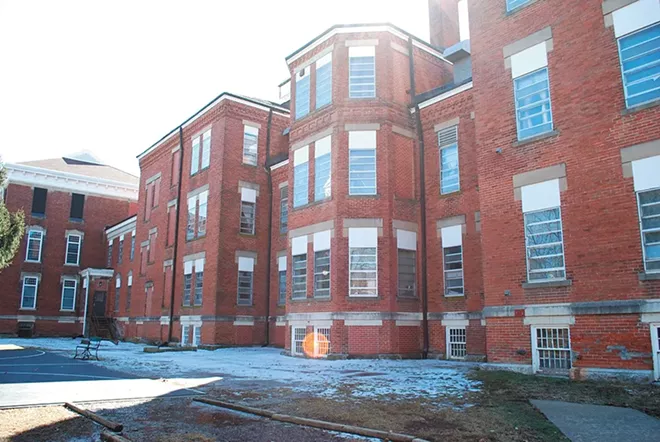 Civil rights groups to Inslee: Stop sending children to facilities like the one that killed Cornelius Fredericks
This spring, a Black teenager named Cornelius Fredericks was restrained by the staff at a youth academy in Michigan because he threw a sandwich. Fredericks, 16, was pinned down for more than 10 minutes, saying "I can't breathe" before he died, according to a lawsuit. Continue reading at The Inlander. (Tina Pinedo)
---
Kindergarten enrollment is way down in WA. What does it mean for kids and families?
The children struggle to mute and un-mute their microphones. Squirming at kitchen tables and makeshift desks, their small voices occasionally squeak through laptop speakers, asking the teacher — who long ago established herself as a saint and a zen master — why the feed is glitching or how come they can't see the lesson on the screen. Continue reading at The News Tribune. (Bob Brawdy)
---
UW releases latest US COVID-19 model, projecting death toll
Researchers at the University of Washington's Institute for Health Metrics and Evaluation (IHME) released new numbers, updating its COVID-19 death toll forecast through Feb. 1, 2021, in the U.S. The U.S. has seen daily deaths increase slightly to about 750 per day since August, and the newest model shows that number climbing to nearly 2,900 daily by the end of December, bringing the total deaths to about 363,000. Continue reading at KIRO7 TV.
---
Print
Associated Press
Washington Apple Commission downgrades crop forecast
State has fined 11 businesses over COVID-19 mask mandate
Decision pending on whether to replace West Seattle Bridge
COVID-19 coverage safety net has plenty of holes in US
Washington law allows bikes to use stop signs as yield signs
Lightning strikes ferry near Edmonds
'One step forward, two steps back': Pelosi dismisses latest White House COVID-19 aid offer
Global watchdog proposes tax overhaul for Big Tech
Stocks climb, closing out biggest weekly gain in 3 months
Protesters knock down Roosevelt, Lincoln statues in Portland
Lightning knocks Washington state ferry out of service
Oregon relaxes some asbestos rules to speed wildfire cleanup
Mechanical problems likely cause of industrial plant fire
Dairy industry commits to carbon neutrality or better by 2050
Lightning strikes Washington State Ferry
Court: Press, others remain exempt from dispersal orders
Felon who made 'ghost guns' sentenced to 5 years in prison
Washington state AG office fires chief investigator
Aberdeen Daily World
Guideline changes won't affect local preps much
Safe Start Plan doesn't do enough, say local bar/restaurant owners
Days after resumption of on-site learning, Raymond Elementary "individual" tests positive for COVID-19
GHPUD's shut-off moratorium ends next week, but Inslee could step in
COVID cases reach 563, free testing moves to Elma Fairgrounds next week
Pacific County COVID-19 case count at 91
Flu shots especially encouraged this season by health officials
Op-ed: A good democracy requires disagreement, conflict and argument
Bellingham Herald (subscription required)
COVID-19 case counts for Washington, Whatcom County delayed due to processing issues
Whatcom County sees four new COVID-19 cases Saturday
Apartments may still be hard to find in Bellingham, but are rent prices improving?
Canadian immigration agency issues warning to families ready for cross-border reunions
After big increase Thursday, Whatcom County sees four new COVID-19 cases Friday
Inslee extends eviction moratorium through 2020, will use $15M grant to aid businesses
Highland Health COVID-19 outbreak spreads to 15 more people, causes 4 more deaths
Washington state reports 475 new COVID-19 cases on Saturday
U.S. Navy, state leaders at odds over proposal that could affect Washington's orcas
4 governors agree to work together as NW salmon may have just 20 to 30 years left
Here are the new COVID-19 cases and deaths confirmed Friday for Washington state
Coronavirus updates: State passes 93k cases
At-home saliva COVID-19 test kits available in some states. How accurate are they?
Coronavirus updates: State nears 92k cases; cases in UW student outbreak rise
Here are the new COVID-19 cases and deaths confirmed Thursday for Washington state
Whatcom County sees largest single-day increase in new COVID-19 cases since June
 
Capital Press
WSDA predicts COVID-driven demand on food banks will last years
Apple sales focus on 'home court'
Boosting barley: New WSU malt quality laboratory could increase barley acreage, profits
WDFW seeks seat on board overseeing conservation districts
Columbian
For 3rd day, Oregon reported more than 400 COVID-19 cases
In Our View: Cheers & Jeers: Good eats news; getting soaked
The Daily News
Sex ed bill, if passed, would have little local effect
Everett Herald (subscription required)
For some Snohomish County kids, a warehouse is a schoolhouse
Local libraries preparing to reopen at limited capacity
How do you teach auto shop remotely? Edmonds class finds out
What we know: Washington coronavirus outbreak at a glance
Comment: Want to help restaurants open up? #MaskUpWA
Highline Times
Junction Public Safety Meeting will look at local crime and solutions Oct. 13
SDOT update on West Seattle Bridge stabilization and release of stuck bearing
Op-ed: SDOT needs to do a more honest evaluation of an Immersed Tube Tunnel
The Inlander
Civil rights groups to Inslee: Stop sending children to facilities like the one that killed Cornelius Fredericks
 
Islands' Weekly
San Juan County extends CARES Small Business Relief Grant deadline and eligibility
Letter from the Salish Sea
Editorial: Celebrating LGBTQ+ history this October 
Journal of the San Juan Islands
State to provide $300,000 in emergency grants to Washington shellfish growers
Kitsap Sun (subscription required)
South Kitsap, Bremerton announce Nov. 9 return to classroom for some students
Graham: Kitsap high schools ramp up return-to-play discussions
148-unit apartment complex planned for Clear Creek Road in Silverdale
Kitsap County, cities received $24.4 million in COVID-19 relief. Here's where that money has gone
News Tribune (subscription required)
Restoration of busy Puyallup bridge means 18-month closure
Bartell joins 2 other regional chains in succumbing to changing landscape of business
Pierce County reports 98 new COVID-19 cases
Coronavirus updates: State passes 93k cases
Orting moves into new $6.5 million city hall
Will a homeless shelter finally open in East Pierce County? Records show a plan for it
Fire, explosions damage asphalt plant near Commencement Bay, Tacoma fire says
Kindergarten enrollment is way down in WA. What does it mean for kids and families?
Olympian (subscription required)
Thurston schools struggle to provide internet access needed for remote learning
Olympia business among 11 fined for violating L&I mask rules
Thurston County COVID-19 cases soar on Sunday, rise by 25 to overall total of 1,445
National Guard cyber experts working to protect Washington state's election security
Can communities of color get Congress' help with the impact of climate change?
Protester who climbed tree in Capitol Forest is still 'going strong,' friend says
Could a 'golden mask' be in your business's future? Thurston health officials think so
Peninsula Daily News
Port Angeles School District avoids staff cuts
Clallam County reports two additional virus cases
Clallam, Jefferson counties avoiding third wave so far
EYE ON CLALLAM: County considers 2021 budget
Puget Sound Business Journal
SBA just made PPP forgiveness easier for smaller loans. What about everyone else?
Fewer colleges than expected close because of Covid-19
Port of Seattle urges strict Covid-19 safety plans before Alaska cruises resume
Seattle, Tacoma working waterfronts wait for other parts of economy to rebound
Yelp says it will mark pages of businesses accused of racist conduct
Opinion: Privacy challenges ahead for telehealth adopters
Skagit Valley Herald
Anacortes stormwater coming under closer watch
Police department's social worker has had big impact
Wolverines denied federal protection
Community Foundation grants bolster nonprofits
Spokesman Review
WSU, Gonzaga cancel spring break amid COVID-19 outbreak concerns
Spokane Police Department launches Safe Place program, encourages reporting of hate crimes
Spokane-area movie theaters to reopen with reduced capacity
'We're still here': Colville tribal member's long battle against declaration of extinction reaches Canadian Supreme Court
Doctor says Trump won't transmit virus, stays mum on tests
Interim president David May: EWU will be 'resized and refocused' due to pandemic, budget cuts
In annual report, Spokane's police watchdog repeats calls for independence
Tri-City Herald
Back to class: Finley, Burbank students return to school. Kennewick is next
Youngest of 14 newly announced Tri-Cities COVID victims was in his 40s
4 governors agree to work together as NW salmon may have just 20 to 30 years left
14 more COVID deaths reported in Tri-Cities area, after audit of death certificates
As state COVID-19 numbers tick upward, Inslee concerned about autumn
PNNL says online posts linking a Tri-Cities employee to the Proud Boys are unfounded
Walla Walla Union Bulletin (subscription required)
4 governors agree to work together for Northwest salmon
Pandemic buying depletes stores of big-ticket items
Amazon's turnover rate amid pandemic is at least double the average
Wildfires deliver devastating hit to wildlife
Spokane becomes one of the first 15 cities in the world equipped with new ebikes
Environmental groups to dismiss case against Lower Valley dairy owners
Editorial: States does have authority to suspend scofflaws' licenses
Washington Post
Trump's Supreme Court nominee appears before Senate panel
White House pivots again on stimulus negotiations after bipartisan backlash
Trump's children brought Secret Service money to the family business with their visits, records show
North Korea's 'monster' missile sends menacing message to next U.S. president
Louisiana officials survey hurricane's devastation and wonder how much federal aid they can expect
Trump taps U.S. Marine Band for White House event and raises questions about employing the military for political purposes
Landlords, lobbyists launch legal war against Trump's eviction moratorium, aiming to unwind renter protections
Yakima Herald Republic
Three Yakima Valley school districts receive grant to expand youth mental health services
Bloomberg: The Fed is right and Trump is wrong: Stimulus can't wait
Broadcast
KING5 TV (NBC)
King County judges: Lack of electronic home detention 24/7 monitoring is against the law; courts will reduce use
Black-owned coffee shop in Shoreline rebounds with help from community after arson
KIRO7 TV (CBS)
Growing Seattle homeless encampments bring new problems, mounting frustration
Fire, explosions erupt at asphalt plant in Tacoma, causing damage
Defend police rally attracts dozens of black-clad opponents
COVID-19 cases rising in parts of Puget Sound region
Washington AG's senior criminal investigator fired over BLM incident
President's physician says Trump no longer a transmission risk
UW releases latest US COVID-19 model, projecting death toll
Rally held outside Northshore School District administration building demanding in-person special education classes
Wash. State Ferries sees increased ridership, reinstated schedules
Building that houses iconic Tacoma clothing store, barbershop to be razed for apartments
KOMO4 TV (ABC)
New COVID-19 projections from IHME show more cases, deaths; cold weather could be a factor
KNKX FM
WATCH LIVE: Amy Coney Barrett's Supreme Court confirmation hearings
Enrollment in public schools across the state has dropped amid shift to remote learning
New whale watch licensing system will reduce noise, disturbance of endangered orcas
KUOW FM
WATCH LIVE: AMY CONEY BARRETT'S SUPREME COURT CONFIRMATION HEARINGS
Updates: Pandemic in Washington state
Democrats To Frame Barrett As Foe Of Affordable Care Act In Confirmation Hearings
How The Supreme Court Confirmation Hearings For Amy Coney Barrett Will Work
Medical Residents Learn To Treat The Growing Health Hazards Of Climate Change
KLOG: Gun deaths are way up in Seattle
READ: Amy Coney Barrett's Opening Statement In Her Confirmation Hearing
'Courts Are Not Designed To Solve Every Problem,' Barrett To Say In Opening Statement
Call For Administration's COVID-19 Vaccine Contracts To Be Disclosed
When will students return to the classroom in Seattle Public Schools?
China Joins WHO-Led Global Coronavirus Vaccine Effort As U.S. Sits It Out
Gun Control Groups Voice 'Grave Concerns' About Supreme Court Nominee's Record
Enrollment Is Dropping In Public Schools Around the Country
Smoky Skies Are The New Normal. Are They Making Us Sick?
Supreme Court Refuses To Block Lower Court Order On Abortion Pills
Trump Touts Antibody Treatments For COVID-19, But Evidence Is Incomplete
Trump Still On Steroids: How These Drugs Are Typically Used To Treat COVID-19
How Trump's Supreme Court Pick Might Hinder Climate Action
NW Public Radio
As Barrett Hearings Begin, A Look At Trump-McConnell Judge Appointments (Mostly White Males)
Conservation Groups Vow Challenge After Federal Decision Not To Protect Wolverines
Q13 TV (Fox)
Brandi Kruse: Is Seattle's mayor the loneliest person in politics?
Web
MyNorthwest.com
IHME releases new projections for COVID-19 death toll by February
Possible tornado damages trees in Grays Harbor County
Edmonds ferry struck by lightning Saturday, route down to one boat
COVID-19 updates: Alaska Airlines offers rapid testing for Hawaii-bound travelers
Report finds culture of gender discrimination at Seattle-area tech companies
---