Congress seals agreement on $900 billion COVID relief bill
Top Capitol Hill negotiators sealed a deal Sunday on a $900 billion COVID-19 economic relief package, finally delivering long-overdue help to businesses and individuals and providing money to deliver vaccines to a nation eager for them. The agreement, announced by congressional leaders, would establish a temporary $300 per week supplemental jobless benefit and a $600 direct stimulus payment to most Americans, along with a new round of subsidies for hard-hit businesses and money for schools, health care providers and renters facing eviction. Continue reading at Tacoma News Tribune. (Susan Walsh/AP)
---
COVID-19 ripped through communities east of the Cascades, killing people at twice the rate of Western Washington
For months, McKay Healthcare & Rehab staff kept its elderly residents safe from COVID-19. But in late October, the virus slipped into the center's 8-decade-old building. By mid-December, 15 of the 31 residents had died from the disease. In the struggle to fight the virus, some staff members worked 24-hour shifts to cover for co-workers who tested positive and had to stay home. Continue reading at The Seattle Times. (Amanda Snyder/The Seattle Times)
---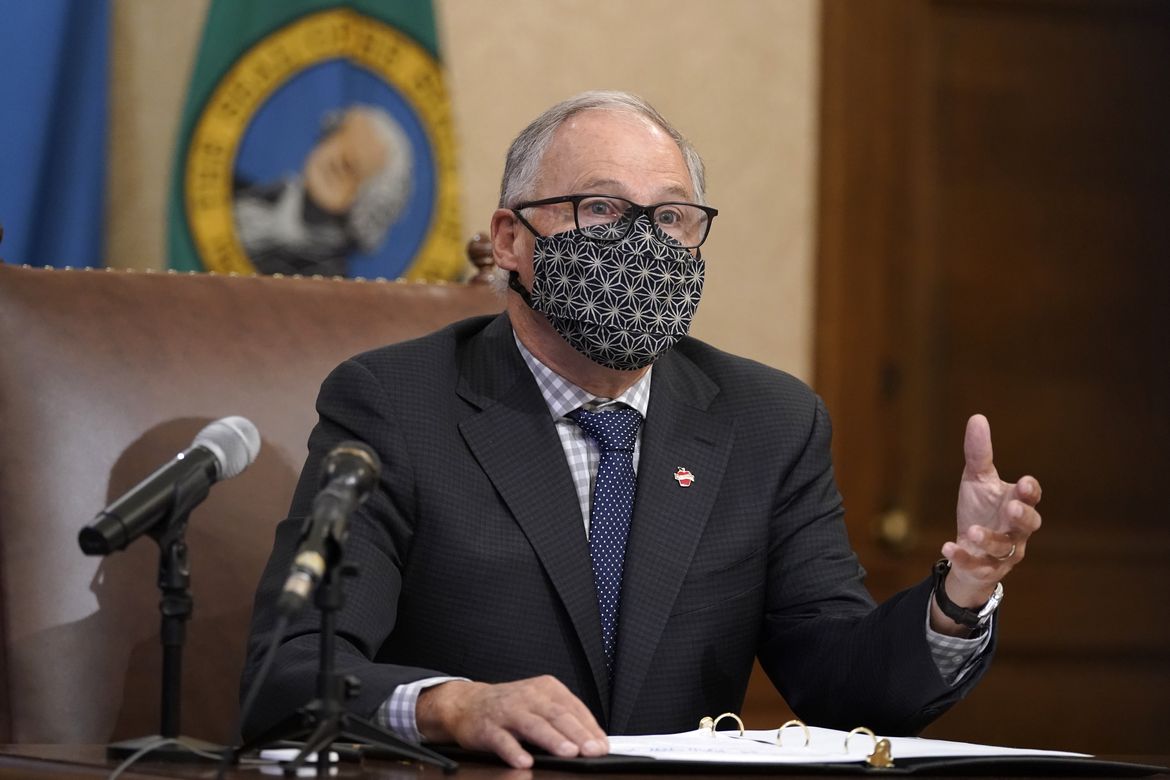 Riccelli joins Inslee to support funding and restructuring public health systems
As the COVID-19 pandemic continues putting stress on public health, Gov. Jay Inslee announced Thursday a legislative package that boosts funding and support for public health systems statewide. The proposals include creating a new fund to improve public health programs in the long term, as well as restructuring local public health jurisdictions. Continue reading at The Spokesman-Review. (Ted S. Warren)
---
Print
Associated Press
EU greenlights COVID-19 vaccine after agency gives safety OK
AG: 'No reason' for special counsel on election, Biden's son
Congress seals agreement on $900 billion COVID relief bill
Seattle scales back bridge earthquake retrofit work
Audit: Control inadequate at Employment Security to prevent fraud
Pacific County COVID rates falling after November spike, but still high
Aberdeen Daily World
Cosi mill announces plans to be fully operational by February
Historical Seaport seeks help to keep 'Lady Washington' afloat
Public Health reports four new COVID deaths
Letter: Thank you, Gov. Inslee
Bellingham Herald (subscription required)
Slowing down the speeders? It's easy to do, whenever we're truly ready
Here's how badly Canadian border closure has hit Whatcom tourism
Washington state reports 2,332 new COVID-19 cases on Saturday
CDC wants people to stay home for the holidays. Here's what's expected in Whatcom County
Whatcom County, B.C. have no border for snow. Here's when we might share some
Whatcom sees 24 confirmed COVID-19 cases on Saturday
Capital Press
Washington native crowned agriculture advocate
Farms weather uncertain financial times during pandemic
Kitsap Sun (subscription required)
Lawmakers reach 'bipartisan breakthrough,' announce $900 billion COVID-19 relief deal, will vote Monday
Hospital workers receive first doses of coronavirus vaccine in Kitsap
Handle With Care initiative supports students in crisis
Former Poulsbo police chief hired to run city's parks and rec department
His health failing, Bremerton grad casts emotional electoral vote for Joe Biden
News Tribune (subscription required)
Cases rise to 738 in Gig Harbor with 2 more deaths; one new death on Key Peninsula
Pierce County reports 187 new COVID-19 cases
Puyallup Food Bank selects new CEO. He's likely a familiar face to city residents
Becoming a teacher has always been difficult in WA. Remote learning makes it tougher
COVID-19 sends McMenamins to the brink. Company pleads for easing of dining restrictions
Sumner's $30 million bridge project would improve traffic and White River's current
Editorial: Tacoma's Wilson High School needs a new, non-racist name. This choice is perfect
Op-Ed: I'm part of the top 3-percent earners – so tax me higher, says Pierce County resident
Ex-safety manager sues MultiCare, alleges wrongful termination for reporting hazards
New York Times
Live Updates: Congress Races to Finalize Stimulus Deal
Stimulus Deal Provides Economic Relief, for Now
Covid-19 Live Updates: New Variant Causes Alarm Around the World
Health Care Workers Still Face Daunting Shortages of Masks and Other P.P.E.
Biden Introduces His Climate Team
Olympian (subscription required)
Coronavirus updates: Pierce County reports 187 new cases, state no longer reporting on Sundays
It's a deal. More unemployment payments, stimulus checks could be headed to Washington soon
Thurston County reports 41 COVID-19 cases on Sunday
COVID-19 to climate change. PNNL delivered science and technology during challenging 2020
Thurston commissioners allow asphalt recycling, expand opportunity for mining
Nisqually River stretch protected by land trust's $1.2 million purchase
Providence gives first caregivers Pfizer COVID-19 vaccine Friday
The Seahawks are perfect against COVID, but the Huskies got crushed — what happened?
Port of Olympia struggles to find strategy for homeless response
Presidential search at Evergreen picks up steam after board approves 2 key items
Peninsula Daily News
Crescent's strategy has kids in classrooms
Peninsula inmate cases seen only in Clallam County jail
Health officer discusses vaccine prioritization
WHAT WE KNOW: Coronavirus outbreak at a glance
COVID-19 infection rates dipping on North Olympic Peninsula
Law enforcement, inmates split on vaccine
OMC nurse gets Clallam County's first vaccine shot
Thanksgiving precautions paid off, say Peninsula health officers
EYE ON CLALLAM: Quillayute Valley School Board to hear virus report
EYE ON JEFFERSON: County considers tax for affordable housing
Seattle Times (subscription required)
As he lobs fraud claims, losing Republican candidate Loren Culp's own campaign spending draws questions
Essential trips only on Washington State Ferries this holiday season, WSDOT asks
Seattle police break up 'antifa soccer' game, arrest 7 at Cal Anderson Park
Gov. Jay Inslee announces Western states' approval of Moderna COVID-19 vaccine
COVID-19 ripped through communities east of the Cascades, killing people at twice the rate of Western Washington
COVID-19 added new element of risk to the Grant County agriculture season
Opinion: It's time for a national dialogue on reparations
Skagit Valley Herald
Mental Health: Progress being made on new treatment facility
Mental Health: Pandemic has had wide-ranging effects
Mental Health: Law enforcement finds another approach
Businesses are making indoor air safer to reduce COVID-19 risk
South Seattle Emerald
As pandemic drags on, parents cope with mental health challenges
In My Own Words: Justice for Herbert Hightower Jr.
Weekend Reads: An equitable future for Washington
Study indicates stark need for a South King County paradigm shift on multilingual education
Spokesman Review
'Building a winning team': New NAACP president hopes to grow community partnerships
When COVID-19 doesn't go away: Some survivors experience symptoms months after infection
Study: Depleted wolf packs unlikely to welcome immigrants
Inland Northwest health workers started getting COVID-19 shots last week. What's next?
Additional 276 COVID-19 cases reported in Spokane County on Sunday; second round of vaccines on the way
Riccelli joins Inslee to support funding and restructuring public health systems (Robinson, Riccelli)
Tri-City Herald
WA state pays former Tri-City woman record $2M foster care sex abuse settlement
Kennewick 25-year-old was trying to find his way in life before he died in a police car
Here's why 3 health care workers said yes to getting first COVID vaccinations in Tri-Cities
What WA state's new school guidelines mean for Tri-Cities schools
2nd Tri-Cities area girl dies from COVID. Deaths now total 219
Hanford reportedly a target of Russian hackers in nationwide infiltration of federal agencies
Nursing homes being hit hard by post-Thanksgiving COVID infections
Kadlec gets nearly 2,000 COVID vaccines this week. None for Trios, Lourdes workers yet
Kagen Coffee & Crepes temporarily closes during latest COVID restrictions
COVID-19 sparks rapid mask and ventilator adaptor design using 3D printers
Washington Gov. Inslee rolls out $57.6 billion budget plan that includes capital gains tax
Editorial: 'We need answers.' It's great we have a COVID vaccine, but who's calling the shots? 
USA Today
COVID-19 relief package: $600 stimulus checks, $300 bonus for federal unemployment benefits in new deal
Some Americans aren't in a rush to get a COVID-19 vaccine; experts understand but say there's no need to wait
Millions of Americans unemployed because of COVID-19 are still waiting on unemployment money
Walla Walla Union Bulletin (subscription required)
Walla Walla area students consumed in nationwide struggle with grades
Blue Zones Project launches in Walla Walla Valley
Joshua Hartwell pleads guilty to lesser crimes in Pioneer Park bird attack
City of Walla Walla launches virtual open house for Park Street infrastructure project
Walla Walla physician takes job as county's public health officer, helping set policy for 61,000 residents
Walla Walla Public Schools to reassess COVID-19 numbers two weeks after winter break
Pandemic claims lives of four more in Umatilla, Walla Walla counties
County, state data shows surge of COVID-19 cases among Washington State Penitentiary inmates
Walla Walla County reports 25 new COVID-19 cases Wednesday; no new deaths
Washington Post
Mnuchin says new stimulus payments could go out next week as Congress readies relief bill vote
NIH launching study on rare allergic reactions to coronavirus vaccine
Here's what we know about the new European coronavirus mutation
A Black VMI cadet was threatened with a lynching, then with expulsion
The inside story of how Trump's denial, mismanagement and magical thinking led to the pandemic's dark winter
Broadcast
KING5 TV (NBC)
Washington doctor says COVID-19 vaccine safety data is 'encouraging'
US Postal Service delays make big impact on western Washington small businesses
People over 75, essential workers next in line for COVID-19 vaccine
Washington hospitals ready to receive more doses of COVID-19 vaccine
KIRO7 TV (CBS)
Moderna's COVID-19 vaccine on way to Washington
Agreement on $900B COVID-19 relief package reached with leaner $600 direct payments
Moderna's COVID-19 vaccine cleared for use by the Western States Scientific Review Workgroup
Fast-moving new strain of coronavirus in UK raising fears
Air travel expected to surge for holiday despite health warnings
7 arrested after disturbance in Cal Anderson Park
Gov. Inslee delays implementation of plastic bag law
Youth sports advocates' message to governor: 'Let them play'
COVID-19 sends McMenamins to the brink. Company pleads for easing of dining restrictions
Former student sues Seattle schools over sexual assault
UW to host Tent City 3 again
Tacoma Public Schools to bring back some students for in-person instruction in mid-January
Judge won't speed bail hearings at Tacoma immigration lockup
Public Health on vaccine rollout: 'anticipate delays, unanticipated challenges, snafus at every stage'
Restaurant workers push back against calls for reopening indoor dining
New state audit of $600 million unemployment fraud
Senate Report: Boeing, FAA manipulated 737 Max tests
KOMO4 TV (ABC)
Wash. state to receive 176,000 more COVID vaccine doses this week
City crews continue cleaning Cal Anderson Park after illegal homeless camp sweep 
Tacoma Public School students begin return to in-person learning next month
KNKX FM
'The whole idea of a government safety net is like a sham': Renters frustrated by lack of help
Frustration, questions over the order in which Swedish employees got vaccinated
COVID-19 caused UW to miss Pac-12 championship, forgo bowl bid
KUOW FM
Ballard P-Patch will live on, thanks to an Amazon donation
Here Is What's In Congress' COVID-19 Relief Package
Congress Poised To Simplify FAFSA, And Help People In Prison Go To College
Virginia Removes Its Robert E. Lee Statue From U.S. Capitol
A rural tribe tried to keep Covid at bay, but a last hurrah seeded an outbreak
Officials report low Covid-19 cases at Northwest Detention Center. But others say transparency is lacking
Q13 TV (Fox)
The Divide: Pathway out of a pandemic
Brandi Kruse: Don't be mad at KOMO for showing the sad state of Seattle
Judge won't speed bail hearings at Tacoma immigration lockup
Web
Civic Skunkworks
The Blueprint for Rebuilding Washington State
Crosscut
How COVID reshaped Seattle, season by season
Top stories of 2020 in Washington state
What you should know about WA Gov. Jay Inslee's 2021 budget plan
MyNorthwest
Gov. Inslee: New COVID relief package 'can only be considered a down-payment'
COVID-19 updates: Vaccine may need to address new strain of virus in future
Seattle police arrest 7 people at Cal Anderson Park
'Potential for at least some snow' Monday in Puget Sound region
Western States Scientific Safety Review Workgroup approves Moderna COVID-19 vaccine
Restaurant workers ask Governor Inslee for health, financial protections
Audit finds internal controls at ESD weren't strong enough to prevent fraud
Arrow crashes through rear window of Washington driver's car on road
Over 1,000 high-risk health care workers in Washington get vaccine
Slog
A Very Brief History of the Seattle Police Department's Greatest Hits
SPD Arrests Over 20 in Cal Anderson Sweep
West Seattle Blog
RESEARCH REVEALED: UW vessel Rachel Carson's work off Alki Point could help predict earthquakes
---
---