A preview of the 2021 Washington state legislative session
The Washington State Legislature will begin the 2021 legislative session on Monday, Jan. 11. The legislature operates on a biennium basis: it conducts 105-day full sessions in odd-numbered years (like this year) and 60-day short sessions in even-numbered years. In the odd-numbered years, three budgets are created – the operating budget, the transportation budget and the capital budget; in the even-numbered years, these budgets are modified. Continue reading at The South Seattle Emerald. (MathTeacherGuy)
---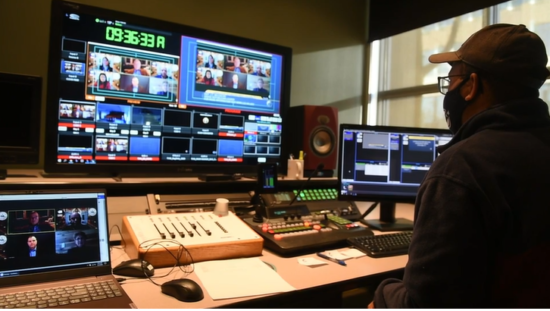 How Washington residents can weigh in during the mostly remote legislative session
When Washington state's part-time lawmakers kick off the 105-day 2021 legislative session in a mostly remote environment, it'll be amid a storm of challenges. Some, such as the ongoing pandemic, are unique to the moment. Others — systemic inequity, overwhelming calls for police accountability, climate change — have long existed. All this, while under a shadow cast by recent events that pose unprecedented security risks. Continue reading at The Bellingham Herald. (Tony Overman)
---
Five issues to watch in the Washington Legislature in 2021
With a mostly virtual session due to COVID-19 protocols, increased safety concerns over pro-Trump protests nationwide and a long road toward economic recovery, Washington lawmakers have a lot of work ahead of them when the Legislature convenes on Monday. Continue reading at The Spokesman Review. (Jesse Tinsley)
---
Print
Associated Press
14 people might be banned after rowdy D.C.-to-Seattle flight
Protesters gather outside Capitol in Olympia, Washington
Asian shares mostly higher on optimism despite pandemic
Washington Legislature convenes under tight security
Protesters gather outside Capitol in Olympia, Washington
 Stocks slip as Wall Street takes a breather after 4-day run
2 Seattle officers placed on leave in probe into Capitol mob
Entire state to remain in Phase 1 under new COVID-19 plan
Pelosi says House will impeach Trump, pushes VP to oust him
Republicans block measure calling for quick removal of Trump
Parler squeezed as Trump seeks new online megaphone
US Capitol siege a more sinister attack than first appeared as videos emerge
National Guard in Olympia ahead of Washington's legislative session
State lawmaker charged after entering Capitol with rioters
State capitols reassess safety after violence at US Capitol
Aberdeen Daily World
Local GOP leaders address Capitol Hill events
Grays Harbor COVID numbers continue to rise, free testing continues
Summit Pacific finalizing Phase 1A vaccines, planning for Phase 1B administration
Auburn Reporter
State to receive $2.36 million federal grant for Shared Work Program
Column: Cities have progressive agenda for next legislative session | Roegner
Bainbridge Island Review
Security, budget COVID-19 key issues as state legislators start session
Bellingham Herald (subscription required)
Here's how Whatcom Democrats want to address Washington racial, environmental disparities (Lekanoff)
'Not a single dose has gone unused,' PeaceHealth says of its Whatcom COVID vaccine supply
Whatcom sees 68 new COVID cases Saturday as health department warns of rapidly rising cases
Whatcom sees 121 new COVID cases Friday, as pace at long-term facilities continues to slow
'Healthy Washington' numbers show Whatcom businesses must continue restrictions
Security out in force for Sunday protests, opening of session at state Capitol Monday
Inmate at Aberdeen prison dies from COVID-19 complications
Washington Legislature set to meet amid pandemic, unrest
Three housing bills scheduled to get hearings in Washington state Senate this week (Lovelett, Kuderer, Das)
Washington state reports 2,988 new COVID-19 cases on Saturday
How Washington residents can weigh in during the mostly remote legislative session
Governor, legislators condemn actions at governor's mansion, D.C. Capitol
Here are the latest COVID-19 case numbers confirmed Friday in Washington state
Washington Gov. Inslee activates National Guard ahead of session opening day
What to expect after receiving a COVID-19-vaccine
Coronavirus weekly-need-to-know: Flu season, lung damage, loss of smell & more
Pfizer vaccine likely works against new, more contagious COVID strains, study finds
CDC's Redfield warns storming of Capitol was a 'surge event' in coronavirus pandemic
New, more contagious COVID strain has spread to at least 8 states, officials say
Unknown COVID-19 mutations may be fueling coronavirus spike, CDC's Redfield says
DC mayor 'extremely concerned' about safety at Biden inauguration after Capitol riot
Bothell Reporter
King County to expand COVID-19 vaccination efforts
Capital Press
Farm Bureau holds steady despite political shift
Washington sheriff still ready to help trap wolves
Columbian
Clark County lawmakers outline priorities for legislative session (Stonier, Wylie, Carlyle, Mullet)
Only 55 percent of Washington voters say they want to be vaccinated, poll says
In Our View: Woman's story brings home reality of COVID-19
In Our View: Devising 2-year budget Legislature's priority
In our View: Cheers & Jeers: Activities good, 'defiance' isn't
The Daily News
Braun sees new bipartisan efforts in 2021 Legislature
Some local officials reluctant to talk about attack on the Capitol
Inmate at Aberdeen prison dies from COVID-19 complications
Everett Herald (subscription required)
Click to unmute: Legislators prepare for an online session (Jinkins, Ortiz-Self, Berg, Wicks, Robinson, Lovick, Liias)
Cornfield Report: In Olympia today, face-to-face legislating — and protests
How to contact your state lawmakers
What we know: Washington coronavirus outbreak at a glance
Catholic church pays $2 million to settle local abuse cases
A lot more people will soon be eligible for COVID vaccine
County to forgo half of homelessness survey due to COVID
Eyman's legal battle with state is nearing an end
President signs bill to boost mapping of landslide hazards
Comment: State, county can't wait for climate change action
Bloomberg Comment: Three clashing — yet true — views on the Capitol riot
WaPo Comment: Yes, last week's attempted insurrection is who we are
Editorial: Slow roll on covid vaccination can't be tolerated
Editorial: Regardless of outcome, president must be impeached
Federal Way Mirror
Column: Let the 2021 political games begin | Livingston
Kitsap Sun (subscription required)
As Kitsap's lawmakers ready for a remote legislative session, here's how to keep up (Simmons, Rolfes)
St. Michael emergency room plagued by staffing shortage, hospital workers say
Meals on Wheels Kitsap wins Seahawks-themed truck, will help deliver food to seniors
South Kitsap School District reopening campuses Monday
Olympic Sports Center reopens for soccer leagues in violation of governor's coronavirus order
Seven coronavirus deaths reported this week in Kitsap
South Kitsap School District teachers, staff vote to delay return plan
News Tribune (subscription required)
Lawsuit says landlord sought $11K in move-out costs, rent, fees from low-income tenant
Employer ordered to pay delivery driver fired for requesting pregnancy accommodation
Puyallup encourages outdoor dining downtown during COVID-19 restrictions
Pierce County restaurants received $84 million in PPP. Where did it end up?
Can new book help recreate erased history of Tacoma's once-thriving Japanese community?
In Tacoma, homicide numbers are up and the solve rate is down
Care facilities and Tacoma hospital join list of COVID-19 outbreaks
Editorial: Washington needs system to investigate cop violence; Tacoma's Ellis case is Exhibit A
New York Times
Live Updates: House Democrats Introduce Article of Impeachment Against Trump
Inside a Deadly Siege: How a String of Failures Led to a Dark Day at the Capitol
Police Reassess Security for Inauguration and Demonstrations After Capitol Attack
The 51st State? Washington Revisits an Uphill Cause With New Fervor
'It Was a Joke': Some Small Businesses Got $1 Relief Loans
U.S. Disaster Costs Doubled in 2020, Reflecting Costs of Climate Change
Capitol Rioters Walked Away. Climate Protesters Saw a Double Standard.
Olympian (subscription required)
Conservative group gathers in Olympia to protest Gov. Inslee's directives
Here's how Democrats want to address Washington racial, environmental disparities (Lekanoff)
Thurston County adds 83 new COVID-19 cases on Sunday
Security out in force for Sunday protests, opening of session at state Capitol Monday
Housing land trust looking for family to buy first home in west Olympia
Convicted JBLM war criminal among former troops requesting pardon from President Trump
Thurston County adds record 133 new COVID-19 cases as data keeps entire state in new Phase 1
Washington Gov. Inslee activates National Guard ahead of session opening day
How Washington residents can weigh in during the mostly remote legislative session (Pedersen)
Three housing bills scheduled to get hearings in Washington state Senate this week (Lovelett, Kuderer, Das)
House Democrats move forward with impeachment. What to expect this week
Peninsula Daily News
Nursing facility vaccinates seniors, staff members
Sequim schools may return to hybrid model in late January
WHAT WE KNOW: Coronavirus outbreak at a glance
COVID vaccination clinics in Clallam, Jefferson counties focus on elderly first
COVID-19 death brings Peninsula toll to six
Economy one priority for district lawmakers (Chapman, Tharinger, Van de Wege)
Port Townsend Leader
Nine new cases of COVID-19 found in Jefferson County
Puget Sound Business Journal
Amazon 'stands ready' to help distribute Covid-19 vaccine
Seattle Public Schools seeks higher vaccine priority for staff as in-person class gets set to resume
King County calls on businesses to help with its vaccination rollout
U.S. mortgage executives forecast a $3T year in 2021
SBA just announced when the PPP portal will open. But there's a catch.
Unemployment claims show continuing pressure on job market
Opinion: What tech learned from Microsoft's antitrust trial
All-women colleges double down on mission as number, enrollment dwindle
Pressure grows for states to open vaccines to more groups of people
China's new rules could hit U.S. firms and send a message to Biden
'It was a joke': Some small businesses got $1 relief loans
Seattle Weekly
King County to expand COVID-19 vaccination efforts
South Seattle Emerald
A preview of the 2021 washington state legislative session (Mullet, Carlyle, Fitzgibbon, Chopp)
Opinion: Reparations can take many forms. Let's start by being honest about what we've wrought
Weekend long reads: The 25th amendment
King County commits $7 million to increased vaccination efforts, won't change jail COVID protocols
Spokesman Review
Spin Control: Virtual session should be easier to testify and no harder to track from home
Five issues to watch in the Washington Legislature in 2021 (Jinkins, Goodman, Dhingra)
Inslee activates National Guard for beginning of legislative session next week (Dhingra)
Start of Washington's legislative session will be secure, but safety protocols still under review (Jinkins, Dhingra)
'There's something seriously wrong': Local law enforcement and experts weigh in on Capitol riot
Black Washingtonians question disparate treatment in images of white extremists storming Capitol
Where does the GOP go from here? McMorris Rodgers, one of just two House Republicans to rethink objection after Capitol siege, embodies a party in disarray
Spokane attorney and former capitol police officer Richard Eymann says it's 'unfathomable' that mob easily pushed past security
A century before COVID-19, a deadly pandemic ravaged Gonzaga. These are the lessons learned
How area colleges are handling campus return plans, COVID-19 testing for spring
Another 257 Spokane County residents test positive for COVID-19
Schweitzer Mountain Resort shuts down twilight skiing after noncompliance with COVID-19 measures
Tri-City Herald
When can Tri-Cities middle and high schools reopen classrooms? Meetings this week
Tri-Cities-Yakima-Walla Walla region ranks worst in WA state's new COVID reopening plan
New COVID cases jump to 331 on Friday in Tri-Cities area
Editorial: The mob must be stopped. WA lawmakers can't be intimidated by violent thugs 
USA Today
Republican blocks House from bringing up 25th Amendment bill, forcing vote
New coronavirus variants aren't cause for alarm yet, but mutations could make COVID-19 harder to fight, experts say
Walla Walla Union Bulletin (subscription required)
Pandemic reveals child care in the Walla Walla Valley is in crisis
Walla Walla Valley pandemic relief donations top $4.7 million
Pandemic restrictions keep Walla Walla area sports bars quiet as NFL playoffs heat up
Walla Walla area law enforcement use K-9 to locate wanted man near Waitsburg
Craig Harmen Ramsey of Walla Walla arrested after allegedly pointing shotgun at two people
UPDATE: Gerald W. Taylor identified as Walla Walla homicide victim; son Stephen A. Taylor held in Friday shootings
Stephen Allen Taylor arrested in connection with fatal Walla Walla shooting
Yakima Herald Republic
Yakima County's new COVID-19 case numbers among worst in state
Former Wapato Police Chief Michael Campos was fired last year 'for acts of serious misconduct.' He later reached a $125K settlement with the city
New state ban on plastic bags delayed due to COVID-19 pandemic
Opinion: WA Notify app another good tool to fight pandemic
Opinion: Plenty to hope for as Legislature convenes
Broadcast
KING5 TV (NBC)
Washington legislative session set to start Monday in shadows of pandemic, security breach
National Guard, state troopers to remain at Capitol in Olympia for start of legislative session
Social media bans will not eliminate violent rhetoric online, UW expert says
All regions to start in Phase 1 of Gov. Inslee's new 'Healthy Washington' plan Monday
Seattle's COVID-19 self-testing kiosks run risk of false negatives, FDA warns
Seattle mayor demands that police union head 'apologize or resign' after US Capitol riot comments
Seattle man charged in federal court following US Capitol siege
KIRO7 TV (CBS)
New legislative session to begin under tight security
Seattle man charged with assaulting federal officer during violent protests at U.S. Capitol
Chaos at the Capitol: First lady Melania Trump breaks silence
State lawmakers, activists aim to tackle police reform during new legislative session (Johnson, Pederson)
Seattle residents weigh in on two officers at pro-Trump insurrection
Neighbors raise safety concerns as homeless camp grows at Capitol Hill park
City now using photo enforcement cameras on West Seattle Low Bridge
In Tacoma, homicide numbers are up and the solve rate is down
Calls for SPOG president to resign after his tweet appears to blame BLM for riot at Capitol
Local members of Congress call for investigation of Capitol security failure
King County to spend $7 million to fund teams, sites to administer COVID-19 vaccine
WA DOH: No counties ready to advance to phase 2 of reopening
Black-owned coffee shop targeted by violence but planning to stay
Restaurant Rally sent checks of at least $10,000 to 289 Pierce County restaurants
KOMO4 TV (ABC)
'We're ready to serve': Counties ready larger vaccine sites when more supplies arrive
Second inmate dies at Aberdeen prison due to COVID-19
Seattle man arrested for assaulting federal officer during siege on U.S. Capitol building 
KNKX FM
Push for climate reparations, environmental justice continues this session with HEAL Act (Saldana, Lekanoff)
National Guard activated for start of Washington legislative session
Rep. Strickland wore a hanbok to swearing in. It felt more meaningful than she expected.
King County to open free, high-volume vaccine sites
KUOW FM
SEATTLE POLICE ACCOUNTABILITY OFFICE INVESTIGATING ACTIONS OF OFFICERS IN D.C. DURING CAPITOL BUILDING ATTACK
Longtime Diplomat William Burns Is Biden's Pick To Lead CIA
Trump Regulator's Rule Would Force Banks To Lend To Gun-Makers And Oil Drillers
Seattle man among those charged in violent pro-Trump insurrection at U.S. Capitol
Pandemic updates for Seattle and the Northwest
Ex-Capitol Police Chief Says Requests For National Guard Denied 6 Times In Riots
Capitol Police Officer Who Responded To Mob Attack Dies Off Duty
Coronavirus: Numbers Rising In Nearly Every State; Capitol Siege Put Members At Risk
GOP Sen. Toomey Joins Call For Trump To Resign, As House Impeachment Plans Move Ahead
As Inauguration Nears, Concern Of More Violence Grows
'Now The World Gets To See The Difference': BLM Protesters On The Capitol Attack
3 More Charged In Capitol Break-In, Including Men Identified In Viral Images
'At least' two Seattle cops in D.C. on Wednesday, police chief says
Trumpism Suffers Untold Damage In Its Collision With The U.S. Capitol
'Worth every minute.' Drive-through vaccines kick off in Renton
Pelosi Asks Military To Limit Trump's Nuclear Authority. Here's How That System Works
Biden's Plan To Release More Vaccine Is A Gamble. Is It Worth The Risk?
Pro-Trump groups plan more weekend rallies at Washington state Capitol
'I Want Him Out': Republican Sen. Lisa Murkowski Of Alaska Calls For Trump To Resign
House Democrats Weigh Impeachment As They Urge Trump's Removal
Biden Picks More National Security Aides While Resignations Gut Trump's Own NSC
With 12 Days Left, Removing Trump From Office Is Unlikely, If Not Impossible
NW Public Radio
Washington's 2021 Legislative Session Kicks Off Under The Cloud Of Heightened Security Concerns
Idaho Lawmakers Sue, Say Returning To State Capitol During Pandemic Violates ADA
Where Is It Safe To Reopen Schools? New Research Offers Answers
Several Well-Known Hate Groups Identified At Capitol Insurrection
Sea Otter Reintroduction For More Of The Pacific Coast Gets A Nudge From Congress
Q13 TV (Fox)
State beefs up security in Olympia for the start of the 2021 legislative session
Trump faces 'incitement of insurrection' impeachment charge over deadly Capitol riot
Web
Crosscut
WA Legislature to start 2021 session with heightened security (Jinkins, Dhingra, Johnson)
Opinion: Republicans need to choose: Trump or America
Washington state lawmakers look for ways to limit armed militias (Senn, Pederson, Goodman, Kuderer, Dhingra, Thai, Johnson)
Opinion: Seattle Children's Hospital needs community input to address racism
MyNorthwest
COVID updates: WA making progress on vaccines, 'but it is not enough,' says Inslee
WSDOT warns drivers to stop parking, sledding along the highways
Aviation analysts react to Boeing criminal fine
Report: Seattle man charged with assaulting federal officer during US Capitol riot
State patrol, National Guard set up extra security in Olympia ahead of legislative session
As lawsuits mount, government looks into removing Electron Dam
2 Seattle police officers in Washington DC during riot placed on leave
Gov. Inslee activates National Guard to be in Olympia at start of 2021 session
Fife Travelodge owner can seek redress through courts, says city
14 passengers banned from future travel on Alaska Airlines after chaos aboard flight
L&I considers modification to indoor dining rules for well-ventilated restaurants
King County to set up high-volume vaccine distribution sites
Ruling on Kshama Sawant recall effort will likely have to wait
Slog
Right-Wing Lawmaker Tells Followers to "Dress Like You're Going to Church" for Sunday's Rally in Olympia
The 2021 Legislative Session Kicks Off With Virtual Swearing-In Ceremonies (Jinkins, Berry, Nobles)
King County Beefs Up Vaccine Distribution, Asks Business for Help
---