Tracking plans to tax the rich in the 2021 Washington Legislature
You could be forgiven if you can't quite keep track of the competing tax proposals in Washington's Legislature this year. Democrats in Olympia want to enact new taxes that target the wealthy — and they're floating multiple proposals in 2021 to try to make that happen. Continue reading at Crosscut. (Jovelle Tamayo)
---
Washington Legislature passes graduation waiver measure
The Washington Legislature has approved a bill that would waive some graduation requirements for individual students during a state of emergency, like the current coronavirus pandemic. Continue reading at The Bellingham Herald. (Getty images)
---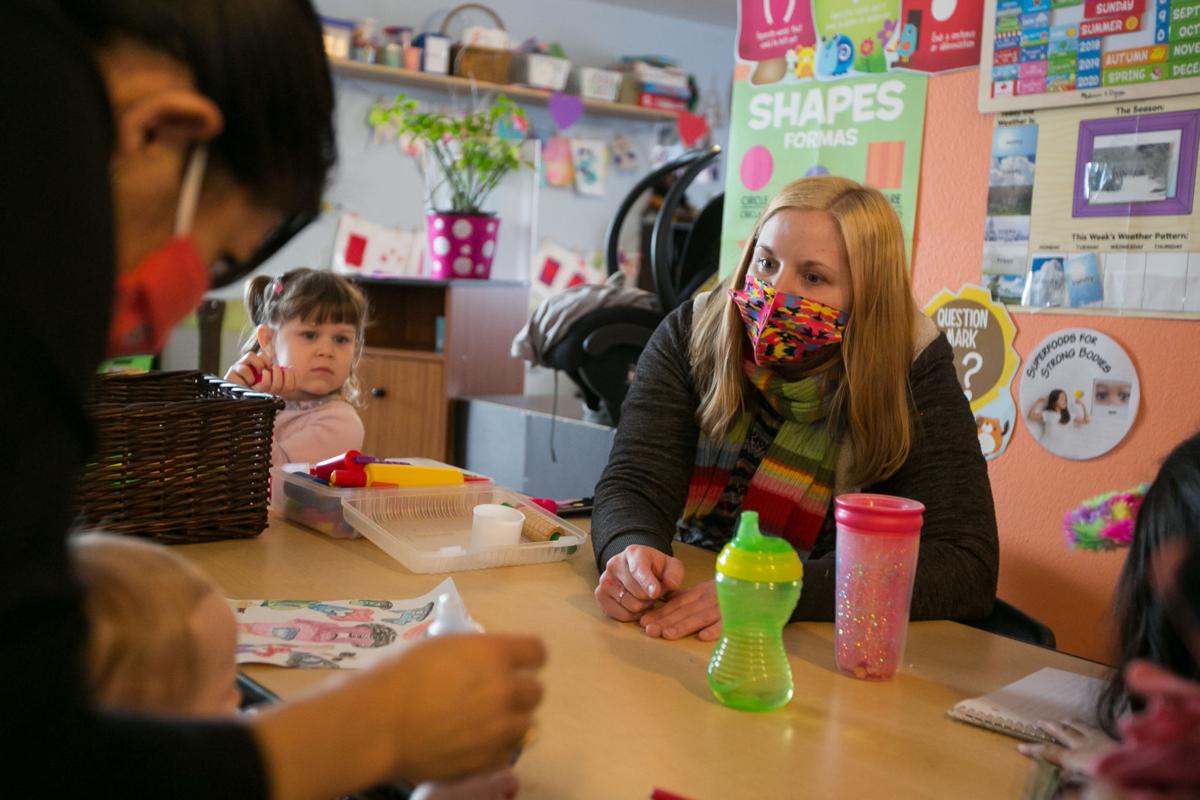 How cracks in the child care system could fail Central Washington's youngest learners
Reliable child care in Central Washington and beyond has always been hard to find. But with the onset of the COVID-19 pandemic, providers considered essential to restarting the economy have struggled to keep their doors open amid mounting costs and plummeting paychecks. Continue reading at The Yakima Herald. (Amanda Ray)
---
Print
Associated Press
Washington Legislature passes graduation waiver measure
Earthquake warning system to roll out to Oregon, Washington
Inslee urges in-person classes, virus school testing upped
Native Americans embrace vaccine, virus containment measures
The Latest: Deep freeze harming drinking water systems
Washington law would end license suspension for unpaid fines (Randall)
Officials: Funds needed to ensure vaccine reaches minorities
Aberdeen Daily World
Clatsop County Public Health Director accepts job with Grays Harbor County
District 19 Republicans split on bill banning native mascots (Lekanoff, Santos)
State wants input from community on fish and flood solutions in Chehalis Basin
Commentary: Democrats were wrong to silence Herrera Beutler
Commentary: How will the refusal of GOP senators to convict Trump look to future voters?
Letter: Trump should never hold office again
Bainbridge Island Review
House representatives pass numerous bills (Berg, Slatter, Bronoske, Stonier, Lekanoff)
Bellingham Herald (subscription required)
Whatcom sees 2 more COVID-related deaths, 29 new confirmed cases, state reports Tuesday
Whatcom receives no first doses of COVID-19 vaccines this week as state shifts focus
Washington has 'urgent need' for blood donations because of winter storm, officials say
Here are the latest COVID-19 case numbers confirmed Tuesday in Washington
Gov. Inslee expands in-person learning for Washington schools
Inslee: COVID-19 testing in schools expands, vaccine supply likely to increase
'All I feel is stress.' Student survey reveals crushing pressure in pandemic learning
Capital Press
Two ousted by Washington Conservation Commission appeal to high court
Easterday Dairy moving forward despite company's trouble
Columbian
In Our View: Eyman out to make a buck with bunco
Covington-Maple Valley Reporter
Treehouse awarded $1.3 million in CARES Act to help fund foster care tutoring
The Daily News
State expands school COVID-19 testing program; Cowlitz County reports two more deaths
Everett Herald (subscription required)
Cornfield Report: A leaner capital gains tax, a second GOP budget and a $5 fine (Jinkins)
Inslee offers school districts state-funded COVID testing
Snohomish County gets fewer first doses than usual this week
Arlington, Marysville push state to extend key tax break (Wicks)
Letter claims Oak Harbor students are being 'indoctrinated'
What we know: Washington coronavirus outbreak at a glance
Editorial: Unpaid traffic tickets shouldn't bring loss of jobs (Salomon, Liias)
International Examiner
Chinatown-ID has seen a dramatic uptick in graffiti recently
Kitsap Sun (subscription required)
Loved ones of Nimitz sailors making final preparations for their return home
News Tribune (subscription required)
Puyallup National Guard Armory to be sold. Here's what it will become
Paddleboard safety bill sinks like a stone in Legislature after online outrage (Lovick)
COVID-19 daily numbers trending downward in Pierce County; three new deaths reported
Here's what you need to know about noise from JBLM this week
New York Times
Oregon Is Vaccinating Teachers. It Might Not Be Enough to Reopen Schools.
Covid-19 Live Updates: Experts Say Biden Should Speed Up Vaccine Program
Live Updates: Biden and Harris Push $1.9 Trillion Relief Plan and Preview Other Top Priorities
Promotions for Female Generals Were Delayed Over Fears of Trump's Reaction
Scientists Call on C.D.C. to Set Air Standards for Workplaces, Now
Would Americans Have More Babies if the Government Paid Them?
Olympian (subscription required)
Thurston reports 67 new COVID-19 cases Tuesday, no first-dose clinics this week
Washington has 'urgent need' for blood donations because of winter storm, officials say
Here are the latest COVID-19 case numbers confirmed Tuesday in Washington
Inslee: COVID-19 testing in schools expands, vaccine supply likely to increase
Peninsula Daily News
Clallam County resumes in-person meetings
Cyber security office proposed in wake of major data breach (Carlyle)
Law would end driver's license suspensions over unpaid fines (Randall)
Legislature passes graduation waiver measure
WHAT WE KNOW: Coronavirus outbreak at a glance
COVID restrictions loosen, but caution shouldn't, officials say
Jefferson Healthcare to resume first doses
Puget Sound Business Journal
The negotiators taking on the ransomware hackers
State expands school Covid testing with eye to more classroom openings
Report: Washington now has almost 20K cannabis jobs
PPP loans not for you? SBA is waiving fees, making payments on these other loans
Seattle Times (subscription required)
How some frustrated COVID-19 vaccine hunters are trying to fix a broken system
Washington BLM Alliance files ethics complaints against lawmakers
Seattle City Council votes to distribute COVID-19 vaccines equitably
Police shoot, kill man armed with knife at Seattle waterfront
Nearly 100,000 remain without power in Portland as outages stretch into 5th day
Washington state's for-profit online schools are expanding enrollment during the pandemic
Opinion: Legislature should remove voting barrier for ex-felons (Simmons, Kuderer)
Skagit Valley Herald
Port of Skagit busy with airport, maritime, value-added agriculture projects
Mount Vernon rally held in support of in-person learning
Skagit Land Trust adds land, trees at Tope Ryan Conservation Area
South Seattle Emerald
State officials push school reopening plan, drawing on data from studies of predominantly white student groups in handful of U.S. studies
Statewide pandemic relief fund sets $30m goal for vaccine equity
Spokesman Review
Inclement weather could delay vaccine deliveries locally and nationwide
Inslee: Washington is expanding testing to schools in an effort to get kids back in person
SNAP to distribute $9 million in federal rental aid across Spokane County
Most long-term care facilities in state enrolled in federal pharmacy program have had first vaccination clinics
Suburban Times
House passes Bronoske bill to authorize apprenticeships in behavioral health workforce (Bronoske)
Tri-City Herald
'We are excited.' Tri-Cities restaurant owners relieved to have diners back inside
Tri-Cities COVID cases top 25,000 after 3-day weekend
Exclusive: Matter of time before COVID variant found in Tri-Cities, says WA health secretary
Walla Walla Union Bulletin (subscription required)
Walla Walla's Emergency Warming Center provides warm beds through cold nights
Umatilla County reports two new deaths connected with COVID-19
School Closures: Walla Walla Valley schools plan for Wednesday changes due to snow
Saturday house fire displaces Walla Walla family of eight
Washington Post
Millions of jobs probably aren't coming back, even after the pandemic ends
Rate of new coronavirus cases declining around the world, WHO says
The Texas grid got crushed because its operators didn't see the need to prepare for cold weather
McConnell shows that legacies don't matter when facts no longer do
A 90-year-old Seattle woman trudged three miles through 10 inches of snow to get her vaccine shot
Whidbey News-Times
South Whidbey students returning to school next week
Yakima Herald Republic
How cracks in the child care system could fail Central Washington's youngest learners
Inslee urges in-person classes, virus school testing upped
13% of child care providers in Washington state have closed because of pandemic
WDFW to capture Yakima River Canyon's bighorn sheep and test for deadly bacteria
Lawmakers from both parties push for teachers to be vaccinated to open schools faster
Broadcast
KING5 TV (NBC)
New York sues Amazon over worker safety during pandemic
Mercer Island approves camping ban on public property
Washington teachers still skeptical after Inslee calls for return to classrooms
Argument over political sign turns deadly in Skagit County, sheriff's office says
What you need to know about COVID-19 vaccines in Washington Wednesday
KIRO7 TV (CBS)
Police: Officers fatally shoot man armed with knife near Seattle Waterfront
Gov. Inslee urges in-person classes, virus school testing upped
QFC closing 2 Seattle stores, says decision 'accelerated' by City Council hazard pay mandate
Mercer Island votes to ban public camping
First judge of Samoan heritage in state history appointed to the bench
Parents, students rally in Mount Vernon, urge district to bring back high schoolers
KOMO4 TV (ABC)
Gov. Inslee urges in-person classes despite COVID-19 
'Shake Alert' earthquake early warning system nearing release in Washington state
QFC to close 2 Seattle stores, blames City Council's extra pay mandate
Mercer Island City Council votes to ban homeless camping within city limits
KNKX FM
How would Republicans budget if they controlled Olympia? A pair of spending blueprints offer clues (Rolfes, Ormsby)
Of Phase 2, schools and vaccines: What's happening at the state Capitol this week
KUOW FM
Of Phase 2, schools and vaccines: What's happening at the state Capitol this week
'It hits you like a truck.' One Seattle family's experience with 'UK' variant of the coronavirus
Updates on the Covid-19 pandemic in the Northwest
Vaccinating Homeless Patients Against COVID-19: 'All Bets Are Off'
Biden Says He Wants Most K-8 Schools Open 5 Days A Week By His First 100 Days
COVID-19 Vaccine: Don't Miss Your 2nd Dose Because Of Scheduling Glitches
NW Public Radio
Should Civics Have A More Prominent Place In Washington Schools?
Idaho Congressman Hopes Politics Align In Proposal To Remove Snake River Dams In Washington
Q13 TV (Fox)
QFC to close two stores in Seattle after city mandates hazard pay for grocery workers
Inslee: Schools should reopen for in-person learning
Woman charged with murder after fight over political sign turns into deadly shooting in Mount Vernon
Web
Crosscut
Tracking plans to tax the rich in the 2021 Washington Legislature (Frame, Robinson, Senn, Hasegawa, Orwall)
Teens pushing WA Legislature to ban retail puppy sales (Walen, Thai, Kuderer, Dhingra)
Edmonds Beacon
Sound off: Virtual town hall is Wednesday (Liias, Ortiz-Self, Peterson)
MyNorthwest
Mercer Island MD explains why CDC now recommends multi-layered masks
QFC to close two Seattle locations, blames city's grocery worker hazard pay ordinance
Washington bill to decriminalize drug possession advances out of committee
Appeals court revives wrongful death lawsuit over shooting of Charleena Lyles
COVID variants may not be more deadly, but virologist says 'avoid contracting it at all costs'
Seattle P.I.
Inslee: Washington schools can reopen safely, even as most teachers not yet eligible for vaccines
Washington sees 'fairly low' levels of COVID-19 transmission in K-12 schools, report finds
Washington lawmakers pass amended drug decriminalization bill out of committee (Davis, Harris-Talley)
Slog
Take a Look at the Local History Trump Nearly Stole From Us
Mayor Jenny Durkan's Final State of the City Address Was Short and Uninspiring
Tri-Cities Area Journal of Business 
Badger Club debates merits of taxing carbon to spur economic recovery (Lovelett, Saldaña, Das, Dhingra, Frockt, Hunt, Kuderer, Nguyen, Pedersen, Salomon, Stanford, Wellman, Wilson)
---