Inslee signs $2.2 billion relief package to support schools, businesses, renters, and immigrants
A fresh round of federal aid will soon be flowing to Washington businesses and individuals hit hard by the Covid-19 pandemic. On Friday, Gov. Jay Inslee signed into law a $2.2 billion relief package funded with money approved by Congress in December. Continue reading at KUOW. (Austin Jenkins)
---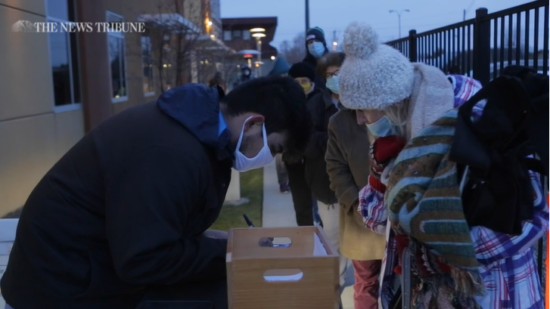 WA vaccine questions answered: When, where, who, how much?
We are past the halfway point in the COVID-19 pandemic, according to the man who is leading the effort in Washington state. "We are seeing the beginning of the end of this pandemic," Dr. Umair Shah said Thursday evening. Continue reading at The Olympian. (Jennifer King)
---
Legislation looks to change youth sentencing, offer retroactive relief
In King County, the state's largest and one of the most diverse, a 2017 study revealed that Youth of Color were nearly 6% more likely to be held in detention compared to white youth, excluding those charged as adults. Eighteen percent were Black and 12% were Hispanic, despite making up less than 10% each of the county's population. Continue reading at The South Seattle Emerald. (Bunthay Cheam)
---
Print
Associated Press
Washington Senate passes police arbitration bill (Nguyen)
Avalanche dangers close 3 mountain passes in Washington
Washington governor signs COVID-19 relief spending bill
Stocks open lower on Wall Street; Boeing weighs on the Dow
AP PHOTOS: US pandemic toll: In 1 year, half a million lives
US coronavirus death toll approaches milestone of 500,000
Supreme Court won't halt turnover of Trump's tax records
Aberdeen Daily World
Second dose vaccinations focus of mass vaccination site this week
New case numbers dropping in Grays Harbor County
Freshman 19th District senator's first bill passes Senate, offers funding option for EMS training
GOP state budget proposal cuts programs, uses rainy-day fund
Bellingham Herald (subscription required)
New I-5 onramp expected to ease traffic congestion at this longtime Bellingham bottleneck
How is Whatcom's economy performing? It ranks high, but new study warns of these problems
As COVID took hold, Whatcom's drug overdose deaths doubled during first half of 2020
Whatcom County sees 13 new COVID-19 cases Saturday as 10,286 fully vaccinated
Whatcom County sees 39 new COVID-19 cases Friday, long-term care numbers updated
Border closure reaches a year — U.S., Canada extend non-essential travel ban to March 21
Could ranked choice voting make elections more equitable? Washington may find out
Snowpack at Snoqualmie Pass is deepest it's been in 10 years, Washington officials say
WA vaccine questions answered: When, where, who, how much?
COVID-19 impact can persist even after mild cases
What are the most common side effects from COVID vaccines? Here's what the CDC says
The do's and don'ts of wearing multiple masks
Capital Press
Cooperative supports farming for people of color
La Nina swells water supply in Washington
Columbian
In Our View: Legislature should back Washington Privacy Act (Carlyle)
Cheers & Jeers: Utility repair crews; mail thieves
Everett Herald (subscription required)
Sutherland is a roiling force with his conservative speak
State health leader: We have a plan, we don't have the supply
What we know: Washington coronavirus outbreak at a glance
Do Washington drivers need to learn the zipper merge? (Kloba)
Waiting for unemployment check: 'Your case is being processed'
Cornfield Report: Soda pop tax surfaces as school reopening battle rages on
Bloomberg Comment: States do need aid, not for revenue but for jobs
WaPo Comment: The GOP is increasing its base of powerful women
Comment: Drug pricing rule threatens cancer centers, patients
Comment: Policing bill gives state panel too much authority
Editorial: Cost increase can't risk ST3's 'spine' to Everett jobs
International Examiner
Judge Fa'amomoi Masaniai, state's first judge of Samoan heritage, reflects on achieving his dreams
Kitsap Sun (subscription required)
What are you comfortable with? Attitudes range as Kitsap reopens indoor dining and other activities
Kitsap grapples with COVID-19 outbreaks even as cases fall
Islanders donate labyrinth, quiet preserve space to the public
Bremerton city council debates whether councilman can continue representing constituents in Japan
Despite a competing bid, Waste Management looks to secure transfer center contract for another decade
Vaccine appointments in short supply after winter weather delays shipments
Groups address racial gaps in Kitsap's COVID-19 vaccination drive
As Nimitz nears home, its captain reflects on deployment amid a historic pandemic
News Tribune (subscription required)
Street racing is increasing in Puyallup. Here's what the city is doing about it
Former Sumner counselor accused of kissing patient pleads guilty. He'd been in trouble before
Amazon's Jeff Bezos is opening a free preschool for low-income families in Tacoma
Here are the proposed new names for Jason Lee Middle School in Tacoma
Meet the woman for whom Tacoma's Wilson High School has been renamed: Dolores Silas
Editorial: Prioritize COVID vaccine for Washingtonians age 80 and up. I'd want it for my parents
New York Times
Supreme Court Denies Trump's Final Bid to Block Release of Financial Records
Here's What's Next in the Trump Taxes Investigation
The Lost Hours: How Confusion and Inaction at the Capitol Delayed a Troop Deployment
White House Adjusts Rules to Encourage More Loans for Tiny Businesses: Live Updates
How Texas' Drive for Energy Independence Set It Up for Disaster
A Ripple Effect of Loss: U.S. Covid Deaths Approach 500,000
Companies Say They Care About the Climate. Their Actions Fall Short.
Olympian (subscription required)
Thurston County adds 40 COVID-19 cases, increasing weekly total beyond last week's total
Here's how to find out if you can get the COVID-19 vaccine at JBLM
Work inside or outside the GOP? 'Never Trump' Republicans split over next steps
'Attack of the Murder Hornets' showcases Whatcom and the race to find these bee killers
Report on I-5 shooting indicates K9 Arlo was hit by friendly fire from law enforcement
Could ranked choice voting make elections more equitable? Washington may find out
WA vaccine questions answered: When, where, who, how much?
Small businesses to get priority under Biden administration's new rules for PPP loans
Editorial: Black History Month has us learning about racial equity, but can we make real change?
Peninsula Daily News
WHAT WE KNOW: Coronavirus outbreak at a glance
Covid vaccine supply remains problematic
GOP warns of legal challenge to capital gains tax if it is approved
Inslee signs bipartisan COVID-19 spending bill
Snake River dams proposal draws accolades, criticism
Vaccinations a top draw
EYE ON CLALLAM: County considers joint letter about public health
County acts on homeless housing
Puget Sound Business Journal
Bezos fund to open 2nd Puget Sound-area preschool
Amazon offering bonuses to front-line employees who get Covid vaccine
Corporate US urges Biden to avoid hiking taxes to fund infrastructure
Biden announces PPP changes designed to help underserved borrowers
Microsoft giving employees extra paid days off to ease pandemic stress
Seattle Times (subscription required)
People aren't fleeing Seattle. They just aren't moving here anymore.
Older Boeing 777s grounded for inspections following engine explosion over Denver
Avalanche danger prompts precautionary road closures over Washington mountain passes Sunday night
Look to refugee schools for lessons on teaching kids after COVID, some experts say (Thai)
As debate over capital gains tax returns, Republicans insist no new taxes needed for Washington (Robinson, Rolfes, Senn)
New Washington transportation plan includes taxes on gas and bikes, fees on transit (Hobbs, Saldaña, Fey)
Seattle Weekly
State health leader: We have a plan, we don't have the supply
How the pandemic and coronavirus variants can show us evolution in real time
Inslee signs $2.2 billion COVID relief package
UW study shows high COVID infection rates among pregnant women
Skagit Valley Herald
Skagit Valley Tulip Festival to move forward under COVID-19 rules
School districts look for ways to fulfill COVID-19 requirements
Samish tribe begins fuel station construction, fuel tax negotiations
Skagit County wary of public health bill (Lekanoff)
Cascade Loop gets National Scenic Byway designation
South Seattle Emerald
Bill to replace 'driving while poor' law moves through state Senate (Saldaña, Nguyen)
Legislation looks to change youth sentencing, offer retroactive relief (Darneille)
Opinion: More will die from COVID without meaningful change to health care
Port of Seattle grants $1 million to south King County cities and organizations
Weekend Reads: Unionization and the rising tide of electric vehicles
Day of remembrance 2021: Another time, another place
Spokesman Review
Pregnant women face higher COVID-19 infection, mortality rates, study finds
Getting There: As carmakers increasingly pull away from gas, electric vehicle infrastructure revs up
How COVID-19 changed the lives of one 38-year-old farmworker and his family
Tri-City Herald
Kitchen scraps could become a clean, renewable fuel for your car, says PNNL researchers
Latino voters being silenced in Franklin commission races, voting rights group claims
Updated: Appointments open for COVID vaccine 2nd doses at Tri-Cities fairgrounds
Tri-Cities chosen to test new WA student internship portal
Tri-Cities PUD asked customers to turn down heat as power lost for 2,750 homes
COVID vaccine being shipped again to Tri-Cities. Here's the outlook for next week
Update: Premature baby who died of COVID in Tri-Cities was 2 days old
8 more die from COVID in Tri-Cities area. New cases average nearly 50 a day
Editorial: Texas outage shows power issues must be answered if Snake dams went away 
USA Today
Supreme Court refuses to step in to stop turnover of Trump financial records
Where does the $1.9T COVID-19 relief bill go from here? And, when can you expect help? Here's what we know.
Walla Walla Union Bulletin (subscription required)
Walla Walla man, Pasco woman injured in Highway 12 rollover Sunday night
Avalanche danger prompts closure of Snoqualmie, Stevens and White passes tonight
Baker Boyer Bank in Walla Walla to present COVID-19 discussion panel
Walla Walla, Umatilla counties report low COVID-19 case counts Friday
Health Officials: Umatilla County newborn dies from COVID-19
Walla Walla County asks 1,000 eligible residents to sign up for COVID-19 vaccine
Washington Post
Merrick Garland tells senators Capitol riot investigation will be his first priority as attorney general
Dominion files defamation lawsuit against MyPillow CEO over false claims voting machines were rigged against Trump
500,000 dead, a number almost too large to grasp
Yakima Herald Republic
Officials seek solutions to possible bias in examining voter signatures
Latino voters have higher-than-average ballot signature rejection rates in Washington
It Happened Here: Black settlers establish homesteads on, near Yakima Training Center site
As debate over capital gains tax begins again, Republicans insist no new taxes needed for Washington
Washington hospitals look at ways to make distribution more equitable
On the Colville reservation, the vaccination rate is nearly double the state's, despite challenges
Broadcast
KING5 TV (NBC)
Washington seniors increasingly frustrated by limited COVID-19 vaccine appointments
United engine failure: FAA ups inspections; Boeing 'recommends' grounding specific 777s
Washington state trooper shot at while trying to stop vehicle on I-405 in Tukwila
'Ridiculous': Down syndrome community feels left out of Washington's COVID-19 vaccine plan
UW study finds mental health apps are effective, cost less than clinic-based help
Ocean acidification: The threat to Washington shellfish, and how the industry is adapting
KIRO7 TV (CBS)
Trooper shot at while attempting to stop speeding car on I-405
FAA ordering immediate inspections of Boeing 777 planes after engine failure on United Airlines flight
Tacoma pharmacist: Redundant reporting of COVID-19 vaccines to the state and feds getting in the way of getting shots in arms
Tacoma Public Library announces two closures in 2021 to meet budget shortfall
Gov. Inslee signs COVID-19 relief spending bill
UW bans students from in-person classes after attending large party
Amazon's hold up pop-up clinic for second doses after last week's clinic postponed due to snow
Anti-Asian hate crimes continue in Seattle and across U.S.
Lingering COVID-19 symptoms can persist even with mild cases, UW study finds
KOMO4 TV (ABC)
'Extreme' avalanche danger shuts down all 3 main mountain passes
Nearly all of Tacoma Police officers to use body-worn cameras by end of month
State continues work to install earthquake early-warning system despite COVID-19
KNKX FM
Not out of the woods yet: 'It's looking increasingly like we will have to contend with a new wave' 
Tacoma on track to finish deploying police body cameras early
Inslee signs $2.2B relief package to support schools, businesses, renters and immigrants
KUOW FM
TOWNHOMES ARE MAKING SEATTLE MORE AFFORDABLE, NEW STUDY FINDS
Updates on the Covid-19 pandemic in the Northwest
'To Me He's Not A Number': Families Reflect As U.S. Nears 500,000 COVID-19 Deaths
Watch Live: Attorney General Nominee Merrick Garland Has Confirmation Hearing
Biden's Agenda To Come Into Sharper Focus, Even As Trump Plots His Comeback
White House: China And WHO Need To 'Step Up' On Investigation Into Origin Of Pandemic
A Looming Disaster: New Data Reveal Where Flood Damage Is An Existential Threat
Getting your second Covid-19 vaccination late? That's okay — here's why
Extreme Winter Weather Creates Backlog Of 6 Million Vaccine Doses
If Schools Follow CDC Guidance, Biden's Reopening Goals Could Be Hard To Reach
Biden To Authorize Broader Disaster Relief For Texas
NW Public Radio
How Native Tribes Are Working To Get Members COVID-19 Vaccine Faster
Q13 TV (Fox)
Some Fred Meyer, QFC pharmacy customer data impacted in vendor hack
Administrators says hundreds of UW students were reckless during maskless party
The Divide: Third party could be on the horizon
Callouts for King County Sheriff's Crisis Negotiation Team have almost doubled
The Divide: Third party could be on the horizon
Web
Crosscut
How $1 billion in pot taxes gets spent in Washington state (Davis, Rolfes)
Washington's vaccine rollout slower for communities of color
Opinion: WA legislature takes on systemic racism in insurance rates (Das)
WA lawmakers look to fix climate while solving the housing crisis (Duerr)
MyNorthwest
Seattle nonprofit launches competition offering kids chance to reflect on COVID, win prizes
Avalanche danger shuts down three cross-state mountain passes overnight
COVID-19 updates: UW students who attended snow party now banned from classes
Seattle soda tax could go statewide, Monday's your chance to weigh in
King County health officer: It'd be 'reckless' to not mitigate against COVID variant
Washington lawmaker proposes swapping spring and summer breaks
What to do when Alzheimer's, dementia make relatives fearful of vaccine
Mysterious coins confiscated at Blaine border crossing transferred to UW
Two pedestrians killed in Bothell hit-and-run
State Democrats score first victory of session in bid to overhaul police accountability
Crews battle fire on commercial fishing boat in Tacoma most of Thursday
West Seattle Blog
VACCINATION: Limited West Seattle clinic announced for Friday and Saturday
DELRIDGE PROJECT: 4 key work areas, and what else is planned this week
---