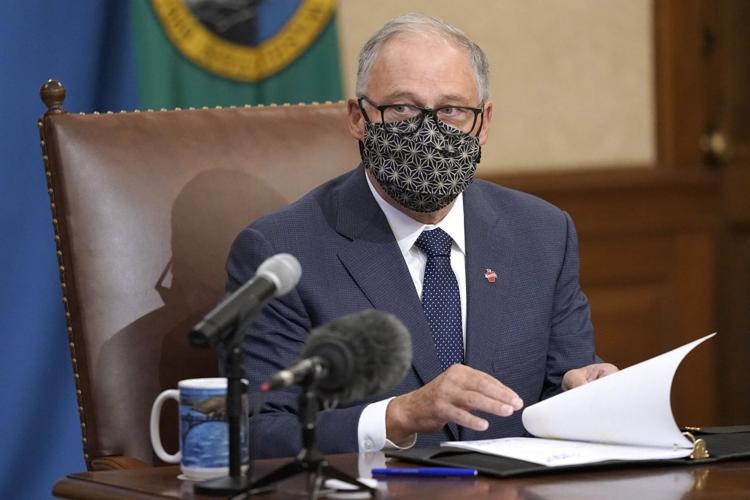 Inslee: All Washingtonians 16 and up will be eligible for COVID-19 vaccine starting April 15
All Washingtonians 16 years and older will become eligible for a COVID-19 vaccine on April 15, Gov. Jay Inslee announced Wednesday. The announcement is a dramatic expansion of vaccine eligibility, and it comes the same day that roughly two million Washingtonians, including manufacturing and food service workers, first become eligible for doses of their own. Continue reading at The Yakima Herald. (Ted S. Warren/AP)
---
Washington passes bill aimed at shutting down Tacoma ICE detention center
The Washington Legislature has approved a bill aimed at shutting down one of the country's largest for-profit, privately run immigration jails. Led by majority Democrats, the state Senate voted 28-21 Tuesday in favor of HB 1090, effectively banning for-profit detention centers in the state. The measure already passed the House and now heads to Gov. Jay Inslee, who opposes for-profit detention centers. Continue reading at MyNorthwest. (Nicole Jennings/KIRO Radio)
---
WA leads on addressing COVID risk in multigenerational homes
As anticipation of a vaccine grew last year, leaders in Washington state's immigrant communities and communities of color asked the state to designate multigenerational families as an early high priority. About 22% of Asian households in the state are multigenerational. But "it felt like we were invisible," said Seattle resident Trang Tu, who lives with and cares for her 90-year-old mother. Continue reading at Crosscut. (Scott Eklund)
---
Print
Associated Press
State's 1st federal mass vaccination site opens in Yakima
WHO: Europe's vaccination program is "unacceptably slow"
No prison time for transgender ex-neo-Nazi in threat case
Vaccine eligibility in WA will open to ages 16 and older on April 15
US jobless claims rise to 719K as virus still forces layoffs
Lawsuit seeks COVID-19 vaccines for Washington state inmates
Aberdeen Daily World
Conservation coalition sues over slashing of owl habitat
Rich Hartman sells part of car business to local managers (Macri)
Commentary: Biden is right: Autocracy vs. democracy is the big story connecting all others
Bellingham Herald (subscription required)
Here are the latest COVID-19 case numbers confirmed Wednesday in Washington state
All Washington adults will be eligible for a COVID-19 vaccine April 15, Gov. Inslee says
Watch: Washington state Gov. Jay Inslee's COVID-19 update Wednesday (March 31)
Two Whatcom regions see no COVID cases last week, but infection rates rise in 3 others
Whatcom County sees 17 people test positive for COVID-19 after being fully vaccinated
Ready to travel abroad? Here's where you can go — if you're vaccinated against COVID
Whatcom expecting 50% more vaccine doses, as state reports 21 new COVID cases Tuesday
Pfizer COVID vaccine protects children — even more than adults, trial study finds
This is when you can sign up for one of Whatcom's 700 doses of the Johnson & Johnson vaccine
Capital Press
Trade report: U.S. blueberry industry doing fine
Developer to study environmental impact of wind, solar project
The Daily News
COVID-19 variants of concern found in nine Cowlitz County cases
El Sol De Yakima (available in English via Google Translate)
Volunteer attorneys help families not lose their homes
Everett Herald (subscription required)
The City of Everett decries white nationalist propaganda
In 2 weeks, everyone 16 and older is eligible for a vaccine
Everett manufacturer settles oil spill fines for $222,000
What we know: Washington coronavirus outbreak at a glance
Letter: State's capital budget should fund parks, public lands projects
High Country News
The 'slow-motion genocide' of the Chinook Indian Nation
Kitsap Sun (subscription required)
On Bainbridge, Japanese internment anniversary echoes as anti-Asian hate dots headlines
Day 3 of the Derek Chauvin trial: Jurors see body-cam videos; early witness to George Floyd's arrest sobs on stand
News Tribune (subscription required)
Editorial: It's time for Washington elected leaders to come out of bunker, meet in person again (Jinkins)
Tacoma seeks site for low-barrier homeless shelter. This property is the front runner
Vaccine hesitancy beginning to affect who's willing to get the needle in Pierce County
Pierce County welcomes COVID vaccine expansion, seeks more volunteers to help rollout
'Ill-intentioned' misconduct by deputy prosecutor means new trial for accused killer
Pierce County sets ambitious goal for reduction of greenhouse gases by 2030
New York Times
Biden's Big Bet: Tackling Climate Change Will Create Jobs, Not Kill Them
Biden's Push for Electric Cars: $174 Billion, 10 Years and a Bit of Luck
Biden Tax Plan Challenges G.O.P. Formula for Economic Growth
Covid-19 Live Updates: Hope Competes With Concern in Virus Strongholds
That Spotty Wi-Fi? There's $100 Billion to Fix It.
Olympian (subscription required)
Investigators conclude Portland suspect Reinoehl initiated gunfire in Thurston shooting
Here are the latest COVID-19 case numbers confirmed Wednesday in Washington state
Thurston County adds 26 COVID-19 cases on Wednesday
All Washington adults will be eligible for a COVID-19 vaccine April 15, Gov. Inslee says
Last-minute Home Fund donation seals West Bay Yards deal
Olympia police chief candidate pulled gun at meeting in joke about mentally ill person
WA rancher Easterday pleads guilty to stealing $244M in 'ghost cattle' scam
Peninsula Daily News
Official: Clallam County could see herd immunity by June
WHAT WE KNOW: Coronavirus outbreak at a glance
Peninsula counties tops in state in vaccination percentages
Jobless rate rises slightly on Peninsula
Port Townsend Leader
COVID-19 vaccinations will be open to all adults in Washington starting April 15
Mid-county man tests positive for COVID-19
Puget Sound Business Journal
Capital gains tax could push M&A activity for family businesses in 2021
All Washington residents 16 and up eligible to get Covid-19 vaccine on April 15
The employee-retention tax credit is a windfall. But it could put small businesses in a bind.
Boeing CEO: Recovery is now 'all about vaccine distribution'
Opinion: Caring for front-line employees takes effort
Opinion: Health care organizations need to plan for the post-Covid reality now
Runta News
Su'aalo iyo Jawaabo Ku Saabsan Ku Noqodka Iskuullada
Seattle Times (subscription required)
Here's where Biden's massive transportation plan might impact the Seattle region
Seattle metro jumps to No. 1 for willingness to get COVID vaccine
Don Benton, ex-Washington state senator and Trump appointee, behind mystery mailer
All Washingtonians 16 and up will be eligible for COVID-19 vaccine starting April 15
Washington universities report another surge in COVID-19 cases as students begin spring term
Why Washington's rollout of COVID vaccine eligibility has been slower than in other states
Washington attorney general defends his Idaho counterpart for resisting Texas lawsuit
Opinion: State and tribes can work toward an inclusionary, resilient Washington
Seattle Medium
Inslee Announces Vaccine Eligibility Expansion To All Adults April 15
Skagit Valley Herald
Clearing of North Cascades Highway to begin Monday
La Conner School District with new superintendent
South Seattle Emerald
Housing Finance Committee biased against Black-led projects, say community groups
Governor announces vaccine eligibility for ages 16 and over starting April 15
Local Burmese community protests violent military coup in Burma/Myanmar
Opinion: 'They play here.' OL Reign player Quinn is proof Trans people do belong in sports
Spokesman Review
St. Charles Church begins to heal as arson suspect's uncle calls for more mental health services
Cantwell hails Biden infrastructure plan as boon for Northwest while Crapo decries tax hike on corporations, wealthy
All adults to be eligible for COVID-19 vaccine in Washington starting April 15
Spokane Public Library formally acknowledges Spokane Tribal history, land
Cody Easterday pleads guilty in federal court to defrauding Tyson in ghost herd case
Airway Heights pushing state to set aside $22M for new water source after contamination by firefighting foam
Spokane Public Schools unveils new wide-reaching boundary proposals
Tri-City Herald
Nation's 1st advanced nuclear reactor could operate near Tri-Cities under new agreement
WA rancher Easterday pleads guilty to stealing $244M in 'ghost cattle' scam
Drop in COVID cases stalls. Will Franklin County businesses be able to stay in Phase 3?
WA state Fish & Wildlife concerned about huge Tri-Cities wind farm. Public weighs in
Multi-million, high-end waterfront Pasco complex ready to add more apartments
Update: Kennewick man killed in crash on Highway 395 north of Tri-Cities
Vancouver Business Journal
Sponsored Content: Reflecting on One Year of Safety in the Electrical Industry During the Covid-19 Era
Round 4 of Working Washington Grants now open
Washington Post
Bill in Washington state would ban private immigration jail (Ortiz-Self, Kuderer)
A woman called for a highway's removal in a Black neighborhood. The White House singled it out in its infrastructure plan.
Some of America's wealthiest hospital systems ended up even richer, thanks to federal bailouts
Yakima Herald Republic
Home-grown fixes for a struggling child care sector in Washington
The faces of child care: Meet parent Stephanie Burrier of Richland
Snow clearing on Hwy 20 over Cascades to begin next week
Soft launch provided staff, health board an early look at Yakima's mass vaccination site
Oregon Democrats decry legislative slowdown during COVID
WA vaccine eligibility expands to all age 16 and up April 15
Inslee: All Washingtonians 16 and up will be eligible for COVID-19 vaccine starting April 15
Another Washington man accused of storming U.S. Capitol
Broadcast
KING5 TV (NBC)
Everyone 16 and older in Washington eligible for COVID-19 vaccine April 15
'End this pandemic' | Pfizer says COVID-19 vaccine protections last at least 6 months
When will life return to normal? UW expert says it will take time
Need a ride to your vaccine appointment? Transit offers options in Puget Sound
KIRO7 TV (CBS)
All Washington residents 16+ eligible for COVID-19 vaccine starting April 15
California mass shooting: 4 killed, including child, at Orange office complex
2 million more Washingtonians now eligible for vaccine in tiers 3, 4
Another Washington man accused of storming U.S. Capitol
Dozens of Washingtonians test positive for COVID-19 after full vaccination, DOH says
Restaurants push to keep to-go cocktails and street dining
WSP ramps up efforts to locate missing Indigenous people
AG's office says it needs 4-6 weeks to finish Manuel Ellis death investigation
Tacoma approves new sales tax for affordable housing. Here's when it will start
WA Department of Corrections sued, lawsuit demands inmates be vaccinated
KOMO4 TV (ABC)
Social media post leads to hate crime investigation in Tacoma
Washington state to expand COVID-19 vaccine eligibility to all adults in April
Health officials say majority of state's coronavirus breakthrough cases were mild
New Regional Homeless Authority CEO speaks about challenges facing Seattle, King County
KUOW FM
BREAKING: Everyone 16 and older eligible for vaccine on April 15, Inslee says
Biden Administration Considers Overhaul Of Asylum System At Southern Border
Cleaning A College In A Pandemic: 'Without Us This Campus Shuts Down'
Pandemic blog: Covid-19 news for the NW
KXLY (ABC)
All Washingtonians 16 and older will be eligible for a COVID vaccine April 15
Spokane Public School board to hear presentation on proposed boundary changes
WA looks to end driver's license suspensions over unpaid debt (Salomon, Cleveland)
State's 1st federal mass vaccination site opens in Yakima
NW Public Radio
Washington State Bumps Up Vaccine Eligibility To April 15 For All Residents Age 16 And Older
Q13 TV (Fox)
All Washingtonians over 16 will be eligible for COVID vaccine starting April 15
Tacoma Police investigate hate crime after video shows attack on Asian man
'I don't think this is a serious issue:' State health experts weigh in about 'vaccine breakthrough' cases
Web
Crosscut
WA leads on addressing COVID risk in multigenerational homes
All adults in Washington will be eligible for vaccine on April 15
Opinion: Washington high court charts less punitive path on juvenile justice
MyNorthwest
Washington blood donations running low due to vaccine misconceptions
Gov. Inslee opens COVID-19 vaccine eligibility to all adults April 15
Unlike other Seattle tech companies, Amazon will return to 'office-centric' approach
Seattle leaders look to put $1.5 million toward fight against anti-Asian hate crimes
State reports 102 COVID infections in fully vaccinated people
Washington passes bill aimed at shutting down Tacoma ICE detention center
Washington opens vaccine eligibility to next two tiers
State ditches Phase Finder, relying on honor system for vaccine appointments
COVID-19 vaccine appears to improve common symptoms of long-haulers
Washington hospital leaders: Not opening up vaccine eligibility could be fueling rise in cases
In wake of 'right to counsel' victory, Kshama Sawant vows to 'accelerate' work for rent control
Pair of JBLM soldiers accused of robbing, kidnapping pizza delivery driver at gunpoint
Edmonds man sentenced for throwing Molotov cocktail at Seattle police cars
Slog
Supreme Court Rules the Recall Against Kshama Sawant Can Move Forward
Vaccine Eligibility Will Extend to All Washington Adults on April 15, Inslee Says
Washington's Clean Fuels Bill Is Hanging in the Balance Right Now (Fitzgibbon)
---