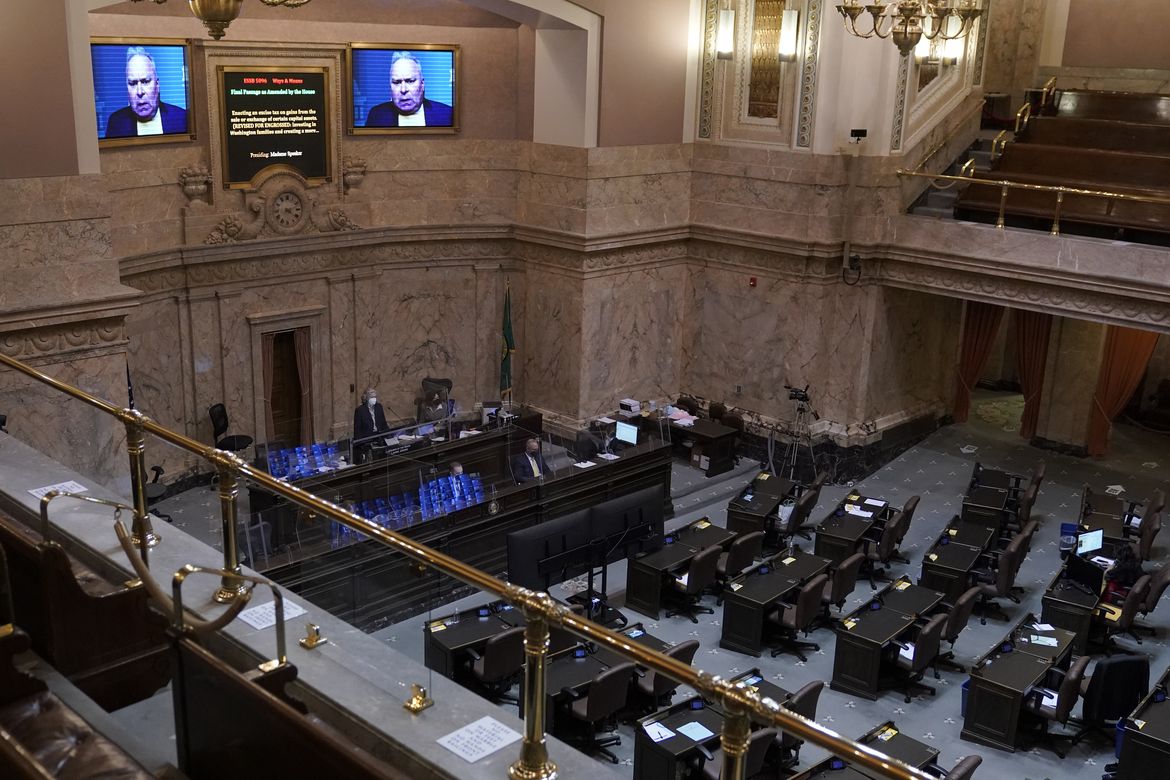 'You're on mute': How a virtual session changed the dynamic in the 2021 Legislature
When lawmakers began thinking about the 2021 Legislature, they had no idea if a virtual session was even possible. In practice last winter, many said they weren't ready for floor debates, and virtual systems weren't yet set up. But after 105 days, dozens of Zoom backgrounds and too many "You're on mute" utterances to count, the Legislature finished what many are calling a "historic" session. And not one COVID-19 case was noted during the session. Continue reading at The Spokesman-Review. (Ted S. Warren)
---
New law requires Washington schools to provide free menstrual products to students
Public and private schools in Washington will soon be required to provide free menstrual products to students. House Bill 1273 was signed into law by Governor Jay Inslee on Monday. The law states that schools must provide menstrual hygiene products in all gender-neutral and female bathrooms by the beginning of the 2022-23 school year. Continue reading at KXLY.
---
A tax break used by Arlington, Marysville goes statewide
An expiring property tax break which has helped Arlington and Marysville bring new businesses to the Cascade Industrial Center is getting extended. And soon every city in Washington can consider using it for themselves. Continue reading at The Everett Herald.
---
Print
Associated Press
Washington prisons to resume in-person visits
University of Washington to require COVID-19 vaccinations
WA events can increase capacity with vaccinated sections
$6 million settlement for men abused at Kiwanis boys home
US to reallocate COVID shots to states with greater interest
Some events can increase capacity with vaccinated sections
ShakeAlert earthquake warning system goes live this week
Aberdeen Daily World
Old Pioneer Paper Building in Aberdeen set for demolition
$168.6M for 19th District projects in state Capital Budget
Auburn Reporter
Washington gets mobile earthquake alerts
Wolf population continues to make a comeback in Washington
Column: Needle exchange program: Compassion vs. intolerance | Roegner
Column: Rethinking a natural gas ban in Washington state | Brunell
Bellingham Herald (subscription required)
Watch Live: Washington state Gov. Jay Inslee to give COVID-19 update Tuesday at 11 a.m.
Washington events can increase capacity with vaccinated-only sections, governor says
Here are the COVID-19 case numbers reported Monday for WA state
In-person visits at Washington prisons to resume Mother's Day
How many Whatcom residents are not receiving their second COVID-19 vaccination doses?
While Whatcom's vaccine numbers dropped, cases and hospitalizations climbed last week
More Washington colleges will require COVID shots for students in fall semester
Lewiston Tribune: Key salmon populations cross alarming threshold — and more are nearing that line
Washington's rural communities are growing — and COVID played a role, report says
Restaurants and bars can apply now for federal COVID relief funds. Here's what to know
Can you safely gather with vaccinated people if you've already had COVID? What to know
Watch: WA Gov. Inslee COVID-19 update, Corrections announcement Thursday (April 29)
 
Capital Press
Washington Farm Bureau joins push to review record $18M fine
The Daily News
Cowlitz County Board of Health to expand beyond commissioners and include providers, citizens under new state law
El Sol De Yakima (available in English via Google Translate)
YVC will have dental evaluation clinic on May 8
Everett Herald (subscription required)
A tax break used by Arlington, Marysville goes statewide (Wicks)
'Healthy Streets' not coming back, but Everett plans bike work
In children's book, court-involved kids show what's possible
What we know: Washington coronavirus outbreak at a glance
Comment: Navy shipyards must be part of building back better
WaPo Comment: A few refusing to let the Big Lie and its riots go
WaPo Comment: Child care opponents' double-talk on who stays home
High Country News
The toxic, soupy biomass choking water systems in California
News Tribune (subscription required)
33 PPP loans, one company: How a WA drive-thru coffee chain got millions in COVID-19 funds
Fence removed at Capitol Campus in Olympia after months of heightened security
Pierce County Council to consider requiring COVID-19 hazard pay for grocery workers
Retiring THA director as unassuming as his '82 Corolla. His legacy, though, shines through
Editorial: Lifting refugee cap is moral duty, and welcome news for Iranian family in Tacoma area
Olympian (subscription required)
Plan to bring 680-foot ship to the Port of Olympia isn't happening just yet
Key salmon populations cross alarming threshold — and more are nearing that line
Watch Live: Washington state Gov. Jay Inslee to give COVID-19 update Tuesday at 11 a.m.
Washington events can increase capacity with vaccinated-only sections, governor says
Peninsula Daily News
WHAT WE KNOW: Coronavirus outbreak at a glance
Nearly 100 COVID cases tied to gatherings
Letter: Supports plan for Snake River dams
Letter: Wind turbines
Seattle Times (subscription required)
Washington counties find out Tuesday if they'll move back in the state's reopening plan
Bill and Melinda Gates to divorce with $146 billion at stake
With vaccination on the rise, Metro Transit plans for a rider rebound. But not everyone is eager to board the bus.
Amazon overrules employees' calls to stop selling book questioning mainstream treatment for transgender youth
A proposed $1.7 billion wind and solar project generates hopes and fears in South Central Washington state
NOAA unveils new U.S. climate 'normals' that are warmer than ever
UW says students need to be vaccinated against COVID-19 by fall
Skagit Valley Herald
Timeline advances for La Conner Swinomish Regional Library
Spokesman Review
Spin Control: Why a bill to designate Chinese American history month hit a brick wall this session (Thai)
Inslee signs bill to give tax relief to those rebuilding after natural disaster
'You're on mute': How a virtual session changed the dynamic in the 2021 Legislature (Jinkins, Billig, Dhingra, Rolfes, Liias)
University of Washington joins WSU in crafting COVID-19 vaccine requirement for students
Tri-City Herald
No Water Follies boat races or air show for Tri-Cities this year. Both canceled
Kennewick officials shut down apartment complex for fire code violations
Tri-Cities school districts shorten quarantines for students faced with COVID contact
Body found at edge of farm circle still a mystery, say Tri-Cities investigators
A year later, who is back to work in Tri-Cities and who is not?
Tri-Cities divers discover truck underneath mud near Columbia Park
COVID cases growing, as state considers if Tri-Cities can stay in Phase 3
Straw hat robbery suspect arrested hours after Tri-Cities holdup
Richland man catches neighbor's house on fire while burning weeds
$2B in stimulus created 2,500 Hanford jobs 12 years ago. Tri-Cities leaders want a repeat
Walla Walla Union Bulletin (subscription required)
Walla Walla area ranks in top 10 for driest April, March
Innovations Charter School to cease operations at end of school year
Local health officials eye possible easing of COVID-19 restrictions, metrics
Washington Post
The coronavirus vaccine skeptics who changed their minds
White House plans to redistribute unordered vaccine supply, telling states: Use it or lose it
India cracks 20 million coronavirus cases as infections spread
Garland emphasizes need for funding on domestic terrorism and civil rights work
Gun injuries put over a half-million people in hospitals from 2000 to 2016, study finds
Wealthy nations still aren't doing enough during the pandemic
Yakima Herald Republic
Governor signs bill to increase hospital transparency in Washington
Gathering in honor of missing and murdered Indigenous women set for Wednesday in Toppenish
Opinion: Yakima County has reason to celebrate capital budget
Broadcast
KING5 TV (NBC)
Inslee's Tuesday morning COVID-19 update could come with Phase 2 rollbacks
Potential Phase 2 rollback puts strain on Snohomish, King County's local businesses
Seattle Children's ordered to release mold records in precedent-setting case
Seattle to offer more pop-up COVID-19 vaccine clinics to boost access
'Vaccinated-only' sections can fill to capacity at churches, sporting events in Washington
KIRO7 TV (CBS)
Business owners brace for reopening rollbacks
Who's hiring? Barely a pandemic pause in construction jobs
ShakeAlert earthquake early warning system launches Tuesday
Pierce County Council to consider requiring COVID-19 hazard pay for grocery workers
Washington prisons to resume in-person visits
UW to require COVID-19 vaccine for all students
Washington launches site to find and claim lost funds
3 mass vaccination sites in Seattle offering COVID-19 shots without an appointment
KOMO4 TV (ABC)
Inslee to create vaccinated sections to boost capacity at sports, graduations
Security fencing at state Capitol in Olympia is coming down
Decision day nears for counties at risk of being ordered to move to a lower COVID phase
University of Washington to require COVID-19 vaccination for its students
India's coronavirus crisis could have ripple effects in the Northwest
Everett grapples with getting the unsheltered off city streets as new ordinance looms
KUOW FM
Washington 2-year experiment under new drug possession law
Covid updates for the Seattle and the Northwest
KXLY (ABC)
New law requires Washington schools to provide free menstrual products to students
'It's incredibly demoralizing': Spokane prepares to go back to Phase 2
NW Public Radio
Even In The Bright Of Day, Some Klickitat County Residents Have A Solar Energy 'Nightmare'
Q13 TV (Fox)
ShakeAlert early earthquake warning system launches in Washington
Just walk in: 3 Seattle mass vaccination sites now open without appointments
Possible rollbacks could delay western Washington summer camps again
Washington businesses brace for rollbacks
Washington to allow 'vaccinated sections,' increasing capacity at sports arenas and other venues
Web
Crosscut
King County jails struggling with high vaccine rejection among inmates
Washington Legislature charts 'new beginning' in climate change fight
What can our cities do for us? Columnist Rubén Casas has ideas
MyNorthwest
Olympic National Park rescue 'by far the most difficult' of Coast Guard commander's career
Remaining fencing at Olympia Capitol coming down on Tuesday
DoorDash to pay out $15,000 to settle claim it violated Seattle sick-pay laws
Total of 182 COVID-19 outbreaks at K-12 schools in Washington since last August
Pierce County does not expect to have to roll back to Phase 1
Suquamish Tribe reaches agreement for sports betting contract in Washington
Mariners to offer COVID-19 vaccines during games at T-Mobile Park
Spectator events, religious organizations can increase capacity with vaccinated sections
University of Washington to require COVID vaccine for on-campus students
Study shows impact of Cascadia tsunami on Puget Sound communities
Lawsuit over Fort Lawton affordable housing project dismissed after two-year court battle
SPD says newly-passed policing bill will have 'limited' effect on city
---