Washington state approves "Joints for Jabs" vaccination promotions
The Liquor and Cannabis Board (LCB) of Washington has approved a temporary allowance for cannabis retailers to offer "Joints for Jabs" promotions to support local vaccination efforts.The allowed promotions may provide one joint to an adult customer who received a COVID-19 vaccination at an in-store vaccination clinic.This approval is effective immediately, optional for cannabis retailers and expires on July 12, 2021. Continue reading at KIRO 7 News.
---
Washington state to halt driver's license suspension for unpaid tickets, failure to appear in court
About 100,000 Washington drivers will soon have their licenses reinstated under a court-ordered moratorium on the state's practice of revoking licenses to penalize drivers who fail to pay fines or fail to appear in court. Continue reading at The Seattle Times. (Greg Gilbert / The Seattle Times)
---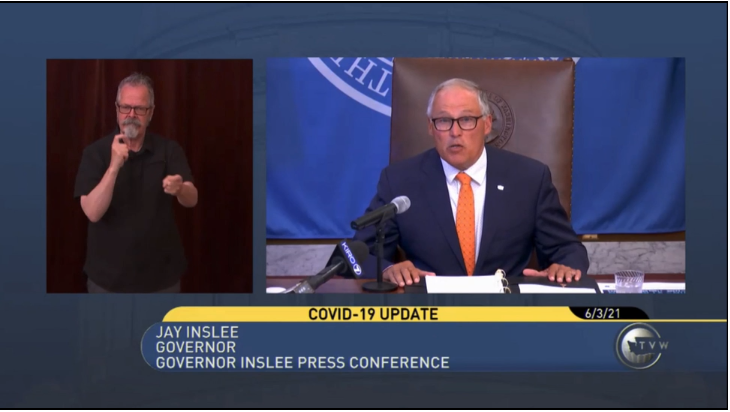 State offers ways to check your eligibility as COVID vaccine lottery drawings begin
Prep for Washington state's first COVID-19 vaccine lottery drawings this week has frustrated some residents who have not been able to confirm their status to make sure they are in the running. Continue reading at The Bellingham Herald. (TVW)
---
Print
Associated Press
Another COVID side effect: Many kids head to summer school
Washington: Marijuana stores can offer joints for vaccines
AP analysis: COVID prolonged foster care stays for thousands
Rail union: Sabotage caused Washington oil-train derailment
Auburn Reporter
State to allow 'Joints for Jabs' promotions to support vaccinations
Report: One-third of Auburn renters are 'cost-burdened'
Bellingham Herald (subscription required)
Here are the latest COVID-19 numbers confirmed Monday in Washington state
Fish for free in Washington state. No Discover Pass required at parks the same days
Whatcom County sees 16 new COVID-19 cases as local hospitalizations match record high
Get vaccinated at a Washington pot shop and get a freebie to take home
State offers ways to check your eligibility ahead of COVID vaccine lottery drawings
Fewer Americans than ever during COVID pandemic still social distancing, poll finds
UW Medicine study to look at COVID-19 spread in Washington state
Antibody test won't reveal if you gained immunity from your COVID vaccine, experts say
Whatcom County sees 31 new COVID-19 cases as hospitalizations rise, three school cases
Columbian
In Our View: We are all on vaccination status honor system
Everett Herald (subscription required)
What we know: Washington coronavirus outbreak at a glance
Vaccine lottery's first $250,000 winner to be picked Tuesday
Local businesses offer free drinks with proof of vaccination
Harrop: Running out of empathy for those refusing vaccine
Bloomberg Comment: Why it's a challenge to get corporations to pay taxes
Editorial: Lottery may be ticket to get more vaccinated
High Country News
A broken system: The number of Indigenous people who died from coronavirus may never be known
Kent Reporter
Bezos to be on Kent-based Blue Origin's first human flight to space
Kitsap Sun (subscription required)
Backyard Habitat Program helps property owners keep watersheds natural
News Tribune (subscription required)
Pierce County continues to see low numbers of new COVID-19 cases
State Rep. Walsh compares 'Shot of a Lifetime' vaccine incentives to 'Hunger Games'
New York Times
Live Updates: Infrastructure Negotiations May Be Nearing the End
Wealthiest Executives Paid Little to Nothing in Federal Income Taxes, Report Says
Covid Live Updates: Vaccines for U.S.'s Youngest May Arrive This Fall
Investors Fret as Biden Takes Aim at a 100-Year-Old Tax Loophole
As Warming Fuels Disasters, Relief Often Favors White People
Olympian (subscription required)
Thurston County reports one COVID-19 death last week as disease activity declines
Peninsula Daily News
WHAT WE KNOW: Coronavirus outbreak at a glance
Outbreaks expected among unvaccinated this summer
Puget Sound Business Journal
SBA to open Targeted EIDL Advance cash grant to all eligible businesses soon
Opinion: Teacher dissatisfaction may be high, but so are retention rates
SBA still processing PPP loans with hold codes — and the funding is officially gone
New building regulations needed to protect workers
Washington state reaches vaccination milestone on road to reopening
Many employers aren't capitalizing on new vaccine PTO tax credit
Seattle Times (subscription required)
Today, the first winners of Washington state's COVID vaccine lottery will be chosen
Washington state to halt driver's license suspension for unpaid tickets, failure to appear in court
Debt collector to return $475,000 to Washington consumers as a result of attorney general's lawsuit
Seattle council votes to ban some school-year and post-pandemic evictions, guarantee lease renewals
Seattleites among top in nation for taking vacations as U.S. COVID cases plummet
'Go in strong': UW student paves way as among first Muslim women to wear a hijab at law school graduation
As an Auburn police officer's murder trial looms, families grieve
King County promised to end youth homelessness by June 2021. It didn't.
Editorial: Give the Duwamish Tribe long overdue federal recognition
South Seattle Emerald
Trial of Auburn officer delayed, but family of Jesse Sarey continues fighting
Spokesman Review
Regulating new cannabis product delta 8 possible, but will require work, experts say
He was sentenced to life for a string of robberies in Seattle. A new state law paved the way for his release
Inslee: Vaccinated residents could win $1 million, other prizes with new incentive lotto program
Opinion: Shawn Vestal: Warming climate driving wildfires higher into the mountains
Opinion: Collin O'Mara and Alyssa Macy: Sen. Murray and Gov. Inslee must keep their promise to save wild salmon
Washington Post
For those who lost loved ones to covid, there is no return to normal
Capitol Police had intelligence indicating an armed invasion weeks before Jan. 6 riot, Senate probe finds
Alaska Native corporation to protect its land, dealing blow to massive gold mine project
Amazon is about to share your Internet connection with neighbors. Here's how to turn it off.
Supreme Court unanimously backs limits on immigrants with temporary protected status seeking green cards
Yakima Herald Republic
Visitors and spending in Yakima County declined amid COVID-19 pandemic
Opinion: Health board's emails can't help but raise suspicions
Broadcast
KIRO7 TV (CBS)
First vaccine lottery drawing in Washington today: What you need to know
Whatcom County train derailment was 'no accident': retired NTSB investigator
Washington state approves "Joints for Jabs" vaccination promotions
KNKX FM
Stuck in jail, waiting for a psychiatric bed. COVID-19 made an old problem worse
KNKX Honors Juneteenth 2021
KUOW FM
Pandemic blog: Updates for western Washington
Biden's Task Force Has Reunited 36 Migrant Families — With Hundreds To Go
Anti-Vaccine Film Targeted To Black Americans Spreads False Information
As Temporary Protected Status Shifts, One Activist Deals With Uncertainty
Fake COVID Vaccine Cards Are Being Sold Online. Using One Is A Crime
Crosscut
WA middle schoolers get vaccinated as districts expand access
Will enough Seattle workers return to commuting by bus?
MyNorthwest
Gov. Inslee, Washington State Patrol to unveil 'heroes wall' in Olympia
Woman shot, injured by police; man found dead during Puyallup welfare check
State set to pick first round of winners for Washington's new vaccine lottery
'Quite the conundrum' as Washington businesses struggle to find workers
DOH: 'Will take time' for Washington state, federal data to align on vaccine totals
Seattle City Council approves trio of bills aimed at curbing evictions
New law clears way for 114 Washington inmates seeking early release
Link light rail to increase frequency of train service
Federal Way expands hazard pay ordinance to smaller grocery stores
Two-alarm Parkland fire leaves 20 people homeless
Seattle-Bremerton ferry route returns to two-boat service
---