Canada to open border for fully vaccinated U.S. residents Aug. 9 after COVID closure
After 16 months of border restrictions, fully vaccinated Americans are going to be able to visit Canada starting Monday, Aug. 9. The Canadian government made the announcement on Monday, July 19. Americans will need to prove to border officials they are fully vaccinated through the ArriveCAN app. All travelers, regardless of vaccination status, will still require a pre-entry COVID-19 molecular test result, according to a news release from the Canadian government. Continue reading at The Bellingham Herald. (Warren Sterling)
---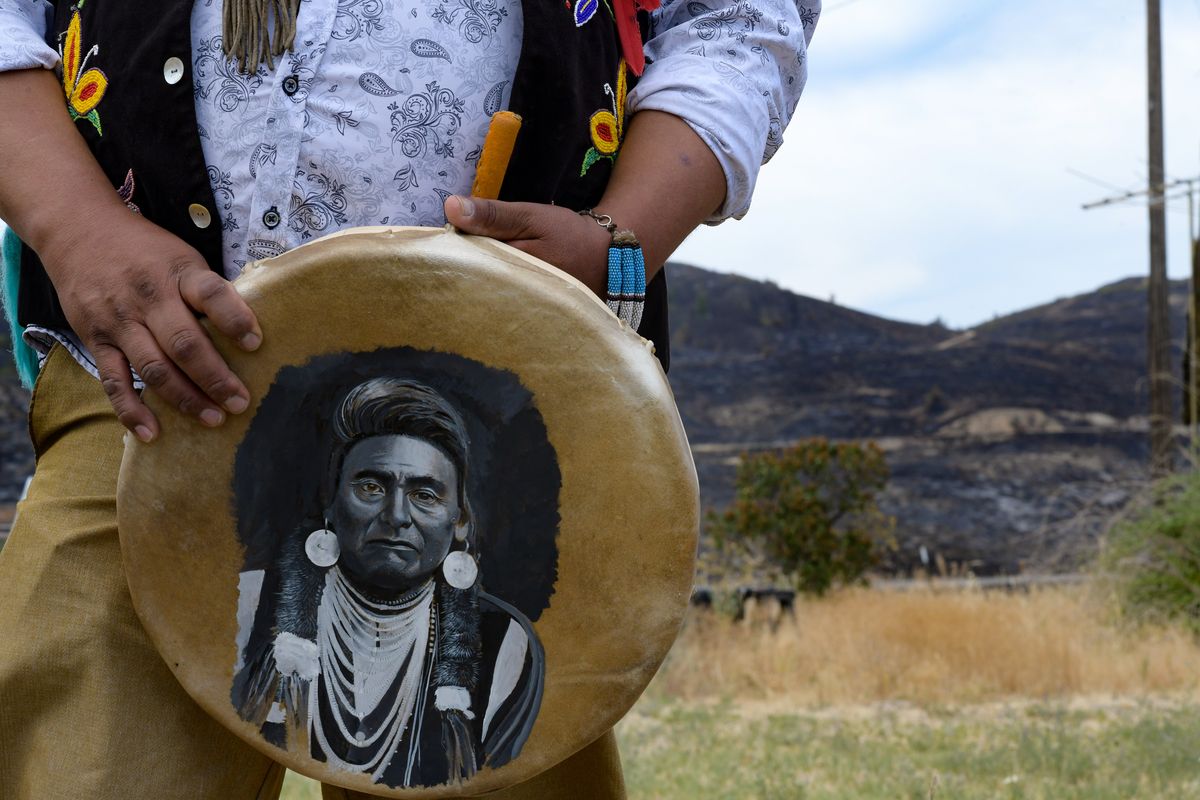 As fires roar through its hills and forests, once again the Colville tribe watches its 'life's blood burn'
Lean and weathered, a horseman by trade who has broken his shoulders twice riding broncs and racing, Ralph Moses is Nez Perce by blood and no stranger to fear. He experienced a new kind of terror Monday night as he watched a wildfire encircle his home. Started by lightning, moved by wind and fed by parchment-dry grass and trees, the fire roared through his 110-acre ranch, lapping at the home he's lived in since 1972. Continue reading at The Spokesman-Review. (Tyler Tjomsland)
---
Poor data, racism fueling crisis of missing and murdered indigenous people, activists say
Across the country, there are thousands of reports of Native Americans missing. But for a long time, what has been a crisis on Indian reservations has been widely ignored. Thanks to grassroots efforts drawing more attention to these cases, there are members of law enforcement and some lawmakers paying attention and working to turn awareness about missing and murdered indigenous women, men, girls and boys into action. Continue reading at KING 5.
---
Print
Associated Press
Officials say shellfish illnesses linked to heat wave
Canada to let vaccinated US citizens enter country on Aug. 9
Aberdeen Daily World
Letter: We need to work together
Auburn Reporter
Drug overdose data shows an alarming trend in recent years
Bainbridge Island Review
BI council to look at PSE transmission line proposal
Bellingham Herald
Get shaken awake early Tuesday? Small earthquake rattles near Whatcom County school
Want to go to Canada for non-essential travel on Aug. 9? You need this app first
Whatcom official threatened after social media post about COVID vaccine effort
Canada to open border for fully vaccinated U.S. residents Aug. 9 after COVID closure
 
Capital Press
Burned acres well above year-earlier levels
Washington farm groups join fray over capital gains tax
Washington raspberry industry gets report to mull
Columbian
Washougal School District budgets for rebound after losing students
PeaceHealth COVID outbreak traced to patient; 3 of 4 infected workers unvaccinated
I-5 Bridge project details timeline, goals
Everett Herald
Come October, United Airlines will discontinue flights at Paine Field
Snohomish Council tackles touchy subject of mayoral pay hike
High Country News
The orchardist rescuing fruit trees in New Mexico
Kent Reporter
Watts proud of his accomplishments as Kent school superintendent
Kitsap Sun
Great Peninsula Conservancy receives grant for North Kitsap Divide Block Forest
News Tribune
Here are the latest COVID-19 numbers confirmed Monday in Washington state
Final three victims of June heat wave identified in Pierce County
Carrier USS Theodore Roosevelt shifts homeport to Bremerton for extensive refit
New York Times
How Bad Is the Bootleg Fire? It's Generating Its Own Weather.
Americans' Medical Debts Are Bigger Than Was Known, Totaling $140 Billion
States and Cities Near Tentative $26 Billion Deal in Opioids Cases
Olympian
Thurston commission approves plan to fund non-profit grants for pandemic recovery
Safeway workers approve Teamsters contract, averting strike threat
Thurston County tenants facing rent increases as governor's rent protections expire
Puget Sound Business Journal
If companies aren't paying attention to housing, they should be.
United Airlines will exit Paine Field this fall
Downtown Seattle Association launches campaign to bring people back downtown
KPMG report ranks Seattle 3rd in US innovation hub rankings
Seattle Times
Urban slowdown: Suburbs grew faster than Seattle in 2021
United Airlines will halt flights from Everett's Paine Field airport later this year
'Best day ever!' Bezos, 3 others journey into space and back
Cruise lines navigate complex rules as Alaska sailings resume from Seattle
Seattle study of breast milk from 50 women finds chemical used in food wrappers, firefighting foam
Wearied by the pandemic, Seattle's Chinatown International District celebrates reopening
Opinion: Wonder where your food comes from? Ask a Washington farmer
Skagit Valley Herald
With eyes on the future, La Conner School District welcomes new superintendent
Latest week shows increase in new COVID-19 cases in Skagit County
The Skanner
COVID-19 Outbreak Reported at Vancouver Medical Center
Spokesman Review
As fires roar through its hills and forests, once again the Colville tribe watches its 'life's blood burn'
'It's a worker's market': Staffing shortages force Spokane-area businesses to adapt
After 20 heat-related deaths, some say Spokane region needs better planning for future heat waves
University of Washington will test COVID-19 booster shots
South King County mechanic wins Washington's $1 million vaccine lottery
Opinion: Lee Williams: Spokane has a real child care crisis, and needs the help of the stimulus
Opinion: George Wuerthner: All the wildfires? It's the climate, stupid
Washington Post
Delta variant poses major risk to Biden's promises of swift economic comeback
In 1961, she lost her chance to go to space. Today, at 82, she finally got her shot.
U.S. and E.U. security officials wary of NSO links to Israeli intelligence
Going further than CDC, pediatricians group recommends masks in schools even for the vaccinated
What happens when an athlete tests positive for the coronavirus at the Olympics?
Yakima Herald Republic
Chinook Fest returns, focused on country and roots-rock
Small farmers face labor shortages in the Yakima Valley
Opinion: Data-driven policing is promising, as long as we know who's driving the data
Broadcast
KING5 TV (NBC)
With conflicting back to school mask guidance, what's next for Washington students?
Poor data, racism fueling crisis of missing and murdered indigenous people, activists say
Health department takes new approach to getting people vaccinated in south King County
Washington's law enforcement concerned, confused by incoming reform laws (Goodman)
Which Washington county is most vaccine-hesitant? Check this map
KIRO7 TV (CBS)
'Frustrating and disappointing': Washington families react to new Canada entry requirements
First cruise ship of delayed season departs Seattle
United Airlines will pull its last route out of Paine Field in October
KOMO4 TV (ABC)
Washington state's rising number of COVID-19 cases stokes concern, anxiety 
Seattle's cruise industry poised to return after being docked last year for COVID-19
$5.5 million settlement reached in nurses' lawsuit against health provider
Officials say surge in shellfish illnesses linked to heat wave
Outreach worker says homeless camp near Seattle school will be cleared
Seattle or state: Who's responsible for camp linked to I-90 debris throwing incidents?
Threat for wildfires in Washington increasing as long drought persists 
KXLY (ABC)
New police reform laws affecting domestic violence cases
Vaccinated Americans will be able to visit Canada starting August 9
New WA laws start to close public broadband gap — but it's a small step (Hansen)
Q13 TV (Fox)
Size of Oregon wildfire underscores vastness of the US West
Web
Crosscut
Citizen scientists enlist in fight against WA's murder hornets
Why equity and diversity matter in the great outdoors
MyNorthwest
Scientists haven't had 'a good look at J-pod' of orcas in last three months
Washington cherry crop faces challenges of heat wave, wildfires
'Good news' for Puget Sound smoke forecast despite ongoing wildfires
Canada to let fully vaccinated Americans visit starting in August
Weekend sees another 4 cars hit by debris on I-90 through Seattle
United Airlines will pull its last route out of Paine Field in October
Slog
Cruise Ships Are Even Dirtier Than You Thought
---